Some conservatives are pushing back against Republican presidential nominee Donald Trump's repeated charge that the upcoming election is "rigged."
The election is absolutely being rigged by the dishonest and distorted media pushing Crooked Hillary - but also at many polling places - SAD

— Donald J. Trump (@realDonaldTrump) October 16, 2016
"Remember, we are competing in a rigged election," Trump said at a rally in Wisconsin on Monday. "They even want to try and rig the election at the polling booths, where so many cities are corrupt and voter fraud is all too common."
Many conservatives called into question Trump's claim that the integrity of the election has been compromised before votes are cast.
Sens. Marco Rubio (R-Fla.) and Pat Toomey (R-Pa.) both refuted Trump's claim this week.
At a debate with his Democratic rival, Katie McGinty, Toomey said, "Our elections may not always be completely perfect, but they are legitimate, they have integrity and everyone needs to respect the outcome."
And Rubio said during a debate with Democratic rival Rep. Patrick Murphy that the election is "absolutely" not being rigged and he hopes Trump "stops saying that."
"There's no evidence behind any of this, and so this should not continue to be said," Rubio said.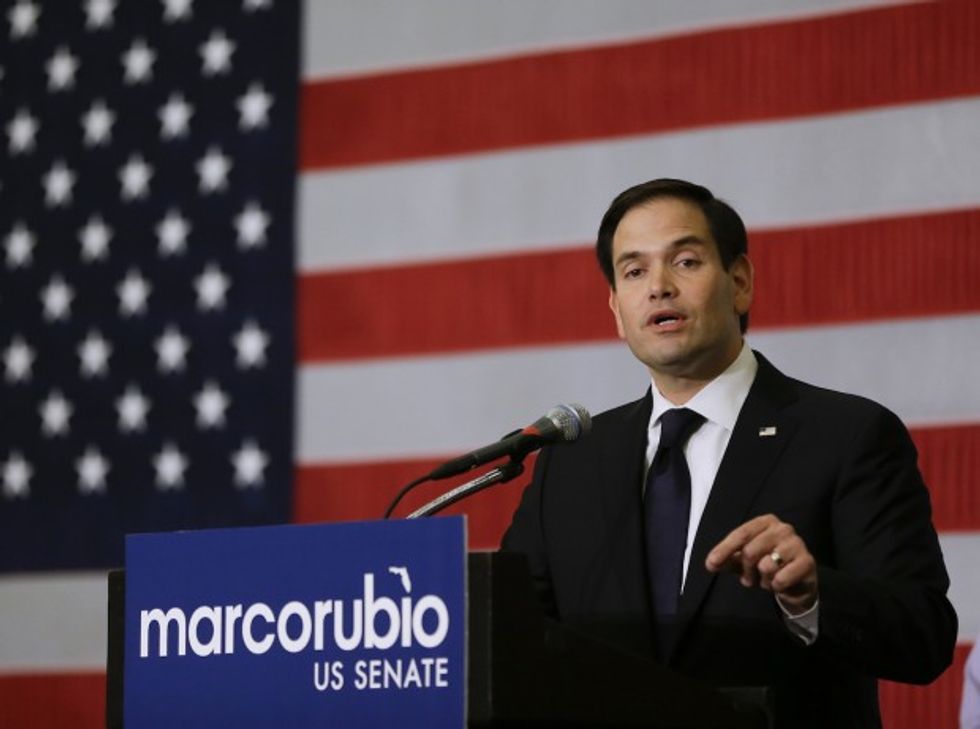 Florida Sen. Marco Rubio has stated that Donald Trump's claims of a rigged election are unfounded. (AP Photo/John Raoux)
Ohio Secretary of State Jon Husted noted during an interview with CNN that elections are overseen by state and local officials, not federal ones.
Husted, a Republican who has announced that he plans to vote for Trump, said he can "reassure" the candidate that "I am in charge of elections in Ohio."
"They're not going to be rigged," he added. "I'll make sure of that. Our institutions, like our election system, is one of the bedrocks of American democracy. We should not question it or the legitimacy of it. It works very well. In places like Ohio, we make it easy to vote and hard to cheat."
And as TheBlaze previously reported, House Speaker Paul Ryan (R-Wis.) has pushed back against Trump's claims. "Our democracy relies on confidence in election results, and the speaker is fully confident the states will carry out this election with integrity," Ryan's press secretary, AshLee Strong, said in a statement.
Meanwhile, Fox News' Greg Gutfeld recently argued on "The Five" that the election was rigged — in Trump's favor:
The media is rigged, but it was rigged for Trump all damn year. He got more free media than the weather. Dwarfing not just his primary foes but Hillary as well. If it wasn't for the media who fell over Trump every time he sneezed we would have a different candidate. So, yeah, it was rigged and that rigging gave us Trump. He should be extremely grateful.
"Of course now he gets the same coverage but it's soaked in opposition research," Gutfeld continued. "Was he set up? Could it be the media propelled him to the top of the heap knowing he would be easy to bring down later? Short answer, yes; long answer, hell, yes."
Gutfeld said that Trump's claim that he is the victim of a rigged election is an embrace of the "worst kind of liberal identity politics."
"It feels like Trump is blaming the refs before the game is played anticipating a loss," he added.