House Speaker Paul Ryan (R-Wis.) on Saturday pushed back against GOP nominee Donald Trump's claims that the election is "rigged," saying through his spokeswoman that he believes the election will be carried out with "integrity."
"Our democracy relies on confidence in election results, and the speaker is fully confident the states will carry out this election with integrity," Ryan's press secretary, AshLee Strong, said in a statement sent to several media outlets.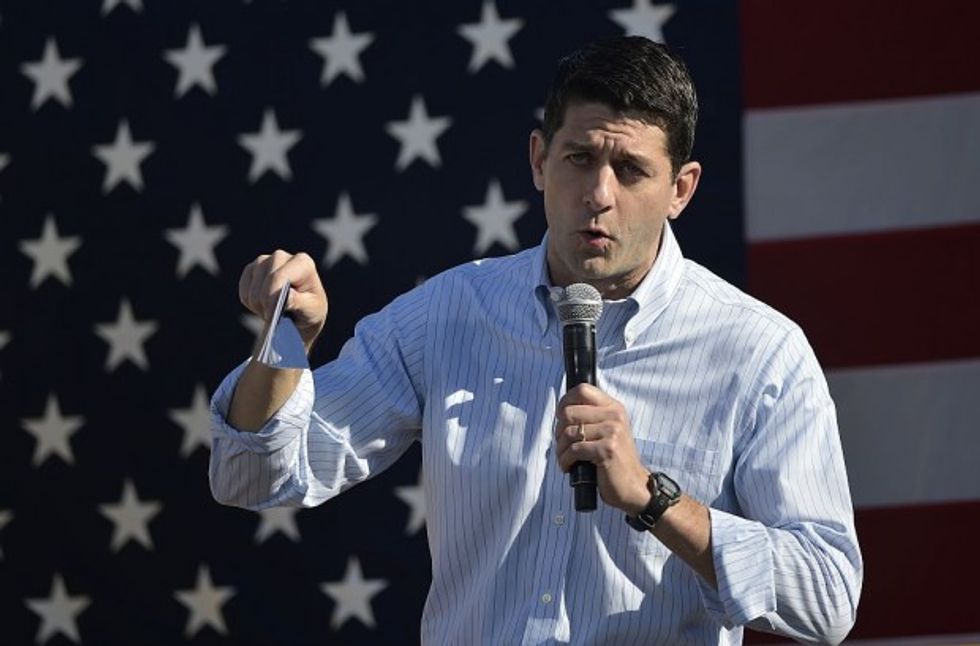 Getty Images/Mandel Ngan/AFP
Trump's claims that the election process in the United States is "rigged" was a narrative the billionaire businessman used during his fight in the GOP primaries when it appeared that he might lose to Texas Sen. Ted Cruz. Once Trump secured the nomination, though, his claims of a "rigged" election process quelled.
However, the claim has again become one of his main talking points in recent weeks as his position in the polls continues to slip amid dozens of women coming out to say they have been sexually assaulted or harassed by Trump in the past.
Trump continued to bolster his claims early Saturday when he took to Twitter to say that the election is "being rigged by the media" in order to elect his Democratic challenger, Hillary Clinton.
"Hillary Clinton should have been prosecuted and should be in jail," he tweeted. "Instead she is running for president in what looks like a rigged election."
More from Buzzfeed:
Trump's calling the legitimacy of the election into question could have real consequences. Part of the peaceful transition of power that characterizes American elections is the fact that the losers concede that they lost and accept that the voters chose the other candidate. Trump's signaling that he might not do this has set off alarm bells among many observers.

Trump has also encouraged his supporters to monitor polling places to look for incidents of voter fraud. Some of his supporters told the Boston Globe this week that they intend to do just that, with one making explicit that he will target minorities.
The Trump campaign has yet to respond to Ryan's comments.
—