Hillary Clinton campaign chairman John Podesta categorized a number of possible vice presidential picks by "food groups" in an email to office staff earlier this year.
Center for American Progress co-founder and Hillary Clinton campaign chairman John Podesta (Getty Images)
Among the thousands of Podesta emails made public by WikiLeaks was a message from Podesta sent on March 17, 2016.
"Cheryl [Mills] and I met with Jim Hamilton on Friday to discuss lawyers who can help do the research and vetting that I outlined in the VP vet memo we discussed," Podesta explained in the email.
"Cheryl, Robby, Jake, Huma, Jennifer and I also did a first cut of people to consider for VP. I have organized names in rough food groups," he continued.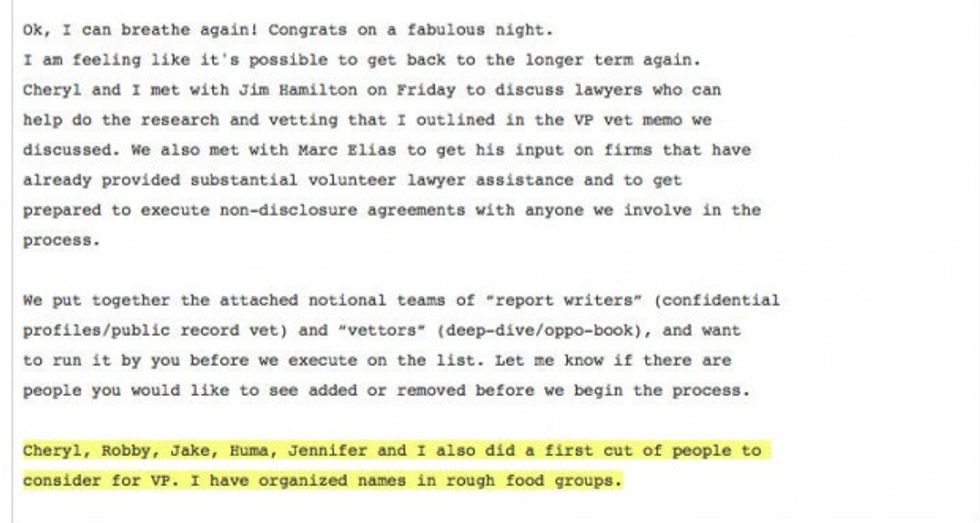 Image source: WikiLeaks
Below are the "food groups" of possible vice presidential candidates proposed by Clinton's campaign manager. The names include current members of Congress, current and former presidential Cabinet members, governors and even Fortune 500 CEOs.
Virginia Sen. Tim Kaine, who Clinton eventually picked as her running mate, is on the list, along with Clinton's Democratic primary opponent, Vermont Sen. Bernie Sanders — although he appears to be in a "food group" all to himself.
Javier Becerra

Julian Castro

Eric Garcetti

Tom Perez

Ken Salazar

Tammy Baldwin

Kirsten Gillibrand

Amy Klobuchar

Claire McKaskill

Jeanne Shaheen

Debbie Stabenow

Elizabeth Warren

Michael Bennet

Sherrod Brown

Martin Heinreich

Tim Kaine

Terry McAuliffe

Chris Murphy

Tom Vilsack

Steve Benjamin

Corey Booker

Andrew Gillum

Eric Holder

Deval Patrick

Kasim Reed

Anthony Foxx

John Allen

Bill McCraven

Mike Mullen

Mary Barra

Michael Bloomberg

Ursula Burns

Tim Cook

Bill Gates

Melinda Gates

Muhtar Kent

Judith Rodin

Howard Schultz

Bernie Sanders
(H/T: Townhall)