Donald Trump started out fine at Thursday night's Alfred E. Smith Foundation Dinner, lobbing light-hearted jabs at Hillary Clinton and recalling the times he attended the event with his father, but his speech took a painful turn when he tore into his presidential rival.
In fact, it was two C-words in particular that got the Republican presidential nominee in trouble: "corrupt" and "Catholics."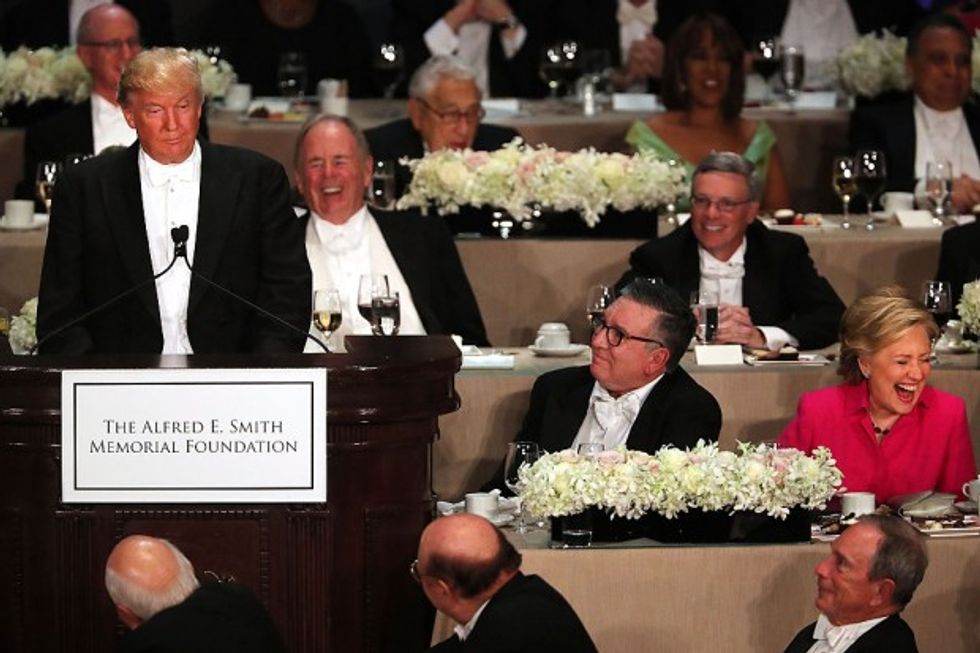 Donald Trump speaks during the Alfred E. Smith Foundation Dinner Thursday (Spencer Platt/Getty Images)
While delivering his remarks at the New York dinner, a fundraiser for charities associated with the state's Archdiocese, Trump said of Clinton, "Here she is, in public, pretending not to hate Catholics," a reference to an email chain discovered by WikiLeaks allegedly showing a Clinton aide mocking Catholics.
That line drew the biggest boos, but it was his comment moments before that seemed to turn the auditorium full of priests against him.
It is common practice for the presidential hopefuls to make self-depricating jokes and to even poke fun at their opponents, but Trump, in his brash bravado, seemed to treat the audience full of distinguished guests in the same way he handles the rambunctious supporters he encounters at campaign rallies.
"She got kicked off the Watergate commission," he charged at Clinton. "How corrupt do you have to be to get kicked off the Watergate commission? Pretty corrupt."
Here's video of Trump getting booed down during his set at the Al Smith Dinner pic.twitter.com/025zgItcfy

— Bradd Jaffy (@BraddJaffy) October 21, 2016
Apparently trying to work his way back into the good graces of the audience before him, Trump quipped, "That's okay, I don't know who they're angry at, Hillary, you or I."
But it wasn't all sour notes for Trump.
Earlier in his speech, the GOP standard-bearer made a playful reference to the speech his wife, Melania, delivered at the Republican National Convention over the summer. There were several lines in the former supermodel's speech that were apparently lifted from first lady Michelle Obama's remarks at the 2008 Democratic National Convention.
"Michelle Obama gives a speech and everyone loves it, and then Melania gives the exact same speech and people get on her case," he joked.
In addition, Trump was able to lob a couple clever jabs against his political foe, including a joke that Clinton asked him to "pardon" her if he becomes president, a nod to the former secretary of state's controversial use of a private email server.
"Just before taking the dais, Hillary accidentally bumped into me and she very civilly said, 'Pardon me,'" Trump said, which drew immediate laughter from Clinton, who could be seen saying, "That was a good one."