An analysis of early voting results in a number of battleground states shows that Democratic nominee and former Secretary of State Hillary Clinton may be on the path to outperform Barack Obama's 2012 results in most battleground states, while the news for Republican nominee Donald Trump is better in some others.
According to CNN, an analysis of early voting results from North Carolina, Nevada, Utah, and Arizona contains mostly good news for Clinton:
Democratic early turnout has stayed steady in North Carolina compared to 2012, while Republicans have dropped by about 14,500. In Nevada, Democrats have a smaller early voting deficit today than they did at this point in 2012. And Democrats are slightly ahead in Arizona in the early vote so far, though they are lagging Republicans in the tally of how many Arizonans have requested ballots.

Perhaps most surprisingly, Democrats improved their position in conservative and Mormon-heavy Utah, where recent polls have shown a tight race. At this point in 2012, Republicans led Democrats in early voting by more than 22,000 voters. But so far this year, the GOP advantage is only 3,509.
On the other hand, evidence continues to mount that Trump may outperform 2012 Republican nominee Mitt Romney in the battleground states of Iowa and Ohio:
The best news Trump is in Iowa. So far, 38,280 more Democrats than Republicans have voted. It's a narrower advantage than 2012, when Democrats outpaced GOP voters by 53,719 at this point.

The numbers are also significantly down in Ohio, where only 179,162 people have cast ballots, a 66% drop from this point in 2012. Democrats have a slight lead in the early balloting, but their lead is smaller than in 2012, and overall Democratic turnout dropped at a higher rate than it did for Republicans.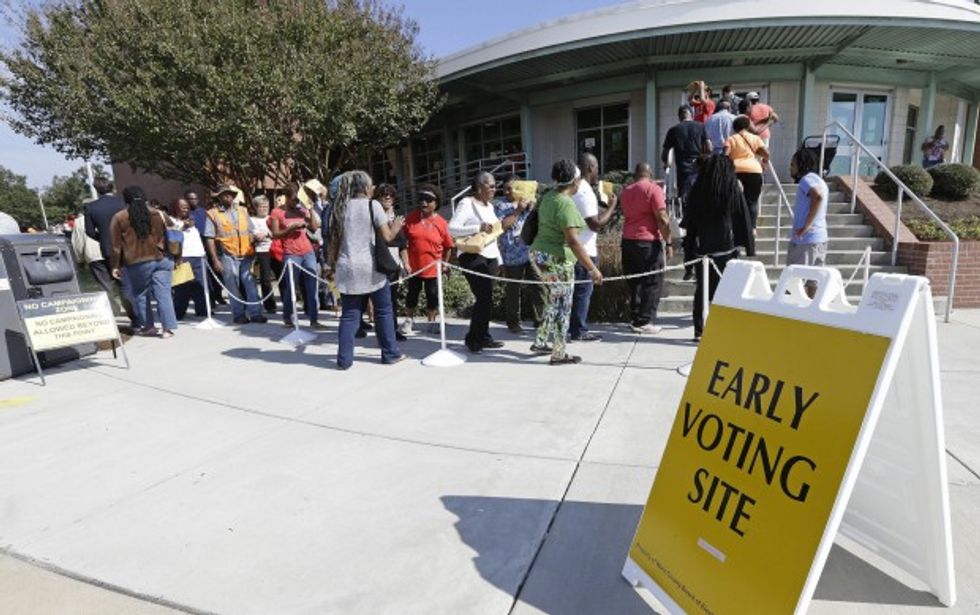 Voters line up Thursday during early voting at Chavis Community Center in Raleigh, North Carolina. (AP Photo/Gerry Broome)
One especially ominous sign for Trump, however, comes from Florida. The Florida Division of Elections has reported that registered Democrats in Florida requested almost exactly as many absentee ballots as registered Republicans this year. In 2012, Republicans requested about 3.5 percent more absentee ballots than Democrats, and Republican nominee Mitt Romney still lost the state. Both Florida and Ohio are considered must-win states for Trump this year.
According to the CNN data, Clinton's chances of scoring a surprise upset over Trump in Georgia do not look especially promising:
And in Republican-leaning Georgia, early voting is up by about 25% this year compared to 2012. That was clear Wednesday in Lawrenceville, where about 200 people lined up to vote in the county's only early voting location. Waiting times were two hours, officials said, and dragged longer in the afternoon.

For Clinton to upset Trump in the Peach State, she'll need strong turnout from non-white voters. So far, the African-American share of the early vote is slightly lower than it was at this point in 2012. But Hispanic and Asian voters have slightly boosted their share of the early electorate this year.