House Speaker Paul Ryan (Wis.) is focusing his efforts on campaigning for fellow Republicans in down-ballot races as he distances himself from his party's presidential nominee, Donald Trump.
According to Fox News, Ryan's re-election committee, Ryan for Congress, gave $250,000 to the Wisconsin Republican Party earlier this week. Including this week's donation, Ryan for Congress has given $1 million this year to the state party.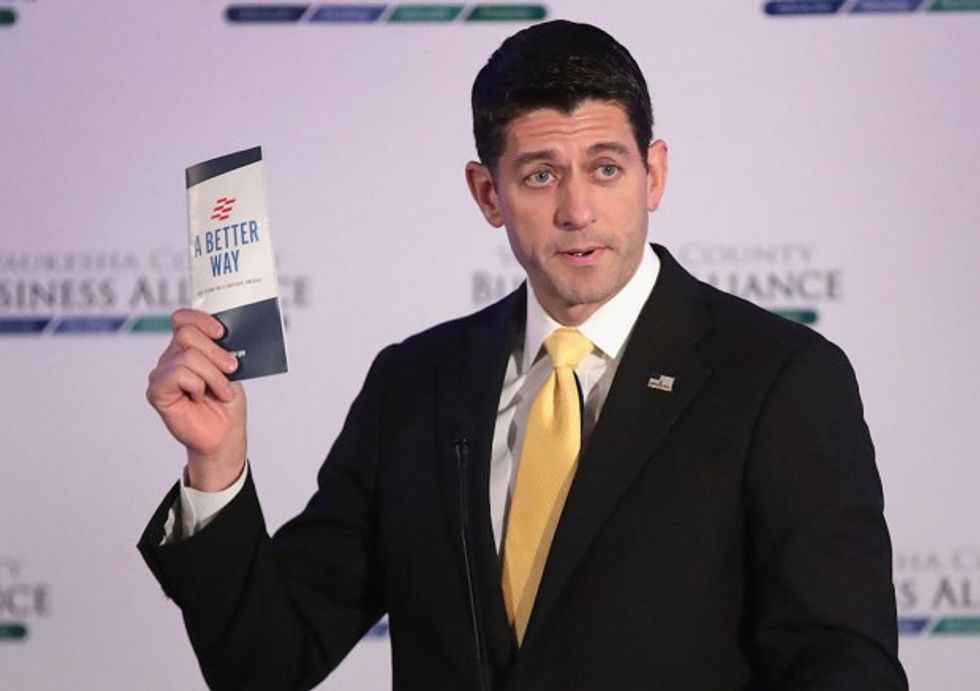 Speaker of the House Paul Ryan (R-Wis.) speaks with business and community leaders at the Waukesha County Business Alliance luncheon in Brookfield, Wisconsin, Oct. 13. (Scott Olson/Getty Images)
The money is "intended to help with voter outreach and other ground-game efforts" and is accessible to all GOP candidates on the Wisconsin ballot — including the Trump campaign.
Fox News also reported that just this month, Ryan has attended about 65 events in 17 states to support of GOP House incumbents and challengers.
After initially declining to endorse Trump, Ryan eventually did so. After the publication of a 2005 video tape in which Trump describes grabbing women "by the pussy" earlier this month, Ryan indicated that he will neither defend Trump nor campaign for him.
Trump has frequently targeted Ryan both on the campaign trail and on Twitter.
"Paul Ryan is doing a great job in the face of an awful situation," Republican strategist Rob Carter told Fox News. "He's in a tough spot with Trump. But soon this will all be over."
Ryan is seeking re-election to a 10th House term in November.