In an abrupt shift Sunday, Republican presidential nominee Donald Trump began to push at his rallies for his supporters to vote for down-ballot Republicans who are running for Congress, tying the success of his policy agenda to the existence of a Republican Senate and House. According to CNN, Trump explicitly called on his supporters to "elect Republicans all over the place" during the course of the day's rallies and stated that he needed Republican majorities in the House and Senate to enact his legislative agenda, such as the repeal of Obamacare and the Defense Department sequester.
It is the sort of push that most presidential candidates begin making almost as soon as they wrap up their primary campaign; however, Trump has run a general election campaign that has been anything but ordinary. Trump's relationship with elected Republicans has been tumultuous at best since the start of his campaign, and in recent days, Trump has publicly criticized House Speaker Paul Ryan (R-Wis.) for telling House members that he was focused on retaining the Republican majority in the House and would no longer defend Trump.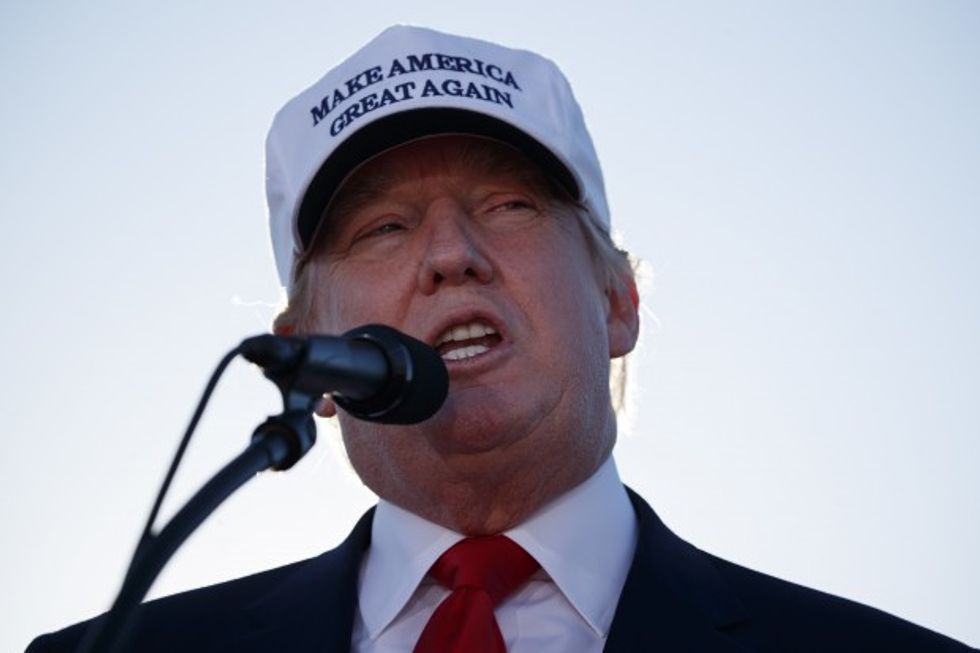 Republican presidential candidate Donald Trump speaks during a campaign rally in Naples, Florida, Sunday. (AP Photo/ Evan Vucci)
For their part, many Republicans have likewise publicly feuded with Trump in recent weeks, either withdrawing their endorsements for Trump after the release of the "Access Hollywood" tapes or outright calling for him to withdraw from the race. Some prominent Republicans who are locked in the tightest Senate elections this year — such as incumbent Sen. Mark Kirk (R-Ill.) and swing-state challenger Joe Heck (R-Nev.) — have been open critics of Trump and have stated that they won't be voting for him in November.
As the campaign winds down, Democratic nominee Hillary Clinton has likewise turned some of her attention to supporting Democrats in Congressional races. On Sunday, Clinton stumped for Senate candidate Katie McGinty (D-Pa.), who is challenging incumbent GOP Sen. Pat Toomey, and Clinton has signaled that she intends to do more during the campaign's last two weeks to help flip control of the Senate and House.
While the WikiLeaks releases have unquestionably hurt Clinton's standing with her base, Clinton has not had the kind of contentious relationship with elected members of her own party that Trump has. Still, Clinton has kept a relatively low profile compared to Trump during this campaign, holding fewer rallies and public appearances overall. Now that the debates are over, Clinton's team is planning for a two-week sprint to Election Day. Privately and off the record, Clinton operatives have begun to hope for a whitewashing similar to the 2008 election, in which Barack Obama's relatively comfortable victory over John McCain carried Democrats to majorities in both houses of Congress.