Respected political analyst Charlie Cook has all but closed the door on Republicans maintaining control of the Senate. In his latest issue of the Cook Political Report, Cook predicts that the Democrats will pick up somewhere between five and seven seats in the Senate.
If Democratic nominee Hillary Clinton wins the presidency and her running mate, Virginia Sen. Tim Kaine, becomes vice president and thus the tie-breaking vote in the Senate (Virginia Democratic Gov. Terry McAuliffe would appoint Kaine's replacement), Democrats would need to pick up four seats in order to control the Senate.
Should Republican presidential nominee Donald Trump win and his running mate, Indiana Gov. Mike Pence, becomes vice president, Democrats would need to pick up five seats in order to take control of the upper chamber.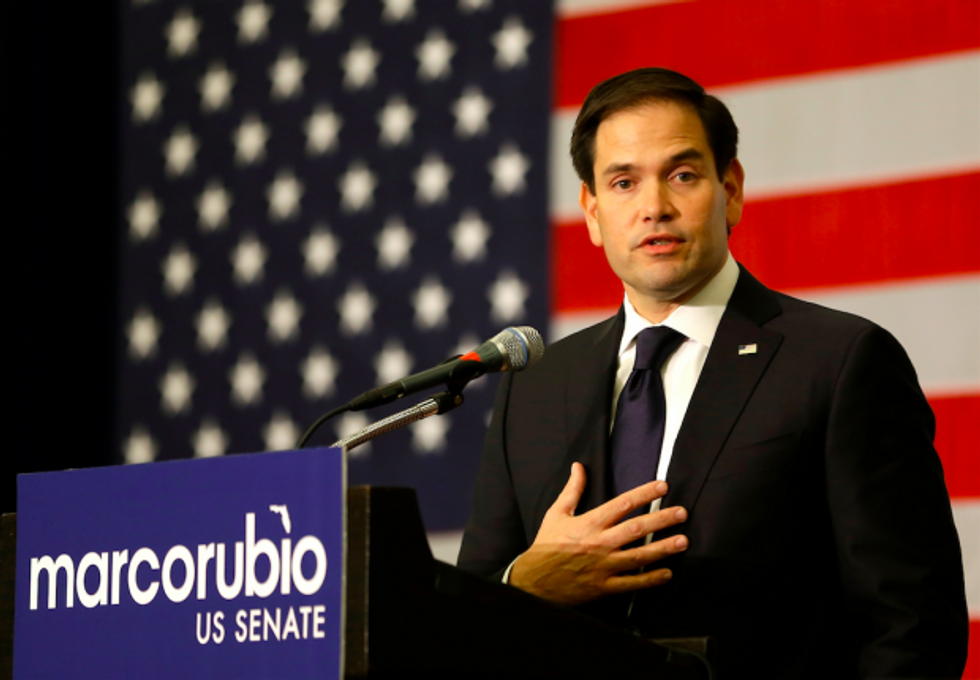 Florida Republican Sen. Marco Rubio fighting for re-election. (AP Photo/John Raoux, File)
Either way, Cook now sees it as extremely likely that the Democrats will control the Senate after the Nov. 8 elections. According to Cook, the GOP was previously projected to lose four to six seats, which would have made holding the Senate a daunting task either way. However, the release of the "Access Hollywood" tapes that have bedeviled the Trump campaign also likely made holding control of the Senate a near impossibility for the party. According to Cook:
Senate Republicans had been doing a pretty solid job of maintaining their distance from GOP presidential nominee Donald Trump by running their own campaign that focused largely on more local issues or those issues that motivate their base. The strategy was working fine and it looked as if Republicans would be able to keep their losses low. That is until October 7 when The Washington Post reported on the existence of the Access Hollywood tape in which Trump described sexually assaulting women. Then things started to unravel, albeit slowly.
According to Cook, the best possible message for Senate Republicans might be to run as a check on Hillary Clinton's power, given that the Democratic nominee is still relatively unpopular (although much more popular than Trump):
Early voting is underway in 27 states, so Republicans don't really have much time to turn things around, and Trump won't be any help, especially his campaign doesn't really have a ground game to speak of. The GOP's only hope is to start running a checks-and-balances message, or more blatantly, a don't-give-Clinton-a-blank-check message to motivate their base, particularly what one strategist called "casual Republicans," to the polls. We are starting to see that message in some red and purple states as candidates work to tie Democratic candidate to Clinton.
Cook sees that there still is a possibility that his remaining "toss up" seats could all lean to the Republican side, but he sees that as unlikely:
History shows that races in the Toss Up column never split down the middle; one party tends to win the lion's share of them. Since 1998, no party has won less than 67 percent of the seats in Toss Up. While the 2016 election has broken every political science rule and trend, we'd be surprised if this becomes one of them.

As such, we are increasing the range of expected Democratic pick ups to five to seven seats. This means that we feel that the prospect that Democrats will have at least 51 seats is greater than the odds of a tied Senate, or of Republicans somehow holding their majority.
Since 1995, Republicans have had much better luck controlling the House of Representatives than the Senate. Republicans have controlled the House for 18 of the last 22 years, establishing uninterrupted control over the lower chamber, other than the period between 2007 and 2011. By way of contrast, Republicans and Democrats have split control of the Senate with the Democrats almost 50/50 since the wave election of 1994 swept an unprecedented number of Republicans into congressional seats.