An aide to Democratic presidential nominee Hillary Clinton acknowledged in a March 2015 email that there doesn't seem to be a satisfactory answer as to why the former secretary of state used a private email account to conduct government business, according to emails released by WikiLeaks.
Shortly after the New York Times first exposed Clinton's use of a private email account, Clinton aide Philippe Reines wrote that "There Is Just No Good Answer" to the controversy.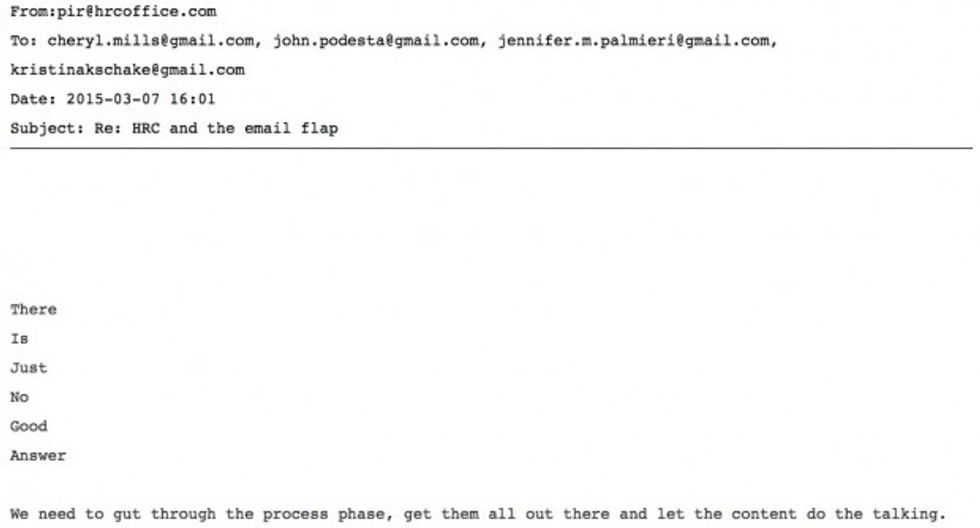 Image source: WikiLeaks
"We need to gut through the process phase, get them all out there and let the content do the talking," he added.
Reines' message was in response to an email chain initiated by former State Department official Anne-Marie Slaughter. Slaughter had forwarded the contents of a conversation she had with with New York Times columnist Thomas Friedman to Clinton campaign staffers.
"I have to say I am troubled by what I have read about what Hillary did," Friedman wrote to Slaughter.
Slaughter told the campaign staffers "fyi from Tom F — not great, but useful to know."
"I'm thinking about writing an op-ed myself from the point of view of a former State Dept official," she added.
Clinton's use of a private email server to conduct official business while she was secretary of state has been a source of controversy during her bid for the White House.