It all started when he began joking with a coworker who was having trouble registering to vote a few months back.
"I was like, 'I bet I could do it as a non-citizen because we've heard of all the things going on,'" the anonymous man told KNXV-TV, his face shaded from the camera's light.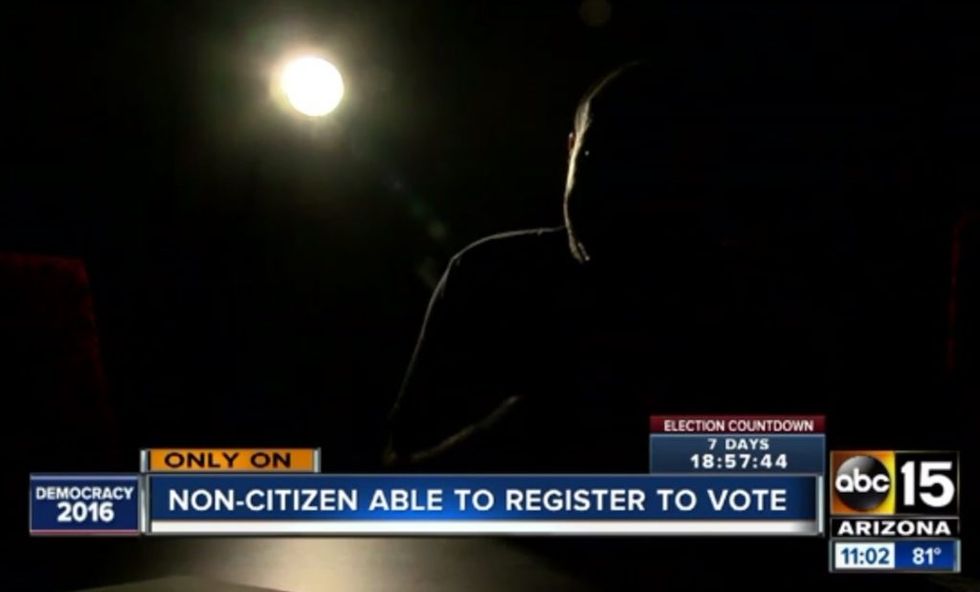 Image source: KNXV-TV
So the man — who said he's lived in the U.S. for more than 25 years and possesses a permanent resident alien card — plugged in his name, Social Security number and driver's license.
"The only thing I checked that I shouldn't have was 'Legal Citizen,'" he told KNXV, "but I assumed they were going to catch that." The station added in a different report that he also noted he was born in New York.
And what do you suppose happened?
Yup, he told the station he got his voter registration card in the mail a few weeks later.
"It makes me really think the system is rigged," he told KNXV. "Not towards a political party but that the system is broken. How can it be 2016 and all these departments can't catch that I lied on my registration?"
Out of disbelief, he contacted KNXV to reveal the potential problem.
"I wanted to see if the system really worked, and it didn't," he said. "I thought people should know about it."
But a few days after KNXV contacted the Maricopa County Recorder's Office about the issue, the man said an investigator questioned him regarding how he got the card.
"He asked me, 'Did you give them your correct social?' I said, 'Yes.' 'Did you give them your correct driver's license?' I said, ''Yes.' He was shocked," the man told KNXV. "He asked, 'What were you trying to accomplish with this?' I said this all really just started off as a joke and now it's really just more of trying to prove a point that look you don't have to be a citizen and you can register."
When the man asked the investigator if he was in trouble, he told KNXV the official replied that he couldn't respond but "just don't pursue it any further."
Yet what special delivery did he receive in the mail a few weeks after that? An early ballot, he told the station.
"It's just wrong," he told KNXV. "I wouldn't vote. I never intended to vote. I know I am not a legal citizen, but my wife is a citizen. It makes me wonder — does her vote really matter?"
A Maricopa County Records Office spokeswoman told the station that the man was able to register because of a system loophole.
"We don't check citizenship based on a person's Social Security," Elizabeth Bartholomew told KNXV, "we check on their driver's license."
She added that the man got his state driver's license in 1994 — two years before proof of citizenship was required. Still, Bartholomew added, he needed a new license after 1996 and still he was "never scanned for citizenship at that point."
Bartholomew added that the man falsely registered stating he was a citizen — a Class 6 felony. Indeed the Maricopa County Attorney's office told KNXV it's investigating to see if charges are warranted.