NASHVILLE, Tenn. (TheBlaze/AP) — The surprise collaboration of Beyonce and the Dixie Chicks at the Country Music Association Awards was still rocking the music world on Thursday, but not all were impressed by the electric performance — and some country fans unleashed their anger on social media.
Since the show aired Wednesday night on ABC, the CMA's Facebook page and other social media accounts have been filled with comments about the performance of Beyonce's country-flavored song "Daddy Lessons," which generated perhaps the most attention during the show's big night, as the CMAs celebrated the awards' 50th year.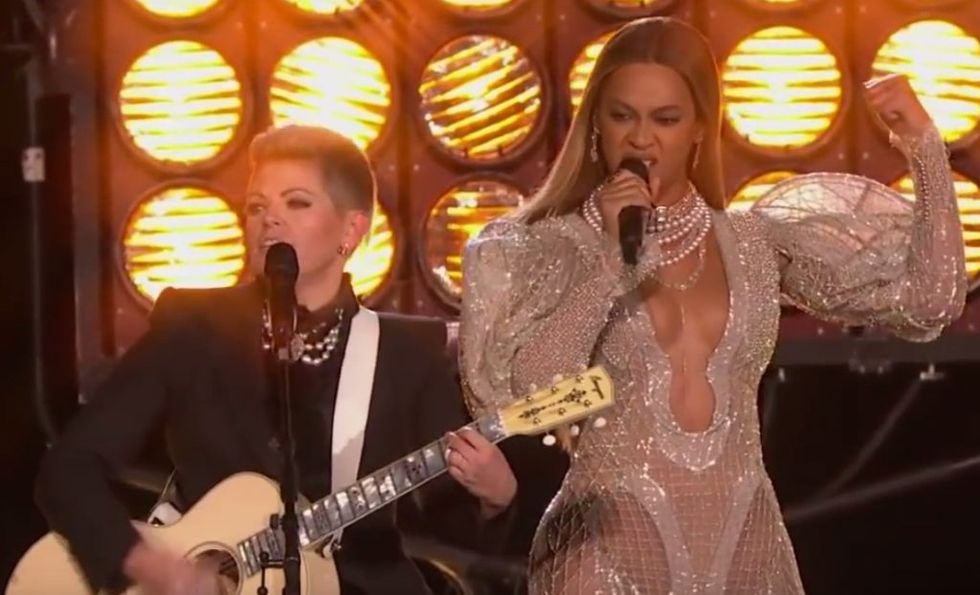 Image source: YouTube
The Beyonce-Dixie Chicks performance received plenty of attention and rave reviews and had many gushing. Reese Witherspoon tweeted, "Loving this!" during the performance.
But some were outraged Beyonce and the Dixie Chicks, who have been estranged from the country music world since their insult of then-President George Bush in 2003, even were allowed to perform. Some questioned the Dixie Chicks' patriotism, while others claimed that Beyonce is anti-police because she has addressed police brutality in her music videos.
"This would've been the greatest show in years had you not invited a race baiting cop hater!" one Facebook commenter wrote. "Never watching again."
"Dixie Chicks said they would never ever return to the country music platform and yet there they were ..." another commenter said. "With another police hating, anti-military, hateful artist, Beyonce. Disgraceful. It ruined the entire show."
"No place for Black Lives Matter lover Beyonce, shame on CMA," another viewer wrote. "I changed the channel when she came on ... never changed it back. Loved the Traditional Country performers before the BLM lover came on."
Still others complained that Beyonce was not a country artist, although the CMAs routinely feature non-country artists in collaborations, including the highly praised performance at last year's show between Justin Timberlake and Chris Stapleton.
"The Beyonce/Dixie Chicks thing was someone's idea of making a political statement where none was needed," a commenter opined. "That was was a terrible representation of 50 years of the CMA. And we wonder what is happening to the music we used to call country...."
Beyonce and the Dixie Chicks also had plenty of supporters, with Beyonce fans leaving bee emojis, the symbol used for the superstar, in response to the negative comments.
Some Beyonce fans even accused the CMAs of taking down references to the performance on social media; the CMA Twitter page had only a brief reference to it. However, its Instagram page promoted a free download of the collaboration of "Daddy Lessons" and its Facebook account shared photos and video of the moment.
"CMA has not erased any mentions of Beyonce's performance on the CMA Awards. In advance of the broadcast, CMA removed a five-second promotional clip from ABC.com and CMA's Facebook page. The promo was unapproved and CMA removed it prior to the broadcast," read Thursday's statement. "Beyonce's performance with Dixie Chicks was a highlight of the evening and we are continuing to share the amazing full-length performance clip via our official social channels."
Dixie Chicks singer Natalie Maines tweeted Thursday night, "Hey everybody! The CMA's just called and asked us to co-host next year's show with Beyonce. Unfortunately I've got a thing that night so, no."
Hey everybody!The CMA's just called and asked us to co-host next year's show with Beyoncé.Unfortunately I've got a thing that night so, no.

— Natalie Maines (@Natalie Maines) 1478211576.0
Maines later tweeted a lyric from Beyonce's "Formation," which she performed in controversial fashion at this year's Super Bowl.
"You know you dat Bitch when you cause all this conversation. Always stay gracious best revenge is your paper." #Bey #Slay

— Natalie Maines (@Natalie Maines) 1478212926.0
TheBlaze TV's Dana Loesch noted the dust-up, as well as her disagreement with Beyonce's stance regarding police and Black Lives Matter support, but Loesch found common ground with the pro-gun message in "Daddy Lessons."
"I'm not jumping down her throat for performing this particular track or the message behind it at the CMAs," Loesch said. "And I don't feel that other people should, either."
As for the Dixie Chicks, Maines' 2003 comment that they were ashamed of then-President Bush for the invasion of Iraq nearly derailed their career. Radio stations refused to play their music and they were denounced by conservatives and many fans. Maines has also been critical of Republican presidential candidate Donald Trump.
But the country artists who performed and were honored on the show Wednesday were overwhelmingly supportive of the performance.
"She's a classy, classy lady and I am proud that she could take the time to come and show up," Chris Stapleton said of Beyonce backstage after the show.
"Queen Bey and the Dixie Chicks, I thought that was just power, just raw power," said entertainer of the year Garth Brooks. "I just love that it was feminine raw power."
Later on he said, "Tonight, I gotta tell you, I missed the Chicks. I miss their music."
Maren Morris, who won the new artist of the year award, said she was glad the Dixie Chicks returned to the CMA stage.
"But when I found out the Dixie Chicks were going to perform, I freaked out," Morris said on the red carpet before the show. "Because it's been a decade since they have been on the stage. I just grew up listening to them and loving their point of view and how they don't give a (expletive). And I just love them that about them."