Nevada GOP chairman Michael MacDonald is under fire for comments he made on Saturday that appeared to criticize a poll staying open late in order to accommodate Hispanic voters. In a video taken by a rally attendee, the speaker can be heard saying, "If we don't get our people out to vote, they're gonna win. Last night in Clark County they kept a poll open 'til 10 o'clock at night so a certain group could vote. . . the polls are supposed to close at seven. This was kept open 'til ten. Yeah, you feel free right now? You think this is a free and easy election?"
Multiple news outlets have identified the speaker as Nevada GOP chairman Michael MacDonald.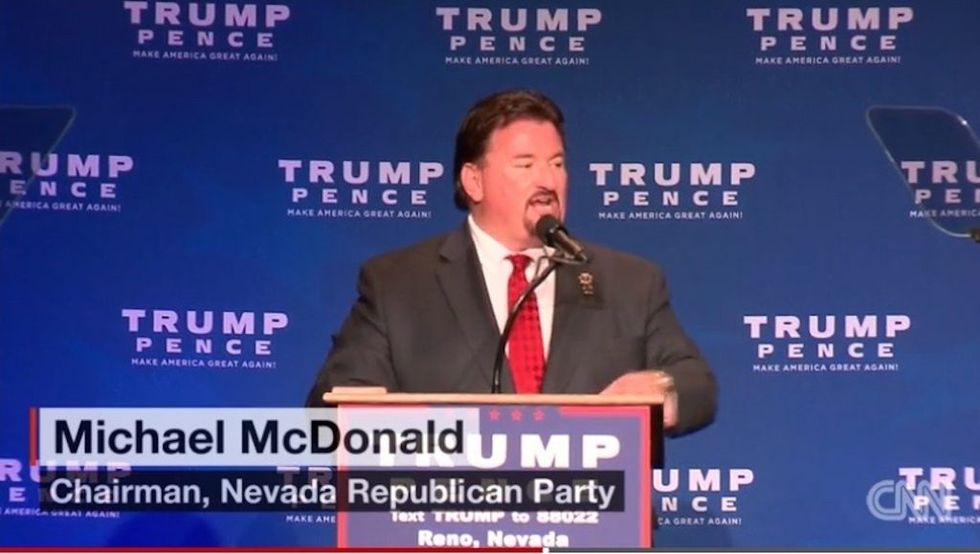 Image source: YouTube
MacDonald appears to have been referencing highly publicized reports that an early voting station at Silverado Ranch — a heavily Hispanic precinct — stayed open until slightly past 10pm in order to accommodate people who were already in line when the polls closed. According to county election officials, the actual closing time for the location was at 8pm, and no persons who were not in line to vote at closing time were allowed to vote. Media reports confirmed that this particular polling location was experiencing delays of multiple hours during the day, and even if these voters had been turned away, they would have been eligible to return on subsequent days or on Election Day itself.
Still, Republican nominee took the stage and used the occasion to repeat his refrain that the election is "rigged," saying:
It's being reported that certain key Democratic polling locations in Clark County were kept open for hours and hours beyond closing time to bus and bring democratic voters in. Folks, it's a rigged system. It's a rigged system and we're going to beat it.
Neither the Trump campaign, nor the Nevada GOP, nor Nevada Governor Brian Sandoval — who is Hispanic and Republican — have yet issued public comment on MacDonald's remarks.