With less than a week to go until the general election, Republican presidential nominee Donald Trump is working blue — blue states, that is.
Trump has spent considerable amount of time in battleground and typically blue states in the final, crucial days before Tuesday's election.
Democratic presidential nominee Hillary Clinton still has a solid grip on most national and respected polls. And she certainly is in the lead among celebrity endorsements, pulling out all of the big stops like Bruce Springsteen and Jay-Z as her campaign wraps up in the more volatile states.
But without the fanfare of celebrities, can Trump's barnstorming of battleground states be enough to pull out a victory? Here's what the Republican's campaign needs to do — and hope for — in the next 36 hours.
Michigan
If the past six elections are any indicator, Michigan is #WithHer. But Trump's team is liking what they see.
"We've seen our prospects improving in Michigan for quite a while now internally," Trump's campaign manager Kellyanne Conway told reporters Sunday.
"It's all going to come down to Michigan," Attorney General Bill Schuette said during a Trump rally in Sterling Heights, Michigan, Sunday evening. "Michigan is the center of the universe."
It may not be the center for the Trump campaign, but Michigan is one of a handful of states that will be on the receiving end of the Trump campaign's $25 million TV ad buy for the final week of the 2016 election.
And Trump himself will close out Monday with a late-night rally in Grand Rapids, the second-largest city in the state.
The Los Angeles Times' labeled Michigan "likely Democrat," and FiveThirtyEight predicts the former secretary of state has a 71 percent chance of taking the state. The latest Public Policy Polling survey from the Great Lakes state has Clinton up five points.
But Clinton and Trump both have their eyes set on the state. Clinton's camp has dispatched former President Bill Clinton to several churches, and President Barack Obama will rally supporters Monday.
"We trust the brilliance and savviness of the Clinton campaign," Conway said Sunday. "If they thought Michigan was in the bag, Hillary Clinton, Bill Clinton and Barack Obama would not be returning there [Sunday or Monday]."
As the Detroit News reported, Clinton's campaign isn't taking Michigan's recent blue history for granted.
And Democratic strategist Van Jones said Sunday:
There's a crack in the blue wall, and it has to do with trade. This is the ghost of Bernie Sanders. There is a discontent among some Democratic voters over trade, and some blame Hillary Clinton. So you've got to go back there and shore it up.
Florida
Conway told reporters Sunday that the Trump campaign sees "at least six different paths to 270" electoral votes, but there's no denying that those paths need to include Florida's 29.
Like candidates before him, Trump has spent considerable time campaigning across the Sunshine State ahead of the election and will continue to rally supporters in Sarasota Monday morning.
Florida isn't in the bag even as FiveThirtyEight predicted the GOP nominee has a 51.5 percent chance of winning the state. Real Clear Politics' aggregated polling data, on the other hand, has Clinton in the lead — but by less than one point — in the state that went for Obama twice.
Florida has seen a surge of Latino voters, which could be damaging to Trump as he's taken a hardline approach on immigration still in the final days of the campaign. And Clinton's campaign certainly has noticed.
Clinton visited with immigrant communities as she campaigned across the state over the weekend. The New York Times reported from Pembroke Pines, Florida, that she visited with her campaign office in Miami's Little Haiti and met with voters in a heavily Cuban area in West Miami over the weekend.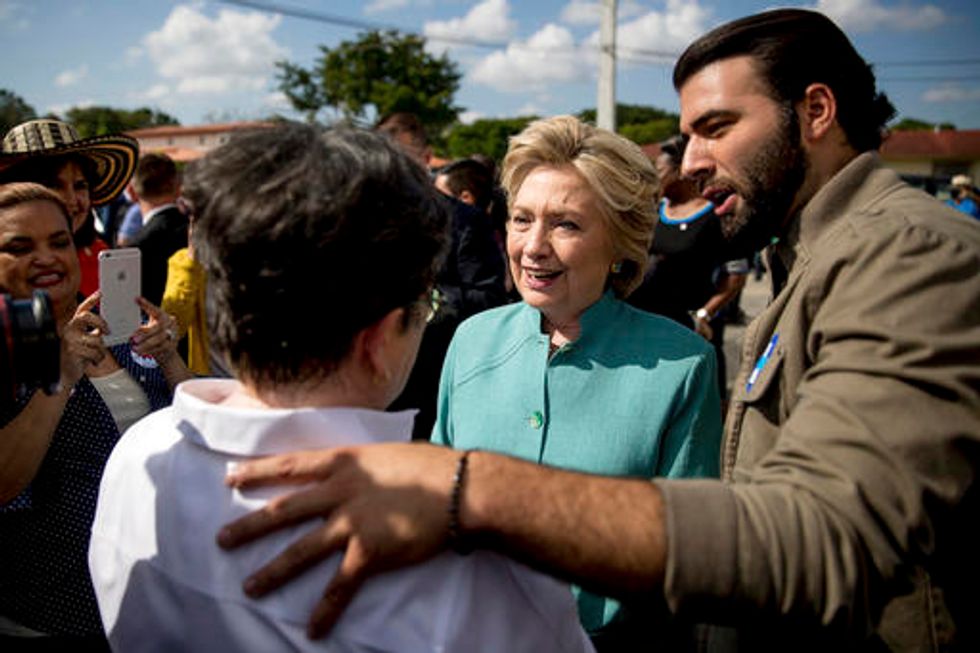 Democratic presidential nominee Hillary Clinton accompanied by actor Jencarlos Canela greets people outside an early voting center in West Miami, Florida, on Saturday. (AP/Andrew Harnik)
"We are seeing tremendous momentum, large numbers of people turning out, breaking numbers," Clinton said Saturday.
Yet University of Virginia political scientist Larry Sabato predicted that Trump wouldn't necessarily need Florida if he could just secure Michigan, Ohio, Pennsylvania and Wisconsin as well as all of the states former Massachusetts GOP Gov. Mitt Romney took in 2012 — although he didn't seem too confident of that scenario.
"But tell me how he's going to do that," Sabato told USA Today. "He's behind in Pennsylvania. He's behind in Michigan. He's behind in Wisconsin. They only one he can probably carry is Ohio."
Ohio
Of the battleground states, Trump probably has a greater statistical chance of winning Ohio than most others.
FiveThiryEight gives the Manhattan billionaire a 65.4 percent chance of winning the state. Real Clear Politics' aggregated polling data puts Trump ahead by slightly more than two points.
Ohio isn't an irrelevant battleground state in the slightest. A Republican has not been able to win the White House without Ohio in the bag, Cleveland.com reported. And the last Democrat to do so was John F. Kennedy.
Clinton's campaign has also recognized the importance of securing Ohio's urban vote, according to Cleveland.com. She even drew out big names — Beyonce, Jay-Z and Lebron James — to her events over the weekend.
Trump and Pence do not have Ohio on the schedule for the upcoming days.
But Trump could still lose even with an Ohio win. Political commentator Jon Ralston predicted that Clinton will claim Nevada, North Carolina, Pennsylvania and Virginia. In turn, Trump will win Colorado, Florida, Iowa, New Hampshire, Ohio and Wisconsin — but it wouldn't be enough.
Ohio went for Obama in the past two elections but turned red for former President George W. Bush in the two prior elections.
Minnesota
It's all about the numbers for the Trump campaign, and Conway touted attendance for Sunday's rally in Minneapolis.
"We have 18,000 RSVPs for a venue that holds 5,000 people with less than 24 hours notice that we would be coming to Minnesota," she said. "We see that as a sign of strength."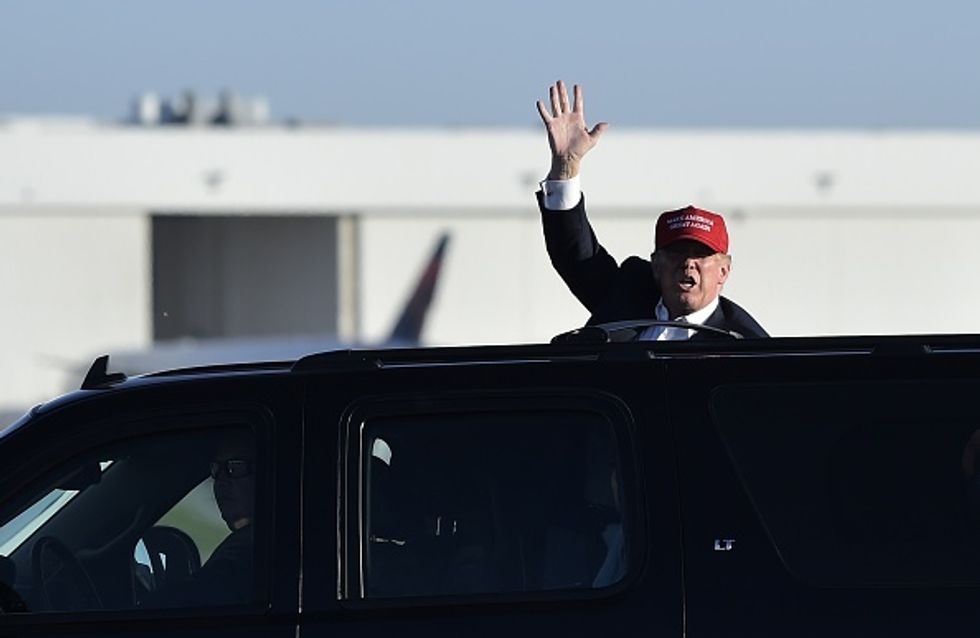 Republican presidential nominee Donald Trump waves to supporters who were waiting outside of the fence following a rally at the Sun Country Airlines hangar in Minneapolis, Minnesota, on Sunday. (Getty Images/Mandel Ngan)
It's a state that has been reliably blue for decades, but still Trump's deputy campaign manager David Bossie told reporters Sunday that the campaign saw a "surge" in Minnesota as it makes a play for its 10 electoral votes.
"As we were looking at our schedule, we determined that we have them on defense," Bossie said. "We are clearly on offense, we are expanding the map, and they are clearly on defense."
Bossie contended that every election cycle there are certain states that unexpectedly become a toss-up — and this year that is Minnesota.
But when it comes to the numbers, the confidence of Trump and his campaign in Minnesota seems a little far-fetched. FiveThirtyEight puts the likelihood that Clinton will win the Gopher State at 80.8 percent. Real Clear Politics has Clinton ahead by 6 points.
Silver also identified Minnesota as a key state that Clinton should avoid losing. In these states, if the opponent is ahead, it could be a "sure sign" that the candidate is losing. For Clinton, should Trump win Minnesota, that could mean the end of the election for her.
Still, Trump promised to win the state as he visited over the weekend.
"If I don't win Minnesota, I'm going to look real bad to those pundits I don't respect very much," Trump said from an airplane hangar Sunday. "This is our last chance. We're not going to have another chance."
Trump's running mate, Indiana Gov. Mike Pence, will stop in Duluth, Minnesota, Monday morning.
Nevada
Like Florida, Nevada has seen an uptick in Latino voters ready to do their civic duty — but Trump campaign officials say they aren't worried.
Bossie said Sunday:
We look at the Hispanic vote — I know that the Clintons love to think they're getting 100 percent of the Hispanic vote. They're just not. So the higher the turnout of HIspanics, we're going to get — we see polling that we're going to get in the 20s and up to 30 percent of the Hispanic vote in Nevada. So we'll see on Tuesday night, but I don't think the Clintons should be counting their chickens just yet.
A Trump campaign source in Nevada also told TheBlaze that the Clintons are taking the state — and its Hispanic vote — for granted. And that is something that hasn't gone unnoticed by Latino voters, the source said.
FiveThirtyEight's prediction of a Clinton victory in the state is small — 51.3 percent — and Real Clear Politics has Trump ahead by 2 points.