Against all odds, Republican Donald Trump is poised to earn the electoral college votes needed to take the White House.
Defying polls, conventional wisdom and the will of Washington, Trump pulled off a stunning upset on election night with victory after victory in swing states, from Ohio to Florida and Pennsylvania.
Democratic presidential nominee Hillary Clinton was all but presumed to succeed President Barack Obama as recently as this morning, with polls consistently showing her up by more than the margin of error in crucial toss-up states.
But it wasn't to be.
Just as she did eight years ago in the Democratic primary, Clinton on Tuesday night watched election returns break against her — this time in her home state of New York, before she was set to take the stage beneath a giant glass ceiling always intended as a metaphor.
Clinton didn't give the planned concession speech — instead, campaign aide John Podesta came out and told the crowd that votes are still being tallied, so the campaign will have "more to say" tomorrow.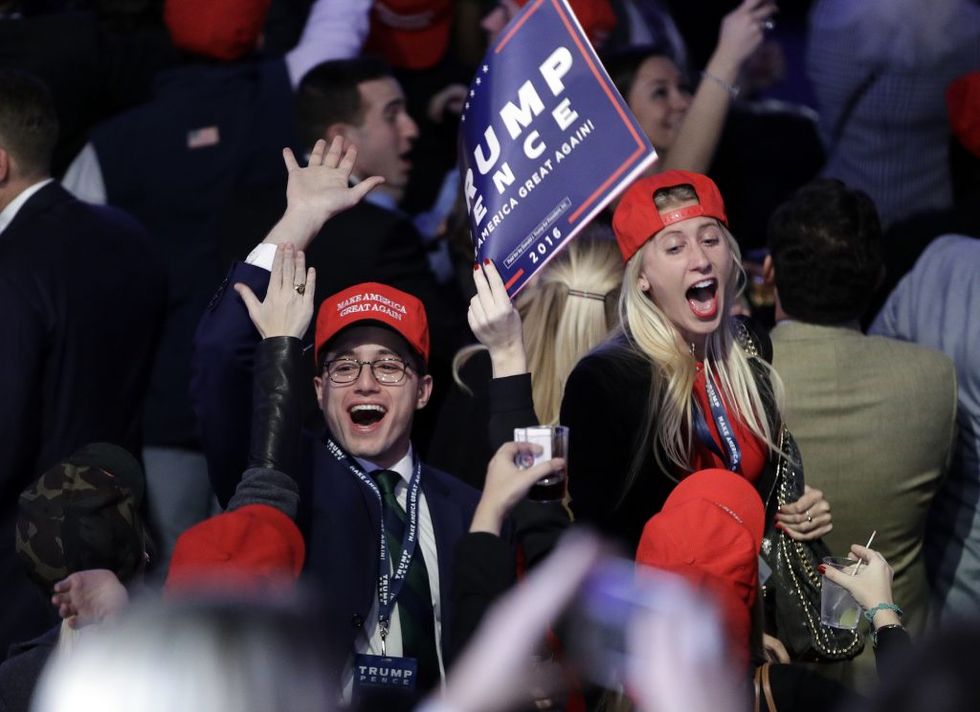 Trump supporters react as they watch the election results during Trump's election night rally on Tuesday in New York. (AP/John Locher)
The billionaire businessman and political neophyte launched an unexpected candidacy for the presidency in June 2015. His campaign immediately caught the attention of the news media, as his harsh and off-the-wall statements about Hispanics, immigrants and women earned him headline after headline throughout the primary process.
Trump beat out a slew of Republican rivals and accepted the Republican nomination this summer in Cleveland, vowing to speak for those Americans who feel left out and ignored by an out-of-touch, insider-run Washington.
"Believe me," he said, over and over again. "I'm with you, and I will fight for you, and I will win for you."
And on Tuesday, voters chose not to make a liar out of him.
As the political class continued to predict a blowout victory for Clinton, the wife of a former president who had served as secretary of state, millions of voters across the nation turned out for Trump — making the race a nail-biter from the moment the first results came in.
In the past few weeks on the campaign trail, Trump pulled back from his previous habit of making waves from the podium at events — instead focusing on his message of reforming Washington.
Trump pledged to "drain the swamp" in D.C. by pushing for term limits on members of Congress. His aides took away his Twitter account, often a source of headaches for Trump's team.
And slowly but steadily, he gained in the polls.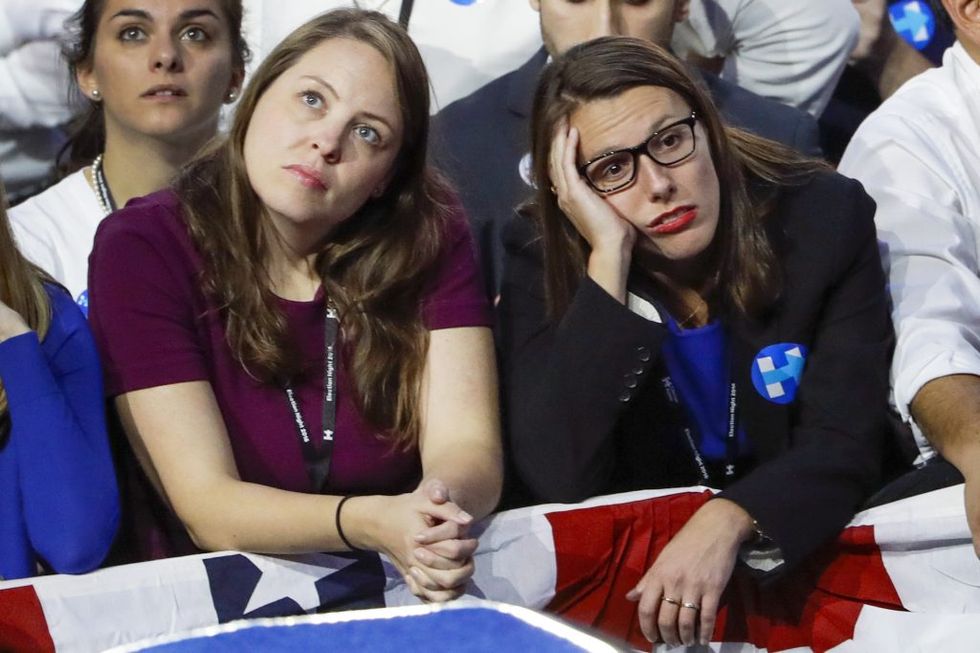 Guests watch disappointing results during Democratic presidential nominee Hillary Clinton's election night rally in the Jacob Javits Center glass enclosed lobby in New York on Tuesday night. (AP/Matt Rourke)
As the final hours of Tuesday turned into the first hours of Wednesday, and Ohio and Florida had been called for Trump, all eyes turned to the rust-belt states.
Clinton had held a more than three-point lead in the polls in Michigan this week, but Trump jumped out ahead in the returns, and also led in Wisconsin. He was projected to win Pennsylvania — a blue state since 1988 — and looked to completely close the path to his opponent.
As the chances for a Clinton victory clearly started to slip away, CNN anchor Anderson Cooper explained:
"The polls were just wrong."
The Associated Press called the race for Trump at 2:31 a.m.