When San Diego police Officer Christine Garcia was spotted trying to enter an event at the city's LGBT Community Center just after a Transgender Day of Awareness march earlier this month, Garcia was told she had to leave.
Why? Garcia's uniform could upset others in attendance, the Los Angeles Times reported.
But there were a few flaws with this decision.
Not only did Garcia help patrol the Nov. 17 march down University Avenue in the Hillcrest neighborhood, she also helped plan the very event she was turned away from.
We are all in this together: 300 rally for #transdayofremembrance & march for solidarity & affirming commitment… https://t.co/8tn5UN6Uyr

— Oren (@Oren)1479692131.0
Garcia, you see, is the police department's first transgender officer.
As you might imagine, once officials at the LGBT center got word of the faux pas, apologies were issued to Garcia and San Diego Police Chief Shelley Zimmerman.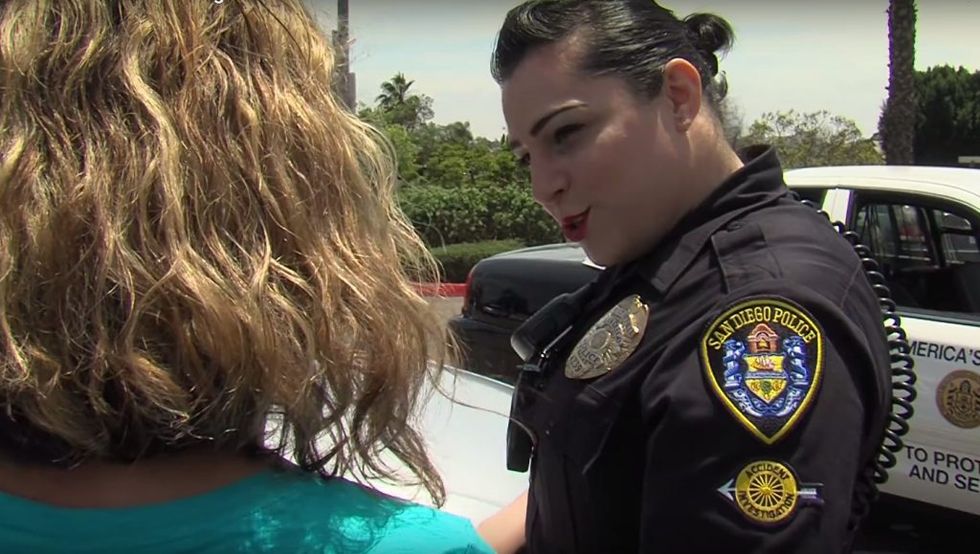 Officer Christine Garcia (Image source: YouTube)
"We do not wish to ever make any community member feel unwelcome … these officers are valued members of our community," Delores Jacobs, chief executive officer of the LGBT center, said in a statement to the Times.
Jacobs added that the center's inclusion policy recognizes the "need to support those that are uncomfortable and honor their reactions to valid and understandable difficult previous experiences," which led to the misunderstanding in Garcia's case, the Times reported.
But the incident angered City Commissioner Nicole Murray-Ramirez, a longtime LGBT advocate.
"In my over 45 years of activism, I have never heard of such an outrageous and disgusting act against one of our own at our community center, period," Murray-Ramirez wrote in a piece for LGBT Weekly.
"Any officer, be they gay or straight, should be welcomed into our community center in uniform," Murray-Ramirez told the Times. "They protect our community and neighborhoods and make San Diego a better place."
As it turns out, Murray-Ramirez wrote in the LGBT Weekly article that the person who barred Garcia from attending the transgender event is a straight woman who acts in an official capacity for the LGBT center — and should be fired.
But that didn't sit well with a transgender commenter who shot back that the official who barred Garcia "most likely took this action because some trans folk convinced her to intercede on their behalf. I believe that our local trans community needs to take some responsibility for sending mixed signals to the center's staff."
The commenter noted other issues, including that "many transgender people do not feel totally comfortable at the center" and that lesbians, gays and bisexuals "are just as likely to be put off by transgender people as their heterosexual counterparts. And for some LGB people, we trans folk are the freaks who are standing in the way of their march toward greater acceptance by society at large. This attitude toward us trans people has played out over many years in subtle and not-so subtle ways."
Here's a more detailed look at Garcia: