After Indiana high school students placed a pro-life banner on a wall in Carmel High School, students with Carmel Teens for Life said the administration took it down.
Mat Staver, founder and chairman of Liberty Counsel — which is representing the student group — told WXIN-TV another student complained the banner was "offensive," and school officials removed it because signs aren't allowed to "interfere with what folks are thinking or feeling comfortable with."
What was so offensive about the sign?
It featured 300 hand-painted hearts (each representing 10 lives), was titled "3,000 lives are ended each day" and included letters in the word "abortion" crossed out to spell "adoption."
Staver added to the station that the banner had been approved by school officials for display. Pro-life students told WRTV-TV administrators didn't take down signs made by other student groups in the past, including pro-LGBT clubs.
Liberty Counsel has threatened to sue the school unless the banner goes back up.
"The fact that it was taken down without even having administrators talk to me about it or explain why they were going to take it down, it just happened," Mary Carmen, president of Carmel Teens for Life, told WRTV. "And then the fact that it was thrown away in the nurse's office was just unbelievable."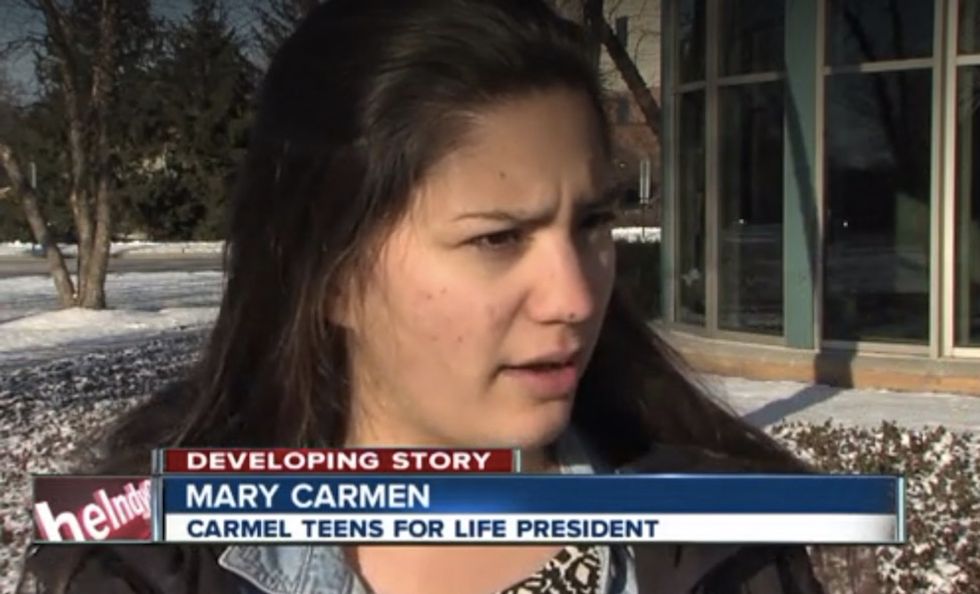 Image source: WRTV-TV
The pro-life students spent more than 25 hours working on the banner, WXIN-TV reported.
"I think the school miserably failed the students," Staver told WXIN.
More from WXIN:
In addition, administrators reportedly asked members of the club sign an agreement, which prohibits the club from using the word "abortion" in future displays or other forms of communication. The agreement reads "I will not have communications with outside agencies as a representative of the Teens for Life Club without prior approval from the Sponsors..." and "Prior approval for all communications regarding the Teens for Life Club will be requested from the Teens for Life Club Sponsors..."

The organization says members were threatened that if they did not sign the agreement immediately, the club sponsors would be forced to resign.
"By allowing other student clubs to post their viewpoints throughout the school while banning a poster from Carmel Teens for Life, the school has engaged in unconstitutional viewpoint discrimination," Staver told WXIN. "Schools also may not censor pro-life viewpoints. The actions of the school officials are outrageous. Not only did they censor protected speech, they threatened students with retaliation if they sought legal counsel. We will hold this school and these officials accountable."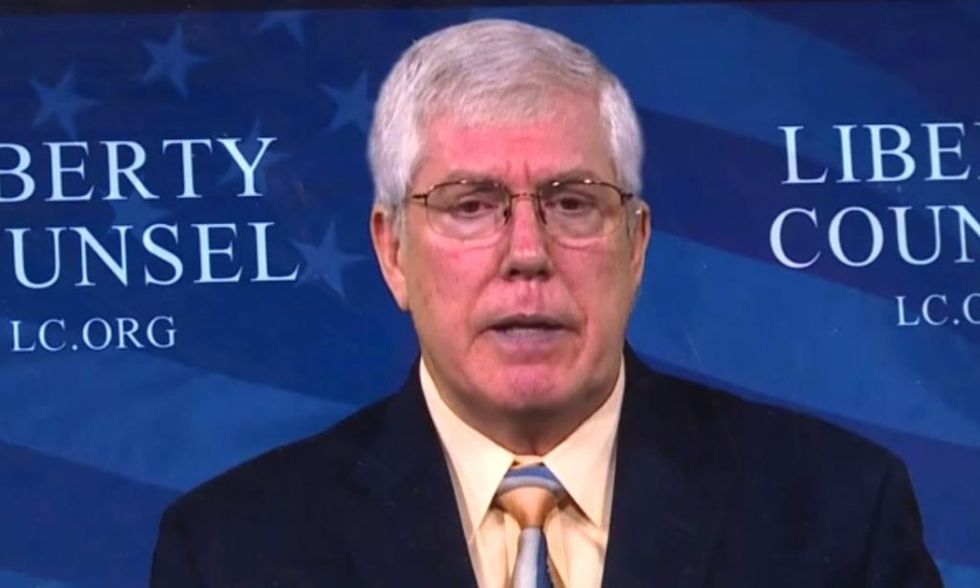 Mat Staver (Image source: WXIN-TV)
Carmel Clay Schools released the following statement Tuesday to WXIN:
Late in the afternoon on December 5, 2016, Carmel Clay Schools received a letter from Liberty Counsel claiming that Carmel High School had violated the rights of certain Carmel High School students. That letter requested a response to its claims by December 12, 2016.

CCS immediately referred this letter to its legal counsel for review and response. Less than 24 hours after receiving the letter, CCS counsel contacted Liberty Counsel in an effort to amicably resolve the situation and offered to provide a preliminary response by December 16, 2016. Liberty Counsel thanked CCS for its candor and willingness to investigate. Today, contrary to its conversations with CCS, Liberty Counsel chose to air its side of the situation publicly.

Carmel Clay Schools' staff and administration are treating the claims made in this letter very seriously. We are reviewing the matter to determine what happened and to respond to our students and community in an appropriate and respectful manner.
Carmel Clay Schools then released this statement to WXIN:
Carmel Clay Schools supports the rights of its students to express their opinions and our school clubs are one opportunity for students to do so, as long as they operate within reasonable guidelines. We give serious consideration to any claim that a student's rights have been violated. We are in the process of thoroughly reviewing the claims to determine what happened and respond accordingly.
(H/T: The College Fix)