With less than a week remaining in President Barack Obama's final term in office, a prominent national voice for police officers says this coming Friday — President-elect Donald Trump's Inauguration Day — can't come soon enough.
"No one is sorry to see this guy go," William J. Johnson, executive director of the National Association of Police Organizations, told TheBlaze.
Amid the spike in deadly violence against police during Obama's presidency, Johnson said Obama's public statements merely have given "lip service" to the notion that such behavior is wrong. But coupled with such rhetoric has been Obama's consistent support — often in the next sentence — for groups inclined to blame police for incidents involving minorities, which likely has kept the door open for more violence against officers.
The disturbing result, Johnson told TheBlaze, has been a steep drop in morale among police and a marked decrease in officers' willingness to engage communities for fear of being unjustly accused. In other words, "Don't get involved, smile, wave, drive by," Johnson said.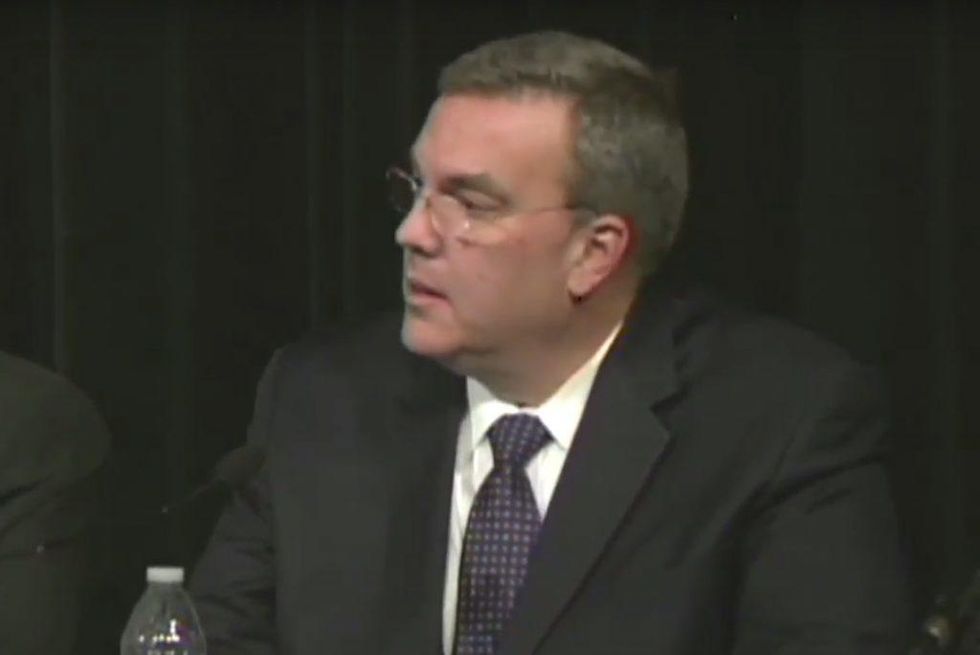 William J. Johnson (Image source: YouTube screen cap)
"He knows what he's doing. He's aware who his audience is," Johnson added regarding Obama. "In terms of violence against police, his audience was not police or survivors, his audience was leaders of Black Lives Matter, protesters and agitators. ... He sent a clear message: 'I'm on your side.'"
Johnson said Obama's statements even after a decidedly less-violent incident — the highly publicized 2009 arrest of black Harvard professor and scholar Henry Louis Gates Jr. in his Cambridge, Massachusetts, home — were divisive and sealed the notion in many minds that the president isn't particularly supportive of law enforcement.
"I don't know, not having been there and not seeing all the facts, what role race played in that," Obama famously said following Gates' arrest, the Washington Post reported. "But I think it's fair to say, number one, any of us would be pretty angry; number two, that the Cambridge police acted stupidly in arresting somebody when there was already proof that they were in their own home, and, number three, what I think we know separate and apart from this incident is that there's a long history in this country of African-Americans and Latinos being stopped by law enforcement disproportionately."
It wouldn't be the last time Obama opined about police incidents involving minorities before the legal system ran its course.
A month after the 2014 fatal shooting of 18-year-old black man Michael Brown by a white police officer in Ferguson, Missouri — which spawned the "Hands Up, Don't Shoot!" slogan, destructive protests around the country and subsequent violence against police — Obama told members of the Congressional Black Caucus Foundation that the shooting exposed mistrust in law enforcement, particularly among minorities.
"Too many young men of color feel targeted by law enforcement," Obama said. "Guilty of walking while black, driving while black, judged by stereotypes that fuel fear and resentment and hopelessness."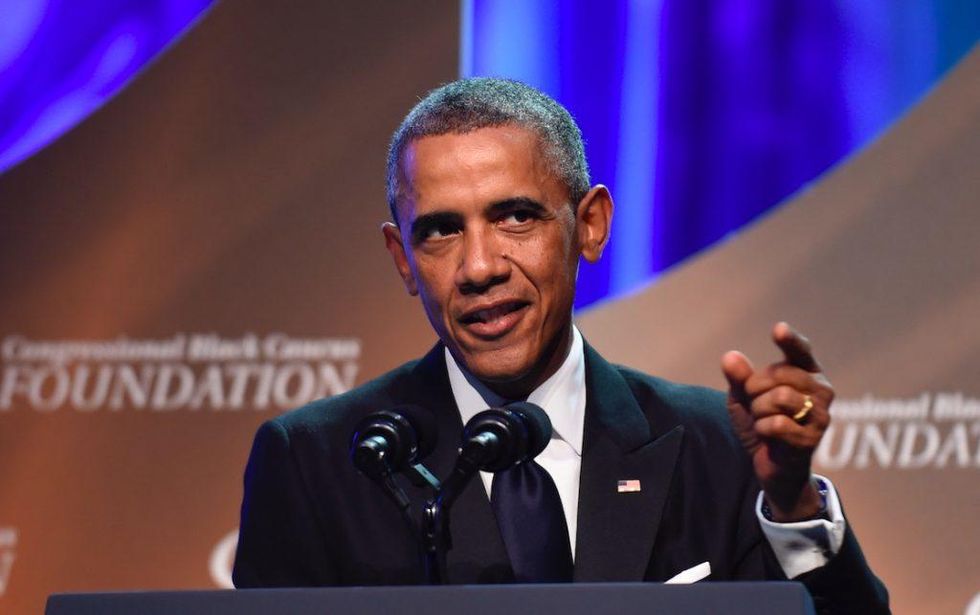 President Barack Obama speaks at the Congressional Black Caucus Foundation's 44th Annual Legislative Conference Phoenix Awards Dinner in Washington, D.C. (AP Photo/Susan Walsh)
But a grand jury later cleared the Ferguson officer of wrongdoing and found through numerous witness testimonies that the widely believed "Hands Up, Don't Shoot!" narrative — that Brown had his hands raised before being shot — was false.
Still, Johnson said, then-Attorney General Eric Holder kept up the federal investigation of former Ferguson Officer Darren Wilson. And after it also found no wrongdoing on Wilson's part, Johnson said Holder and Obama both failed to emphasize that to the public, thereby giving lots of room for anti-police sentiment to fester.
Then after five Dallas police officers were fatally shot during a protest last July over black men killed by police in Minnesota and Louisiana — the assassin, a black man, was out for revenge for those killings — Johnson told Fox News that Obama has "become the Neville Chamberlain of this war on cops." The reference to the prime minister of England who let the Nazis extend their rule in the 1930s stemmed from the Obama administration's "disarming of police, taking away defensive gear like bullet-proof vests and helmets and bullet-proof cars, and at the same time, appeasing very violent movements."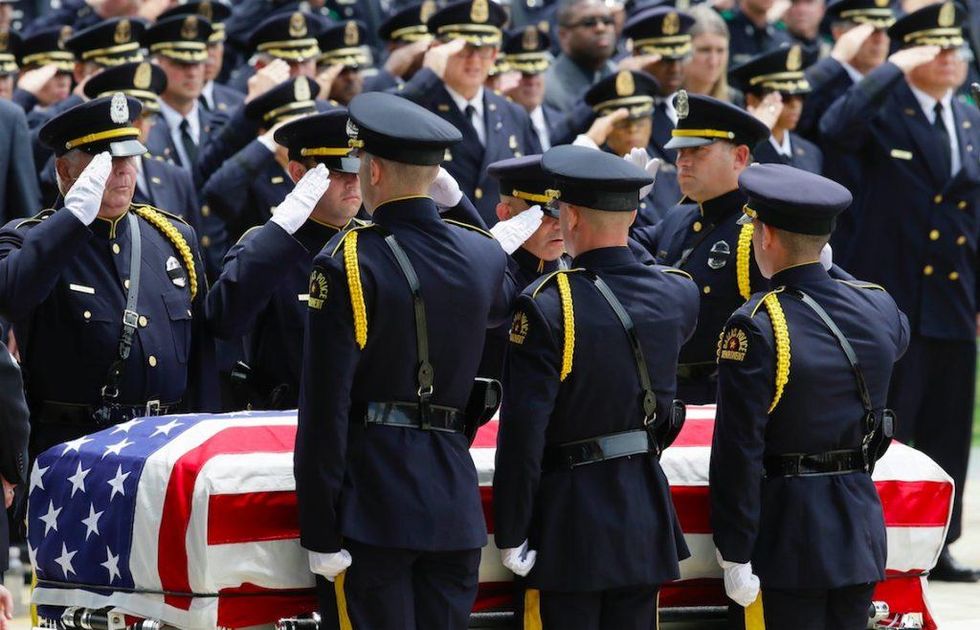 Members of an honor guard salute the flag draped casket holding slain Dallas police officer Michael Krol after a funeral service at Prestonwood Baptist Church in Plano, Texas, July 15. (AP Photo/LM Otero)
Johnson told TheBlaze that after his statement, he was summoned to the White House along with other officials to discuss the escalating tension between police and minorities around the country. Johnson said he "kind of got chewed out" by Obama in the Roosevelt Room, adding that the president told him, "I'm not responsible for the war on cops." Johnson said Obama asked him what he could do differently, and the NAPO leader referred to Obama's and Holder's stance even after Wilson was cleared in the Michael Brown shooting along with the administration's reluctance to criticize Black Lives Matter for the violence it invites against police.
The very next day Obama spoke during a memorial service for the slain Dallas officers and proceeded to add to law enforcement's pain, Johnson said.
After honoring the fallen officers, Obama didn't leave well enough alone. In his very next set of remarks, he launched into an impassioned, lengthy talk about the pain of black Americans and other people of color who believe police are out to get them — all in front of loved ones and colleagues grieving the five police officers.
"And while some suffer far more under racism's burden, some feel to a far greater extent discrimination's sting. Although most of us do our best to guard against it and teach our children better, none of us is entirely innocent," Obama said. "No institution is entirely immune. And that includes our police departments. We know this."
And while Obama's speech drew instances of applause, the Washington Post reported that the slain officers' families didn't join in the clapping when the president talked about the Black Lives Matter protests and the killings in Minnesota and Louisiana.
"Even now just can't support police?" Johnson asked regarding Obama's words about racism and bias at the service. "What the hell is he talking about? How does that fit in?"
Johnson added that Obama adding his race soliloquy during the service was "appalling" and "beyond tasteless" and bordering "almost on cruelty." And while he understands the political argument, Johnson said "there's a time and place" for such arguments to be made — and a memorial service for fallen officers wasn't one of them.
Now, for police on the street, "it's just different out there," Johnson said, adding that mayors in New York City, Chicago, Baltimore and other cities are "not defending us, not sticking up for us." Even during the upheaval of the 1960s both Democratic and Republican mayors supported police, he said.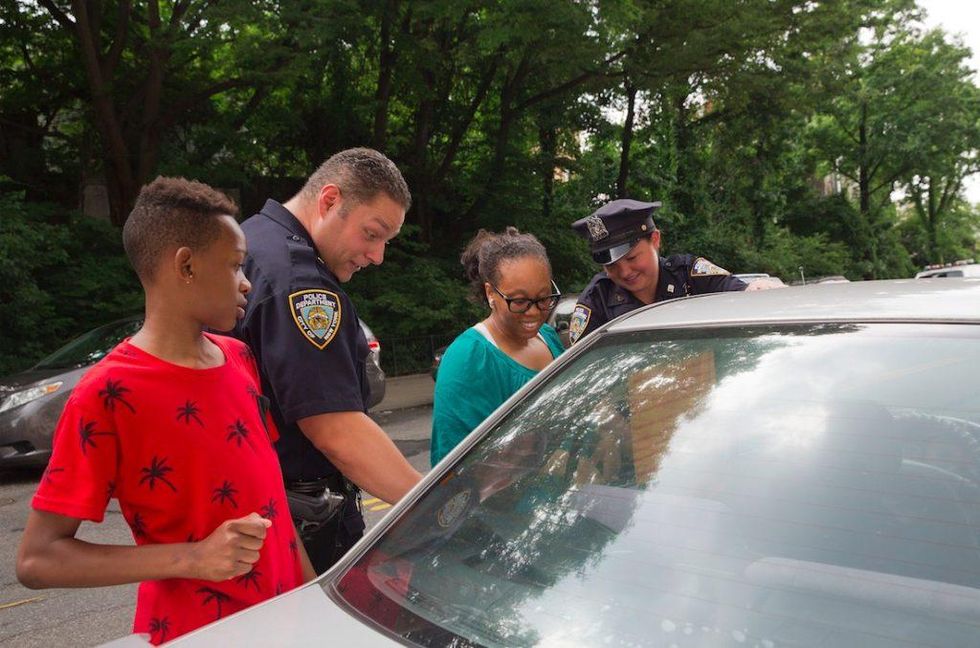 Police officers Mary Gillespie, right, and Jessi D'Ambrosio of the 120th precinct, help Monique Williams, center, after she accidentally locked her two children inside the car with the air conditioner running at the Richmond Terrace Houses in the Staten Island borough of New York on July 7. (AP Photo/Mary Altaffer)
And now Johnson told TheBlaze he's seeing the once historically multi-generational aspect of police work — e.g., "My dad was a cop, my grandfather was a cop" — dwindling even among the most dedicated to profession.
Said Johnson, "They're telling their kids, 'It's not worth it.'"