A 70-year-old California middle school teacher who drew fire after displaying a Confederate flag in his classroom — across from a Union flag, potentially as part of a history lesson — has retired, the Sacramento Bee reported.
"He will not be returning to the classroom," Zak Ford, president of the Folsom Cordova school board, said of Woody Hart at a recent meeting — an announcement that was met with a mix of cheers and boos, the paper said.
"Coward!" one man at the meeting yelled out, the Bee reported.
The district learned the flag was hanging in the classroom at Sutter Middle School the night of Jan. 17, it noted in a Facebook post, and the flag was removed the next morning before class began. Hart was placed on administrative leave while officials investigated, the Bee said.
"We recognize that regardless of context, to many of our students, families, and staff, the Confederate flag is a racist symbol of hate," the district also stated in the Facebook post, adding that "any employee who is found to engage in behavior that creates an unsafe environment for students will face full consequences, including the possibility of initiating termination proceedings."
Comments flew in to the district's Facebook post, some ripping the teacher and others defending him.
"My son is in his class," Tricia Spinks Jenkins wrote. "First time he has been interested in history. Both flags were hanging in the class to represent the teams that students were assigned to, either from the North or the South. They are fully immersed in learning about the Civil War and they are competing for points to win a pizza party. Sounds like a teacher who knows how to get middle school students engaged and truly thinking about what they are learning."
"This teacher is the most passionate history teacher there is," Tammy Simmons added. "My daughter hated history and by the end of a year with him, she loved it and says it was the way he taught. I'm sorry but the flag is a part of history and probably being used for a lesson, oh yeah, about history. Should we remove all teachings about WWII because teachers bring in items to use as props as well?"
"This was my son's favorite teacher when he was at Sutter," Dina Darnelle Collins wrote. "My son who hates school. He loved and respected this teacher. He rarely respects his teachers but respected this man. A history teacher had a historical object in his classroom to make a historical point...oh the outrage! Ridiculous!!"
"Is there any child that doesn't feel safe in his classroom?" Teresa Stanley asked. "I don't see the connection between safety and what some consider to be a symbol of hatred. None of you have any idea how discussion of those two symbols (Union and Confederate flags) occurred in the classroom. If gas chambers are discussed in a classroom, or images of concentration camps are presented, would your kids feel 'unsafe'? Probably just uncomfortable. Let them learn, or move them to home study where you can control their sensitive feelings in your ivory tower."
But Erika Kroeger Leiva, who indicated she's an educator, disagreed.
"I can speak from experience when I say there are many, many ways to make a lesson engaging, meaningful and fun for students without alienating or offending a single one," she wrote. "I will echo previous comments stating that hanging a Confederate flag in your classroom, particularly after defining equality the way this teacher did, is unacceptable."
This wasn't Hart's first brush with criticism over his teaching methods where race is the subject.
The family of a black Folsom student filed a complaint in November after Hart used a lynching analogy to explain how states treat individuals under the U.S. Constitution, the Bee said.
"When you hang one black person, you have to hang them all [as] that is equality," Hart told his eighth-grade class, the Bee reported, citing a complaint filed by the family of 13-year-old Tyler McIntyre.
Hart's words came when a student asked for a definition of equality during a discussion of a test on the Constitution, McIntyre's father Tyrie said, the paper reported.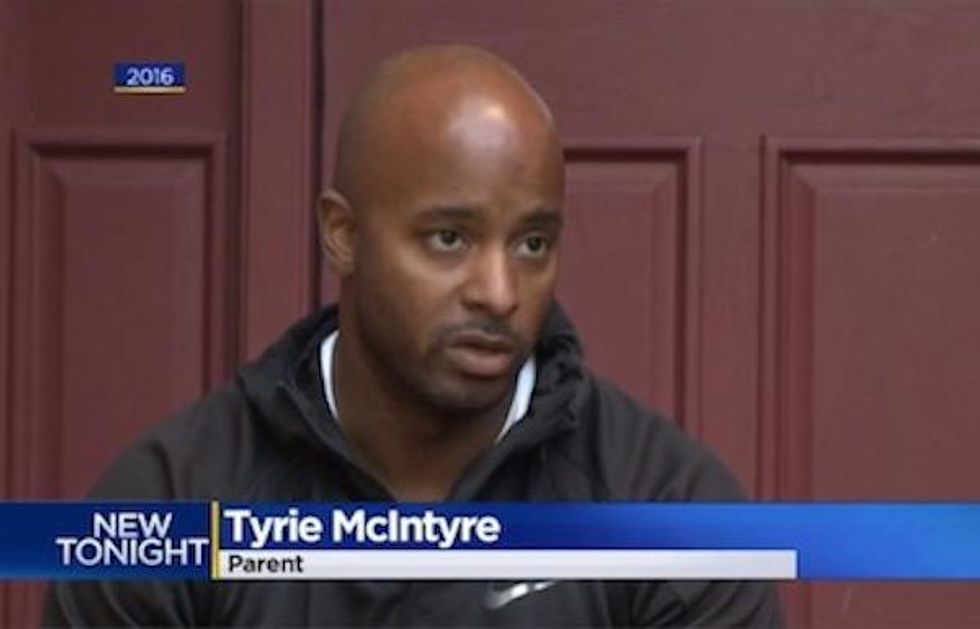 Image source: KOVR-TV
McIntyre is one of just a few black students at the school, his father told the Bee, and was embarrassed. Hart added to the Bee that he was trying to make the discussion "interesting" and express something that would catch students' attention.
The district superintendent posted an apology on Facebook in response to the lynching comments. Deborah Bettencourt's post came a day after the Sacramento chapter of a social justice group, Showing Up for Racial Justice, demanded an apology from Hart before a district board meeting.

Board President Ford voiced outrage during the meeting over the teacher's statement, calling it "very inappropriate and flat-out stupid." Ford apologized on behalf of the school, the district and the trustees.

In his interview with The Sacramento Bee, Hart vowed never to use the equality analogy involving lynching again. The school crafted remedial action for Hart, saying he must use examples that eighth-graders can understand and avoid stereotypes or culturally insensitive language.
(H/T: Heat Street)