BROOKLYN — Leaning on a browned and scratched crane, Anne smiled as she placed half a dozen onions into a clear plastic bag and remembered how she was able to give her five children something she did not have growing up — the chance to grow up in the U.S.
Anne declined to give her real name or details of how she immigrated to the Brooklyn community of Flatbush just after she was married for this story, but with a heavily Haitian accent punctuating her every word, Anne's pride in her ability to raise her children and grandchildren in New York City was evident.
"We are Americans. I teach my children that," she said smiling outside of a neighborhood vegetable market.
Multiple Democratic New York lawmakers have spoken out against President Donald Trump's immigration policies, proposals, comments and executive orders. New York City Mayor Bill de Blasio (D) has promised to fight Trump's executive order that halts federal funding to so-called sanctuary cities — places like New York that shield immigrants who are not in the country legally.
"We're going to defend all of our people, regardless of where they come from and regardless of their documentation status," de Blasio told reporters last week.
Trump signed an executive order Wednesday that would prevent federal funds from going to "jurisdictions that fail to comply with applicable federal law" when it comes to immigration, as well as ensure that immigrants ordered removed from the country be removed promptly.
De Blasio has stated that he is prepared to go to court to fight the order should New York City lose federal funds, he also noted that there are still many uncertainties with the law.
And New York Gov. Andrew Cuomo (D) reiterated in a tweet last week a promise he's made before: If there's a move to begin deporting immigrants, he wants to be the first to go.
As I've said before, I say again today, if there is a move to deport immigrants, I say then start with me. https://t.co/elejUuKS9J

— Andrew Cuomo (@Andrew Cuomo) 1485383094.0
Cuomo is not an immigrant; he was born in the New York borough of Queens in 1957.
But for some in the Brooklyn community of Flatbush — which is overwhelmingly Caribbean and Haitian — they wonder how much will Trump's presidency will impact their daily lives.
For a chilly, cloudy January weekday morning, Flatbush Ave. bustled as people hustled to bus stops to get to work, casually strolled into one of the many discount stores that peppers the main drag or briskly walked to one of the markets or grocery stores — folding utility grocery cart in tow, like Anne.
As amNewYork described in 2014, the neighborhood of Flatbush is as vast as it is diverse — and at the start of 2017, that description still rings true. There's no shortage of corner markets, wig shops, laundromats or extremely aromatic Caribbean bakeries and restaurants.
And on Sundays, there's no shortage of crowding — on the sidewalks and streets as people double park for the majority of the afternoon — as seemingly the entire Flatbush community heads to one of the several dozen churches in the neighborhood.
A 2010 U.S. Census report estimates that 76.5 percent of Flatbush — with the zip code 11216 — is black. In comparison, 12.7 percent of people in the community are white, 10.9 percent are Hispanic and 3 percent are Asian.
In the 11210 zip code, which also encompasses Flatbush, the U.S. Census estimates that 57.8 percent of the community is black, 33.3 percent is white, 7.9 percent is Hispanic and 3.5 percent is Asian.
[graphiq id="btqgdKsHXdH" title="Flatbush, Brooklyn" width="500" height="810" url="https://w.graphiq.com/w/btqgdKsHXdH" ]
B.J., an older father who just finished his morning delivery to a local Haitian bakery, noted the different and vibrant cultures that have flourished in Flatbush over the years. And like Anne, he was proud that he raised his daughters in the Brooklyn community.
But while he said he often feels as though the community lives in a "bubble," removed from Washington D.C., and the policies that come from the nation's capital, he wondered what Trump's immigration policies could mean for the community as it might not be one that many people think of when they think of immigrants.
"When people think of immigration and President Trump, they think of Mexicans. But what about us? It's us, too, isn't it? Will someone tell us what is going to happen to my family," the father, who asked only to be identified as his initials B.J., told TheBlaze as he walked home to his apartment to catch a short nap before his next job.
But like Anne, B.J. has not participated in any of the massive protests that have broken out around New York City since Trump took office. Instead, both said they focus on their jobs, families and making sure their heritage lives on in their children.
New York state Sen. Jesse Hamilton (D) told TheBlaze that his Brooklyn constituents' fear regarding deportation has had harmful consequences and been detrimental to police-community relations.
"Vulnerable populations become even more vulnerable when they feel they can't turn to authorities for help," Hamilton said.
According to a study from the nonpartisan Migration Policy Institute, an estimated 172,000 people reside in Kings County — Brooklyn — who are "unauthorized." Of those, approximately 34 percent are from Mexico and Central America, 25 percent are from Asia, 15 percent are from the Caribbean, 12 percent are from South America and 11 percent are from Europe, Oceania or Canada, according to the think tank.
In comparison, the Migration Policy Institute estimates there are 232,000 people in the borough of Queens who are unauthorized and 113,000 people in the Bronx. And 48,000 unauthorized people are estimated to be in Nassau County on Long Island.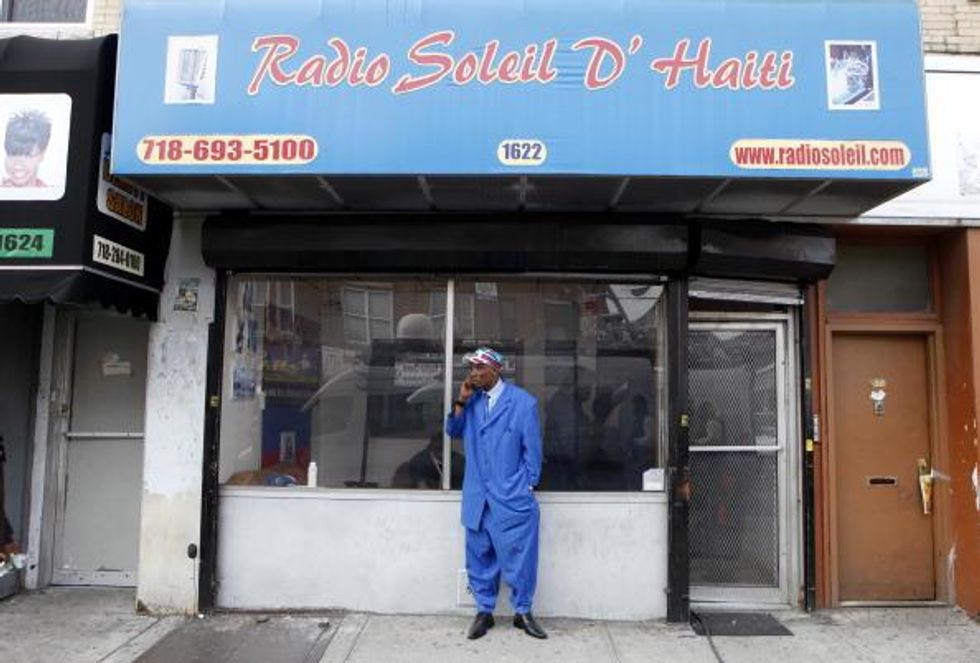 Jean Victor talks on the phone standing outside the Haitiian radio station, Radio Soleil in the Flatbush neighborhood of Brooklyn in New York City. (Getty Images/David Goldman)
In an email to constituents last week, Hamilton promised to be an ally to Brooklyn immigrants as well as an advocate for a "humane immigration system, a forward-thinking system that builds bridges for Dreamers and a compassionate system that provides for refugees."
He said:
New York in particular has a longstanding history of welcoming people from the world over, "huddled masses yearning to breathe free." And we have been stronger because of that open-hearted stance. Indeed throughout our history, we have greatly gained from those who chose to call our community home. We have welcomed talents the likes of Albert Einstein. At least two Secretaries of State came to our shores as refugees, as did Isabel Allende, Hannah Arendt, Béla Bartók, and Gloria Estefan. Countless millions more have become an integral part of our community, bringing their entrepreneurship, their skills, and their dreams for a better future.

The Trump administration offers precisely the opposite of this cherished American tradition. With his sweeping executive order covering immigration, refugees, and enforcement, the Trump administration seeks to pressure state and local government into becoming the tool of this heartless policy. A policy of tearing families apart. A policy whose unforgiving cruelty would wreak havoc on our neighborhoods. And a policy that continues Trump's record of denigrating and defaming the contributions of immigrants.

I will have no part in Trump's attempts to enlist state and local government in this cruel effort. I will resist by way of advancing a budget that makes whole every sanctuary community in New York. I will resist by way of supporting lawsuits that challenge the proposition that the federal government can instruct states and localities in this unconstitutional manner. I will resist by way of passing legislation that affirms our New York values. And I will resist by way of protesting this affront to America's immigrant heritage.
Hamilton told TheBlaze he is currently supporting additional funding to ensure that those who are facing deportation will have proper legal representation — which he attributed to "both the constitutional principle of due process and the fundamental value of fairness at stake."
Along with an Immigrant Resource Guide with information about resources at the federal, state and local levels that he is sharing with his constituents, Hamilton has also convened a Civil and Human Rights Task Force made up of those in the community.
"Sometimes people think of Brooklyn or New York City as an impersonal place — but we're a city of neighborhoods," Hamilton said. I'm sure that neighborly spirit will continue to shine through as we face this challenge."
Anne, too, spoke of that "neighborly spirit" — but for her it extended outside of her 11210 zip code.
"People on the news like to talk about President Trump, and they seem to like making us afraid. But I don't know that much about politics, but I do know how to pray," she said. "I prayed for our president on Sunday, and I'm sure we'll all be alright."