© 2023 Blaze Media LLC. All rights reserved.
College lecturer accused of shoving Republican students during campus protest
College Republicans at California State University, Fullerton, say a part-time anthropology lecturer at the school shoved them while the group was counter-protesting a Students for Justice in Palestine rally.
The Daily Titan, the campus paper, spoke to the lecturer in question — Eric Canin — who said members of the College Republicans were "making fun of him" but that he "did not touch anyone."
"I ran into those bicycles and they started laughing," Canin told the paper of the Wednesday incident. "I lost it, and I started screaming, and they grabbed me from behind and my stuff went flying everywhere."
He added in a text message that he's "confident any video would exonerate" him, the Daily Titan said.
But members of the College Republicans tell a different story.
"[Canin] came up, tried to grab [my] sign and pushed our way," member Jared Lopez told the paper, adding that the lecturer "went after" another College Republicans member, Bryce Ingalls, "and started swinging at him."
Music department professor Ken Walicki got involved and confronted Canin, the Daily Titan said.
"I did not see [Canin] hit [Ingalls]," Walicki told the paper, "but I saw [Ingalls] on the ground."
Amanda McGuire, vice president of the College Republicans, told Campus Reform that before the altercation Canin "came up and started asking ... if there were any professors with us" and that "only uneducated people would be out here counter-protesting."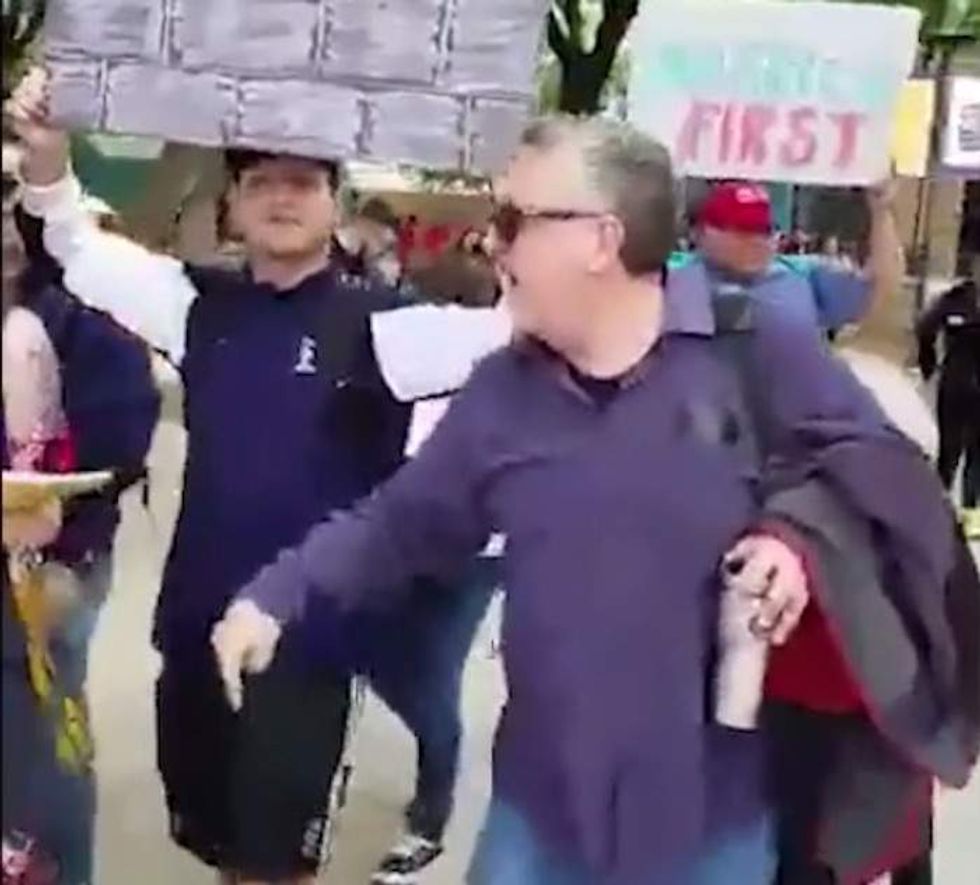 Image source: YouTube
"He continued to engage our group even though some of our members were over the conversation, and finally I turned and saw him lunge for a sign," McGuire added to the outlet. "Another member steps in between, and he gets shoved, so he shoves back."
College Republicans President Chris Boyle decided to press charges, the Daily Titan said, adding that the matter will be referred to the district attorney's office.
University Police Capt. Scot Willey on Thursday told TheBlaze that a "student filed a 'Private Person's Arrest' form, or citizen's arrest, since it was a misdemeanor assault that was not committed in the presence of an Officer." Willey added to the Daily Titan that no injuries were reported.
CSUF Chief Communications Officer Jeffery D. Cook tweeted that the school "prizes and promotes free and open expression. Any violent incident, however isolated, cannot be tolerated and is unacceptable."
The College Republicans on Thursday posted the following on the group's Facebook page:
As we witnessed yesterday, a CSUF part-time professor resorted to physically assaulting two of our members for pea

cefully expressing their views. As there seems to be a growing trend of suppressing conservative voices on university campuses around the US, often with violence as a means of doing so, it is important that we continue to let our voices to be heard despite the forces against us. It is our hope that we can reach a time when students of all political orientations can express their views freely without being subject to violent attacks. As supporters of free speech, we will always fight for everyone's right to express their views freely, regardless of whether we share the same opinions.
(H/T: The Gateway Pundit)
Want to leave a tip?
We answer to you. Help keep our content free of advertisers and big tech censorship by leaving a tip today.
Sr. Editor, News
Dave Urbanski is a senior editor for Blaze News.
DaveVUrbanski
more stories
Sign up for the Blaze newsletter
By signing up, you agree to our
Privacy Policy
and
Terms of Use
, and agree to receive content that may sometimes include advertisements. You may opt out at any time.