As actor and musician Joel Smallbone says, it's not difficult to talk about something that one is passionate about. And for him — as evidenced in the new independent film "Priceless" — that's human trafficking.
Approximately 7,572 human trafficking cases were reported in the U.S. in 2016, according to the nonprofit Polaris Project. But other experts and nonprofits warn against putting a statistic on trafficking because of its near impossibility to pinpoint.
Even so, without any concrete statistic, Smallbone told TheBlaze, the issue of trafficking has long been taboo.
"It's been such a dirty phrase or a dirty word that we've done a classic sweep under the rug because it's not easy," Smallbone said. "Trafficking is surrounded by shame, by darkness — literally and figuratively — by manipulation. And it's using one of the greatest tools, one of those powerful tools in humans, and that is to love and be loved, for a woman to feel loved and for a man to satisfy these God-given, strong impulses."
"So we have done the classic sweep under the rug because it's just too hard," the Australian-born singer said.
But with the film "Priceless," which was the top independent film when it debuted in October, Smallbone hopes to change the conversation and provide a catalyst for eradicating one of the world's bleakest businesses.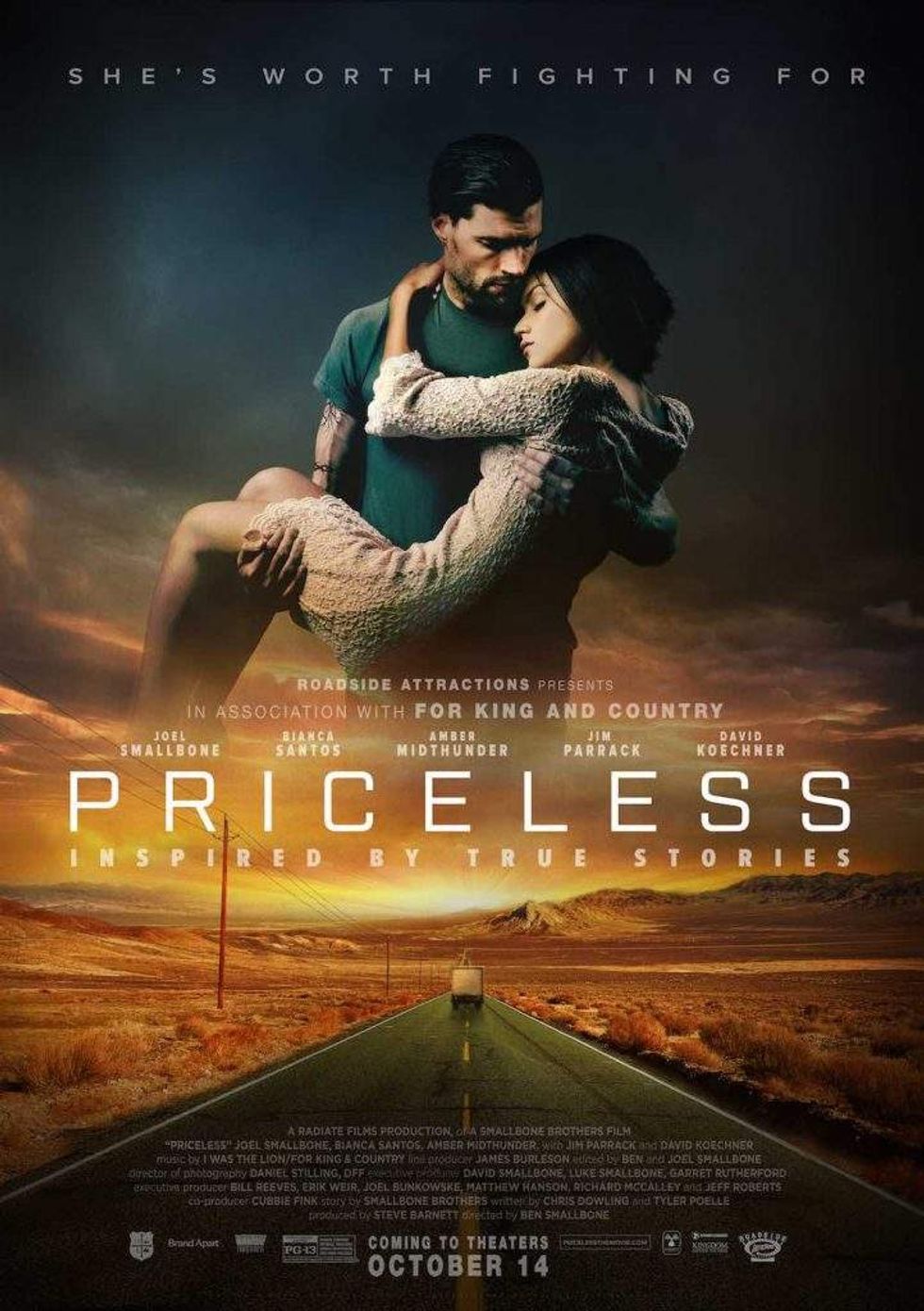 Image provided by Roadside Attractions
Starring Smallbone, one half of the Grammy Award-winning Christian pop duo For King & Country, "Priceless" follows several of its characters' journeys: one father's retribution for the industry that stole his daughter, two women's journey in an unknown country as they're thrust into sex slavery and one man's ultimate journey to faith and love.
Smallbone, who portrays James, a single-father down on his luck, accepts a job driving a cargo truck across the country — unaware at first of the of the two Mexican women in the back who believe they are in the U.S. to pay off familial debt. Little do they know, and Smallbone's character too, that paying that debt would be in the form of sex, not work.
But sex and labor trafficking isn't just on the big screen — or in big cities.
For Anthony Zenkus, education director for The Safe Center on Long Island, New York, the reality of sex trafficking is constant. Last year alone, the Safe Center counseled more than 100 adult trafficking survivors and had more than 130 young adults or children referred to them.
But one of the more staggering statistics Zenkus mentioned in an interview with TheBlaze was the average age of entry into trafficking — between the ages of 12 and 14.
"In the general population, one out of every five kids are sexually abused before they graduate from high school," Zenkus said in a candid interview with TheBlaze. "In this population, that's the majority of these kids."
"That's one of the biggest problems with trafficking — people aren't coming to it having left, for the most part, a wonderful life," he said.
Zenkus continued:
If you're being emotionally, physically, sexually abused in your home, you're not going home. There's a reason these kids ran away, and it's not because you didn't like your curfew. If your stepfather has been raping you since you were 11-years-old, going home is not an option.

And they don't know some of the safe places they can go to get help. And sadly, some of the places they go, they get exploited again.
And sex trafficking isn't always the smuggling of women and children from overseas into the United States such as "Priceless" portrayed — although that is a large problem. According to Zenkus, the majority of trafficking victims in the U.S. are born in the U.S. and may not be trafficked in a way many Americans would think.
Zenkus detailed the harrowing and heartbreaking story of a 13-year-old girl who endured sexual abuse by her mother's live-in boyfriend. But that abuse never ended as he pimped her out to his friends as well. That girl eventually committed suicide as a young teenager.
"These are the kinds of things, these are the stories that are happening. I don't care what your background is, this shouldn't happen," Zenkus said.
[graphiq id="3C0WddbEbsx" title="Human Trafficking in the U.S." width="600" height="592" url="https://w.graphiq.com/w/3C0WddbEbsx" ]
While Zenkus sees the issue first-hand through the Safe Center — which also helps survivors of sexual assault and intimate-partner abuse — and Smallbone tackles it through the faith-based film, both men say eradicating trafficking starts with cutting off the demand.
"The fact is, this is predominantly women, this is predominantly men paying for women," Smallbone said. "It's simple mathematics. You alleviate the demand, the supply goes away."
Smallbone also places a large emphasis on the importance of chivalry and the responsibility in men to "love extravagantly and lay down their lives for women":
I do think it starts with us as men. I think we've let you down, generally speaking, from a man to a woman. This is no comment on the strength of a woman. If anything it's affirmation of the strength of a woman because I think what you've seen in a modern context is many women saying, "we feel unprotected, we feel like a man is not standing up and doing their job and so we as women are going to step up and we're going to have to do something about this."

I do think it starts with us, it starts with me. With any good reevaluation or change in life, it starts with taking a step back and recognizing that there is an issue.
"How do we as men find it in ourselves under God to refrain our thinking in a society that is pushing us often — and sometimes unintentionally — toward things like pornography or things like soliciting a woman or things like being unfaithful to our wives," he added. "It feels like there's this pull toward this that we have to recognize first of all, and then as a result, develop the tools to combat it."
Zenkus said:
Adults, usually men, are fueling the sex trafficking. It's demand-driven crime. If adult men, from all walks of life, weren't buying sex, this wouldn't be an option.

We have to stop normalizing prostitution — or what we think is prostitution — and realize that these young girls and boys are victimized. We've got to respect people regardless of their gender. I think we need to deal with male privilege. We have to challenge the systems that perpetuate the victimization of young women and men and one of these things is to stop normalizing prostitution as if it's a fact of life. It's not. These people are being exploited.
And aside from cutting out the demand, Zenkus emphasised that too much blame has already been put on these victims.
"They're victims, and when people refuse to see they're victims and start blaming them, that perpetuates them getting victimized," he said. "We need to understand they're getting preyed upon by older adults, usually men, who are exploiting them and that's a crime."
"These people are vulnerable people who need help," Zenkus added. "They don't need judgment, and they definitely don't need to be treated as criminals."
"Priceless" will be released on DVD Feb. 14. Along with Smallbone, the film features Bianca Santos of ABC Family's "The Fosters," Jim Parrack of "Suicide Squad" and David Koechner of "The Office" and "Anchorman" movies.
Smallbone's brother, Ben, directed the film, and Luke, the other half of For King and Country, served as a producer.
For King & Country's song for the film, also named "Priceless," is nominated for a 2017 Grammy.