A Muslim is slated to become chaplain for a U.S. Army division — over 14,000 mostly Christian soldiers — a first for the American military, McClatchy reported.
Lt. Col. Khallid Shabazz, 48, told the outlet he got the news while sitting at his desk at Joint Base Lewis-McChord near Tacoma, Washington. "I was running around the office saying, al hamdulillah, al hamdulillah, praise be to God!" Shabazz said.
Following a ceremony this summer, Shabazz will become chaplain of the Army's 7th Infantry Division at Lewis-McChord, McClatchy reported — and he's only one of 10 Muslim chaplains in the entire U.S. military.
"Islamic guy in a leadership position?" he told the outlet. "If I think about it too much, it'll get overwhelming."
Before his conversion, Shabazz was Michael Barnes — and part of a large Lutheran family in Alexandria, Louisiana, that went to church three times a week and prayed every night, McClatchy said.
He joined the Army at age 23, got stationed in Baumholder, Germany, and worked in the motor pool — with a Muslim soldier who got on others' nerves with his declarations about Islam, the outlet said. So Shabazz decided to challenge the guy to a public debate "to cut him down to size," he told McClatchy.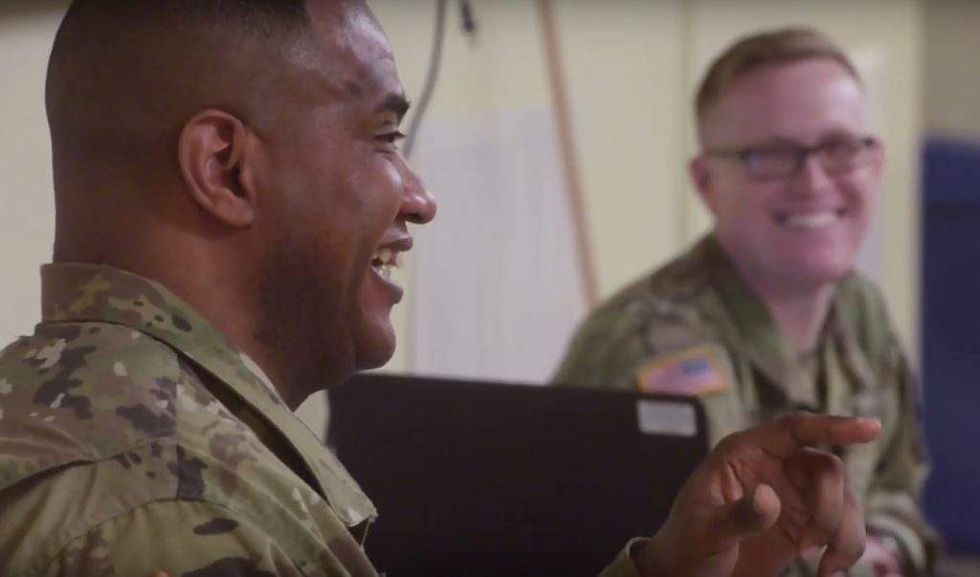 Lt. Col. Khallid Shabazz (Image source: YouTube screen cap)
But his Muslim opponent "kind of blindsided me with some facts" at the showdown in front of about 30 people, Shabazz told the outlet, which got the shocked soldier thinking.
"It was all-out cognitive dissonance, depression and shame, honestly," Shabazz told McClatchy. "I thought I had a stronghold on the truth. And, for the first time, my confidence was shaken in who I was as a human being and what I believed."
More from McClatchy:
Shabazz began studying Islam on his own, determined to correct the lack of knowledge revealed in his debate with the Muslim soldier. He'd work all day and then stay up well past midnight paging through the Bible and the Quran. He described it as going into a "cubbyhole."

After two years, Michael Barnes, the devout Christian reared in a Louisiana church, decided to convert to Islam, taking the name Khallid Shabazz to complete his transformation. He said that there had been no single tipping point in his thinking, just a deep identification with Islamic tenets, such as the lack of a clerical hierarchy and the emphasis on charity.

"One of my favorite passages in the Quran asks if the man who thinks and the man who does are the same," Shabazz said. "It's the thinking component in Islam that really intrigued me. I am in control of my grace, and I don't have to answer to the imam. I tell my congregation, 'Listen, you have to do your own research.' "
Shabazz's family wasn't thrilled about his conversion to Islam at first — he's still known to them as "Michael," he told McClatchy. But years later, they've accepted it and even make him gumbo without pork sausage, the outlet said.
"I do still go to church with my family – that's an important part of reaching across the aisle," he told McClatchy. "It would be improper for me to disrespect something that instilled in me so much of who I am."
Shabazz's conversion wasn't easy job-wise either, particularly during Ramadan fasts.
More from McClatchy:
On one of the toughest days, Shabazz was exhausted from a series of 12-hour shifts and hungry because of the lack of pork-free meals. Sitting outside on an M109 howitzer, he felt his frustration spill out in tears. Nobody's here for me, he thought. Maybe this organization is not for me.

A passing chaplain noticed Shabazz's distress and stopped. In an hourlong impromptu ministry session, the chaplain let Shabazz pour his heart out about his struggle to carve a space for himself in the military. After listening, Shabazz said, the chaplain mentioned that the Army had recently received its first active-duty Muslim chaplain: Would that kind of path interest Shabazz?
"I'm telling you, it was like a revelation from God," Shabazz told the outlet. "Once it came out of his mouth, I said, 'That is my calling. That is what I want to do for the rest of my life.' "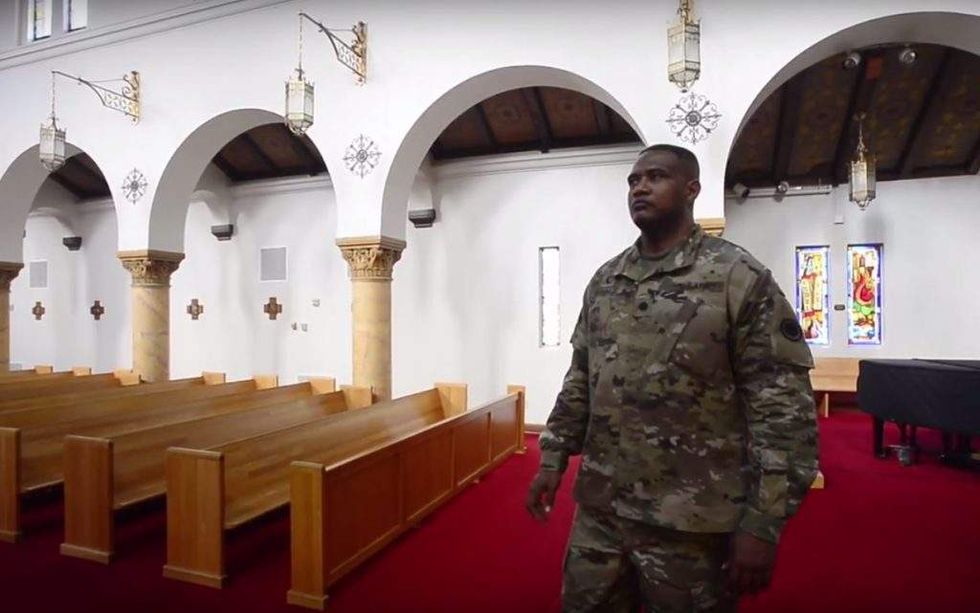 Lt. Col. Khallid Shabazz (Image source: YouTube screen cap)
That same chaplain wrote a letter of recommendation on Shabazz's behalf for the Chaplain Corps, McClatchy reported. When he was commissioned, Shabazz told the outlet that the chaplain wanted to tell him something important.
"He said, 'Promise me you will be an advocate for our corps no matter what the faith or the background of the person is,' " Shabazz told McClatchy. "It moved me to the very essence of my core. Here you have a devout Christian who's taken the time to care for a young Muslim soldier and make sure I got to be a chaplain. I don't want to help just Muslims. I don't want to help just Christians. I want to help people who are in distress."
Shabazz added that Christians he ministers to often are surprised by how much of the Bible he knows.
"Because I have the language from my days as a Christian, I can give them Scriptures from the Bible, and that doesn't violate my religion," he told the outlet. "My job is not to convert anybody to Islam. God guides people. My only goal is to have people leave my office stronger than when they came in."
Read McClatchy's entire profile of Shabazz here.
(H/T: Young Conservatives)