After a university's internal investigation determined one of its lecturers hit a conservative student during a political rally, the school suspended the lecturer — but some faculty are outraged by the decision and want him reinstated.
A handful of California State University-Fullerton faculty members — supported by their union, the California Faculty Association — are petitioning for Eric Canin's reinstatement in the wake of last month's dust-up with College Republicans.
The petitioning faculty want the anthropology lecturer back even though the internal investigation also found "the speech of the student group was stopped" as a result of Canin's actions.
"It is grotesque that the attack on Dr. Canin, the silencing of Dr. Canin and the threat to take away his livelihood is being portrayed as a defense of free speech," CFA Fullerton Faculty Rights Chair Tyler McMillen told campus paper the Daily Titan in a text message.
The faculty petition also says Canin was "harassed by a crowd carrying signs with recognized symbols of race hatred" during the counter protest of a Feb. 8 rally against President Donald Trump's immigration polices, the paper reported.
But Aaron Van Meter-Jones — president of Young Americans for Liberty at CSUF and a member of the College Republicans — told the Daily Titan he was at the counter protest and that no signs were anti-Semitic.
In fact, the Young Americans for Liberty is circulating its own petition calling for the school to fire "faculty or staff who infringe on students' rights," the paper reported.
"This is going to continue until Canin is terminated and free speech policies on campus are adjusted," Van Meter-Jones told the Daily Titan.
Canin has denied he struck anybody. While there is cellphone video of events that led to the incident, no video of the actual altercation has come to light. McMillen emphasized to the paper that "there is no evidence that he did anything wrong except for the word of the College Republicans."
Amanda McGuire, vice president of the College Republicans, told Campus Reform that before the altercation, Canin "came up and started asking … if there were any professors with us" and that "only uneducated people would be out here counter-protesting."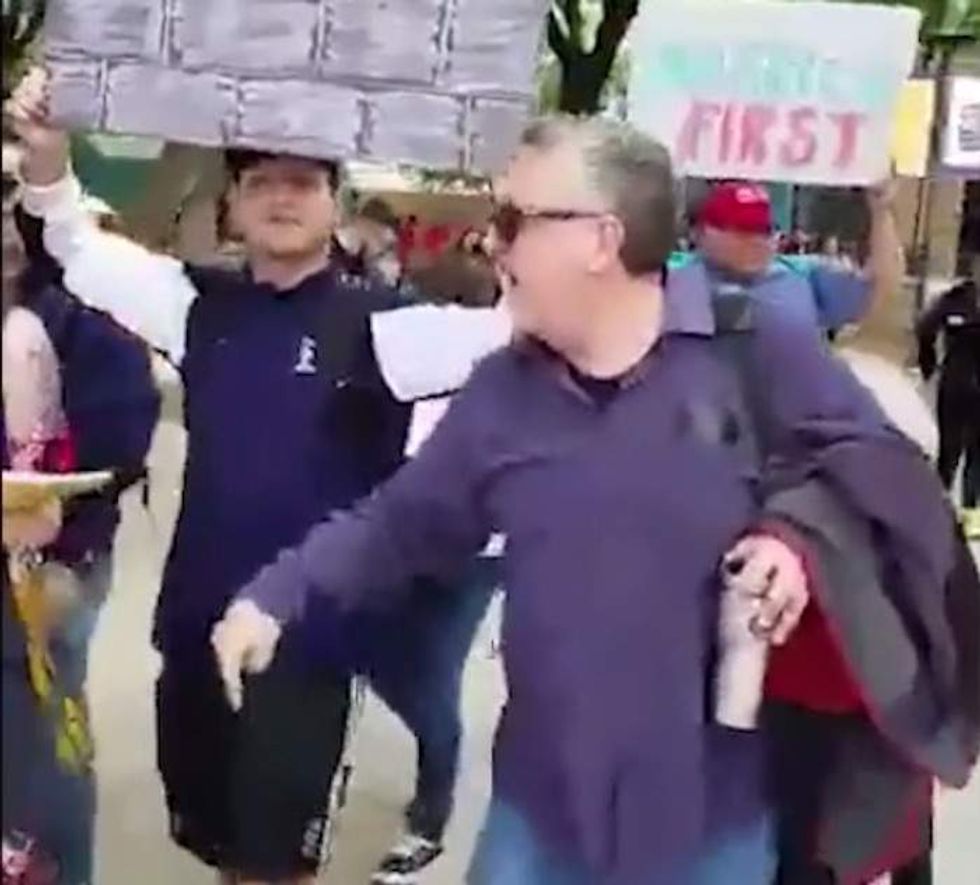 Image source: YouTube screen cap
"He continued to engage our group even though some of our members were over the conversation, and finally I turned and saw him lunge for a sign," McGuire said to Campus Reform. "Another member steps in between, and he gets shoved, so he shoves back."
Still the faculty petition said Canin's physical well-being has been harmed because of his suspension, the Daily Titan reported, and implies employment of faculty who "favor diversity" and challenge messages of hatred could be in jeopardy.
"That he can be convicted by the university without essential elements of due process, including a chance to face his accusers, is both unjust and a threat to us all," the CFA petition notes, the paper reported.
(H/T: The College Fix)