Conservative firebrand Matt Drudge revealed who he says is "America's best senator" after a meeting with the lawmaker in Washington, D.C.
Drudge is the founder and editor of the Drudge Report, a news aggregation website visited by millions of readers each month. Drudge was an avid supporter of Donald Trump throughout the 2016 presidential campaign, often posting stories that portrayed the candidate in a positive or favorable light.
"Intriguing lunch in hill office of America's best senator, Rand Paul [R-Ky.]. He's bold, brave and has somehow kept his heart in such a corrupt city," Drudge tweeted.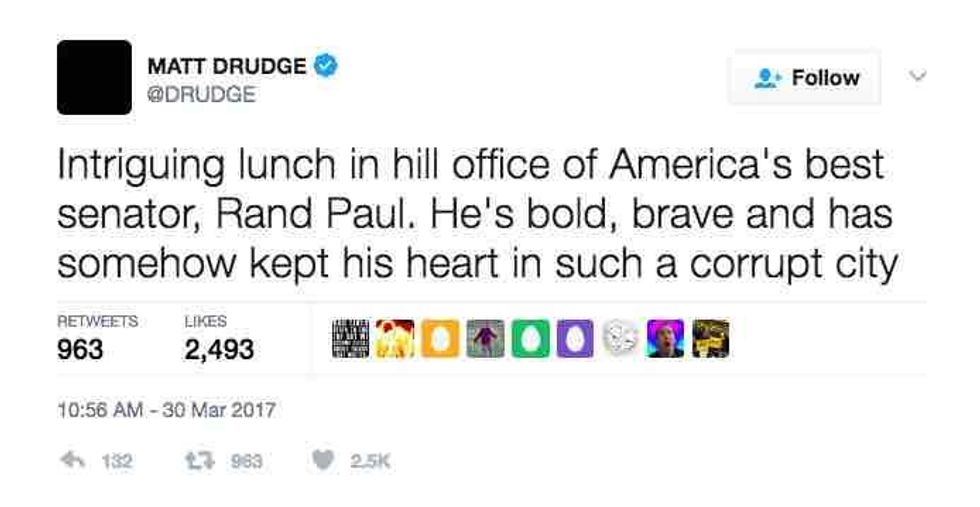 Image source: Twitter
Sergio Gor, a spokesman for Paul, responded in kind.
"Matt Drudge has a phenomenal take on the news and is a leader who others in the business can only hope to emulate. We enjoyed visiting with him, and we share a strong mutual admiration!" Gor told Business Insider.
Paul's Capitol Hill office did not immediately respond to TheBlaze when asked what exactly the senator and Drudge discussed.
Drudge had been largely quiet since a mid-March tweet storm criticizing the Republican Party, saying it "should be sued for fraud."
Drudge more recently made headlines when he seemed to criticize the GOP for "lying" about wanting tax cuts.
"No Obamacare repeal, tax cuts! But Republicans vote to shut Warren? Only know how to be opposition not lead! DANGER," Drudge tweeted March 14.
"Republican Party should be sued for fraud. NO discussion of tax cuts now. Just lots of crazy. Back to basics, guys!" he added in a separate tweet.
Drudge further criticized an executive order signed by Trump at the time that reversed a 2010 Dodd-Frank provision requiring companies to disclose whether their products contain certain materials found in parts of Africa that have been ravaged by war.
"White House eyeing executive order targeting 'conflict minerals' rule...Meanwhile, Obamacare penalty tax still in place?" Drudge tweeted
White House press secretary Sean Spicer was asked about Drudge's tweet. He said at the time Republicans were "hardly stalling" Obamacare repeal.
"It [Obamacare] is a mammoth thing to repeal or replace. We can either do it quickly or we can do it right," Spicer told reporters.
Less than two weeks later, Republicans admitted they didn't have the votes in the GOP-controlled House of Representatives to pass the American Health Care Act, the name of the proposed bill to replace Obamacare.
(H/T: Daily Caller)