That a pair of students got into a fistfight at a Southern California middle school last week wasn't anything particularly new.
What did catch the attention of Escondido Union School District officials who watched cellphone video of the dust-up, however, was a Rincon Middle School administrator standing right next to the brawl with his hands in his pockets and apparently doing nothing to stop the students tumbling in a pile on the concrete steps.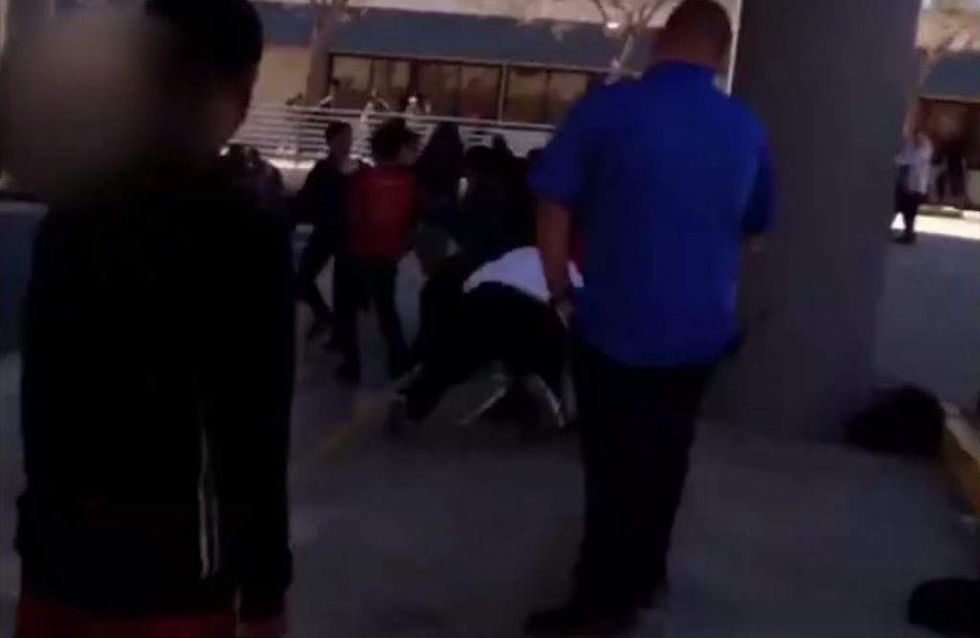 Image source: Facebook video screen cap
Parents told the San Diego Union-Tribune that the administrator was assistant principal Mike Brinkley.
"Administrative staff is definitely taught to physically intervene if there is an immediate threat to student or staff safety," Superintendent Luis Rankins-Ibarra said in a letter to district parents Monday.
"There were questions that arose regarding the response of the assistant principal ... in proximity to the altercation," Rankins-Ibarra said, the paper reported.
The episode led to major changes at the school, with a new principal taking over this week, along with two new assistant principals, the Union-Tribune reported. Rankins-Ibarra said the moves were necessary to "address the current school climate at Rincon Middle School and to ensure a safe and healthy learning environment for your children."
School board President Zesty Harper told the paper that other forms of bad student behavior — cutting classes, roaming the hallways — have been a growing problem, along with disciplinary changes that make it harder to punish misbehavior.
"We have had willful defiance of children," she told the Union-Tribune. "You're not allowed to suspend them anymore for that, so we're seeing the defiance ramp up, and that's what we're trying to curtail."
Some parents told the paper that bullying is a problem, too.
Nancy Elizabeth Gonzalez told the Union-Tribune that her son was verbally and physically assaulted when he was a Rincon student, enduring taunting over a disability and ethnic slurs — and even a beating with a shoe, which led to hematomas on his back and neck.
Gonzalez told the paper she had to file a restraining order against some students to keep her son safe: "I went that far, because the school doesn't do [anything]. They have [their] hands tied."