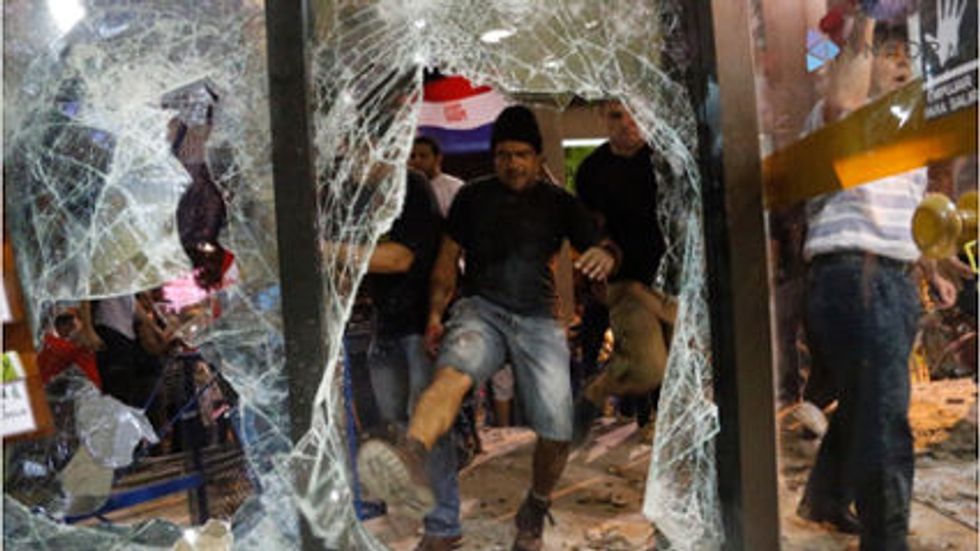 A series of election protesters turned dangerously violent in Paraguay Friday night, as protesters stormed the Congress building in the capital city of Asunción, ransacked the offices of government office holders, and set fire to the building. At least one protester has been killed in the violence after being shot by a rubber bullet fired by police and sustaining an unspecified blow to the head.
The violence erupted after one chamber of Paraguay's government voted in secret to amend its constitution to allow current President Horacio Cartes to run for re-election. Paraguay's current constitution was ratified after the 1989 ouster of Alfredo Stroessner, a brutal dictator who ruled Paraguay with an iron fist for 35 years. Stroessner was deposed as part of a military coup, and the 1992 constitution that was ratified in its wake provided that presidents were only permitted to serve a single term.
According to the BBC, however, earlier this week a slight majority of Paraguay's House voted — in secret and in private — to amend the constitution to allow Cartes to run again, a decision which touched off the increasingly violent protests, the worst political violence the country has seen since the 1989 coup. Protesters have called Congress' decision a "coup," and have stoked the population's still simmering fear about a return to a lengthy reign like Stroessner's. The bill to amend the constitution must be approved by the other chamber of Paraguay's legislature before it becomes law; however, Cartes' party also holds a majority in that chamber.
The damage to Paraguay's Congress building was substantial and the fire was reported to have raged for almost two hours before it was finally extinguished. President Cartes has called for peace, but the situation in Paraguay remains tense.