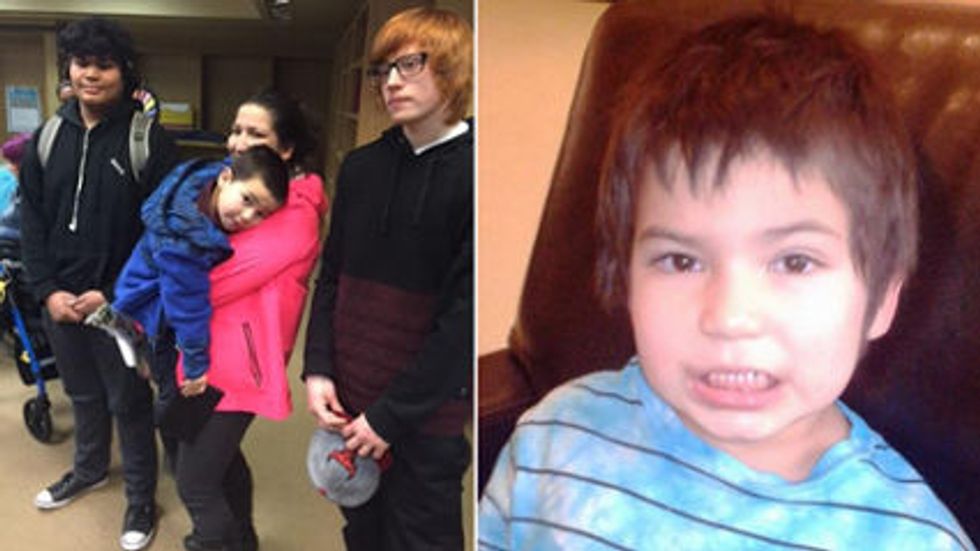 A teenage boy in Juneau, Alaska, is being credited for saving a 5-year-old boy's life after the young boy fell 15 feet off a cliff and into fast-moving waters below.
Fourteen-year-old Riley John was spending time at Cope Park with a friend when he saw 5-year-old Mason Hemlock fall off the cliff and hit his head on a rock before falling into the water.
"He flew down and I was like 'Oh my God, that's a really far drop. He hit a rock really hard. He then fell into the water," Riley told Inside Edition.  "I really don't know what I was thinking. I reacted as fast I could."
That's when Riley sprang into action, jumping into the freezing water below and managing to get a firm enough grip on the boy to lift him out of the water and off to his friend who was standing nearby.
Mason's mother Kristen Hemlock said her son had been hiking at the park with his babysitter and two friends when his foot slipped and he ended up in the treacherous water below. She said her son would have suffered a much worse fate if Riley hadn't jumped into the freezing waters to save him.
"Mason doesn't know how to swim. He said he tried to swim and it didn't work. They saved his life," Hemlock said to Inside Edition. "He wouldn't be here today if it weren't for Riley. He put his life on the line for Mason."
Mason surprisingly came out of the ordeal with only a few minor scratches. Hemlock said the two teenagers disappeared before they could be properly thanked, so she took to social media in the hopes of tracking them down. After posting in a Facebook community group, Hemlock was contacted by Riley's grandmother, who was able to connect the teen with the grateful mother.
"I was able to thank him and that gave me peace with situation," Hemlock said to the TV newsmagazine.
After he was tracked down, Riley's school held a ceremony where the local police honored his heroic action. Kristen and Mason Hemlock were  in attendance.
"I am incredibly grateful," Hemlock said.