The Islamic State has claimed responsibility for multiple explosions in northern Egypt over the weekend that resulted in the deaths of scores of Christians.
The explosions came on Palm Sunday, the beginning of the Christian holy week, that is remembered as the day Jesus Christ came to Jerusalem just a handful of days before he was to be crucified.
At least 43 people were murdered as a result of the explosions while more than 100 others were injured.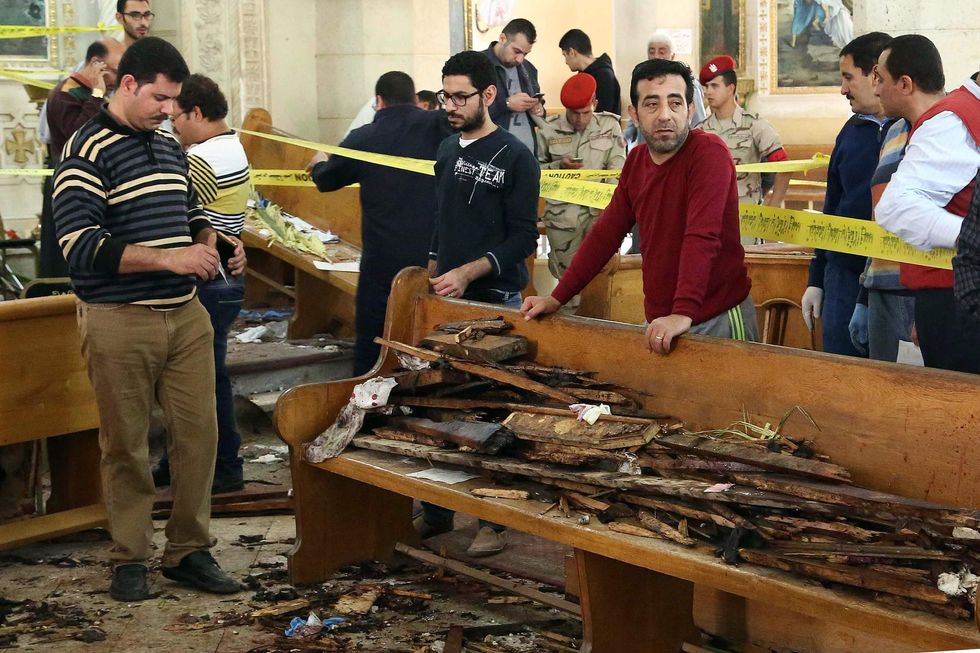 A general view shows forensics collecting evidence at the site of a bomb blast which struck worshippers gathering to celebrate Palm Sunday at the Mar Girgis Coptic Church in the Nile Delta City of Tanta, 75 miles north of Cairo, on April 9, 2017. (STRINGER/AFP/Getty Images)
More from CNN:
The first blast was in the northern city of Tanta, where a powerful explosion ripped through a Palm Sunday service at St. George's Church, killing 27 people and wounding 78 others, state TV reported. The explosive device was planted under a seat in the main prayer hall, it said.

Not long after that, at least 16 people were killed and 41 others wounded in a suicide bomb attack outside St. Mark's Coptic Orthodox Cathedral in Alexandria, according to two state-news outlets. Egyptian state media also reported that the head of Egypt's Coptic Church, Pope Tawadros II, was inside the cathedral when the blast happened. He was not injured.
Not long after the attacks, the Islamic State claimed responsibility for the blasts. They said the attacks were carried out by Egyptian nationals. The terrorists also vowed more attacks on Egypt's Christians.
"The Crusaders and their tails from the apostates must be aware that the bill between us and them is very large and they will be paying it like a river of blood from their sons, if God willing," the Islamic State said, according to CNN.
Egyptian President Abdel Fattah el-Sisi condemned the attacks in a statement.
"The attack will not undermine the resolve and true will of the Egyptian people to counter the forces of evil, but will only harden their determination to move forward on their trajectory to realize security, stability and comprehensive development," he said.
El-Sisi also declared three days of national mourning in addition to a national state of emergency for the next three months.
The attacks come as the Islamic State ramps up their attacks on Christians in Egypt. Most of the recent persecution has come in Egypt's Sinai Peninsula, with scores of Christians murdered.