Organizers of the "Mega March" in Dallas expected about 100,000 people to show up and demonstrate for the rights of illegal aliens and refugees, but police say that only about 3,200 actually joined the march on Sunday, an enormous disappointment.
In 2016, the leaders of the march said between 400,000 and 500,000 joined the demonstration, making the drop to 3,200 a precipitous 99% decline in support. The Dallas Observer reported that organizers estimated that about 100,000 would show up to the march.
Amazing image from @jolt_texas of the Arellano family during yesterday's Dallas march for immigration reform… https://t.co/RSsyjP65Br

— America's Voice (@America's Voice) 1491862545.0
A website for the march said the themes were "family, unity and empowerment," but were also to advocate against deportation of illegal aliens. "Organizers are calling for real immigration reform and an end to aggressive deportation efforts that have separated families, targeted DACA students and left our communities in fear."
"This march is about symbolizing hope and overcoming the fear that is felt by disenfranchised communities all over the country," said Adan Gonzalez, a leader of the Puede! Network and organizer of the march. Attendees were instructed to wear American flags and forego other countries' colors, something that has been a contentious issue at other immigration marches.
The march was also in support of refugees that have been targeted by President Trump's executive orders intended to keep terrorists from gaining entry through relief programs. "We get out of Turkey with $40," Syrian-born Ghufran Alrahal said. "We came here to reach our dream, to live a good life and achieve what we want."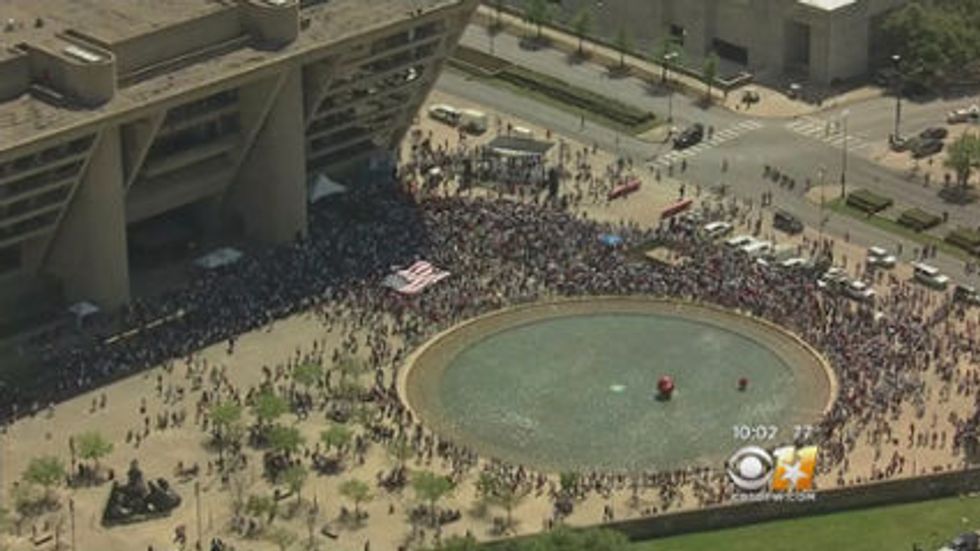 Illegal border crossings have experienced an enormous and "unprecedented" drop since the beginning of the year and many are attributing much of the reason for it on President Trump's tough rhetoric against illegal immigration.
Trump is still seeking to build his famous border wall, as well as fulfill his promises to abolish sanctuary cities and shut down the possibility of terrorists getting into the country through refugee programs.