A Detroit emergency room doctor is being accused of performing "female genital mutilation" procedures on girls as young as six years old. Dr. Jumana Nagarwala has been arrested and charged in federal court.
Female genital mutilation, or FGM, is practiced as a religious ritual in many parts of the world and is often found in Muslim communities. The procedure varies widely, but involves mutilating or surgically removing portions of the female genitalia in order to prevent promiscuity by curtailing sexual pleasure. Victims of the procedure suffer a myriad of physical complications, as well as psychological repercussions.
According to authorities, girls were brought to Dr. Nagarwala's medical office for the procedure by their families. She told one victim she was going to "get the germs out" when describing what she was going to do.
A Minnesota doctor examining a girl who said Dr. Nagarwala had operated on her found that the "girl's genitals were not normal and observed scar tissue and healing lacerations."
Officials say that they have identified other girls from the Michigan area who underwent the procedure from 2005 to 2007. Dr. Nagarwala denied the accusations, saying that she knew FGM was illegal and that she had never performed it on anyone.
Acting Assistant Attorney General Blanco described the procedures allegedly performed by Dr. Nagarwala as "horrifying acts of brutality on the most vulnerable victims."
"The Department of Justice is committed to stopping female genital mutilation in this country," she added in a statement, "and will use the full power of the law to ensure that no girls suffer such physical and emotional abuse."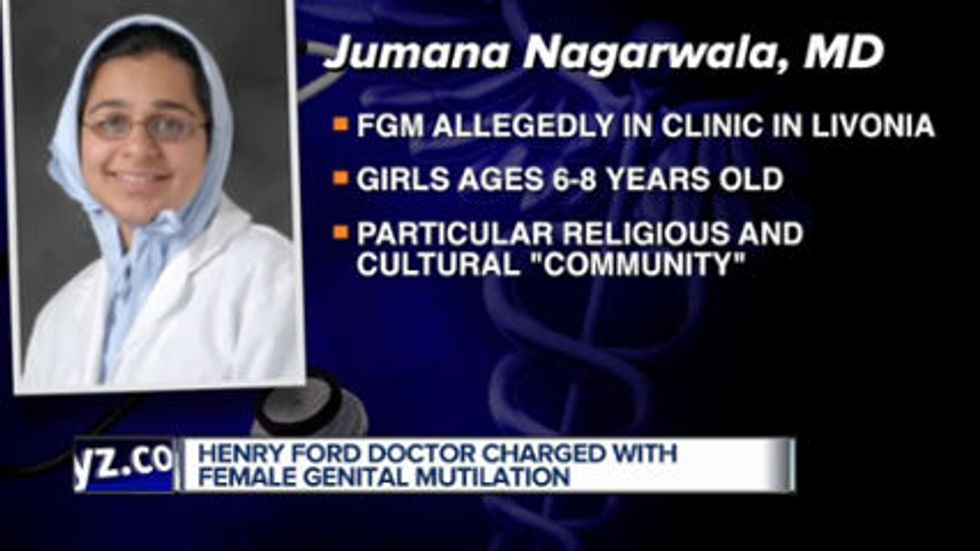 "Female genital mutilation constitutes a particularly brutal form of violence against women and girls," said Acting United States Attorney Daniel Lemisch. "It is also a serious federal felony in the United States. The practice has no place in modern society and those who perform FGM on minors will be held accountable under federal law."