The public perception of both major political parties has decreased since January, a new poll by the Pew Research Center reveals, and Democrats are making significant inroads on issues that Americans recently favored the Republican Party to address.
According to the survey, the GOP's overall favorability rating took the bigger hit, but both political parties are seen more unfavorably than favorably by Americans.
Just over half — 51 percent — of Americans have an unfavorable view of the Democratic Party, while 45 percent view the party favorably. In January, the numbers were reversed, with 51 percent viewing the Democrats favorably and 45 percent unfavorably.
Meanwhile, 57 percent of Americans currently have an unfavorable view of the Republican Party, compared to 49 percent just three months ago. The party's favorability number also took a hit, dropping from 47 percent in January to 40 percent today.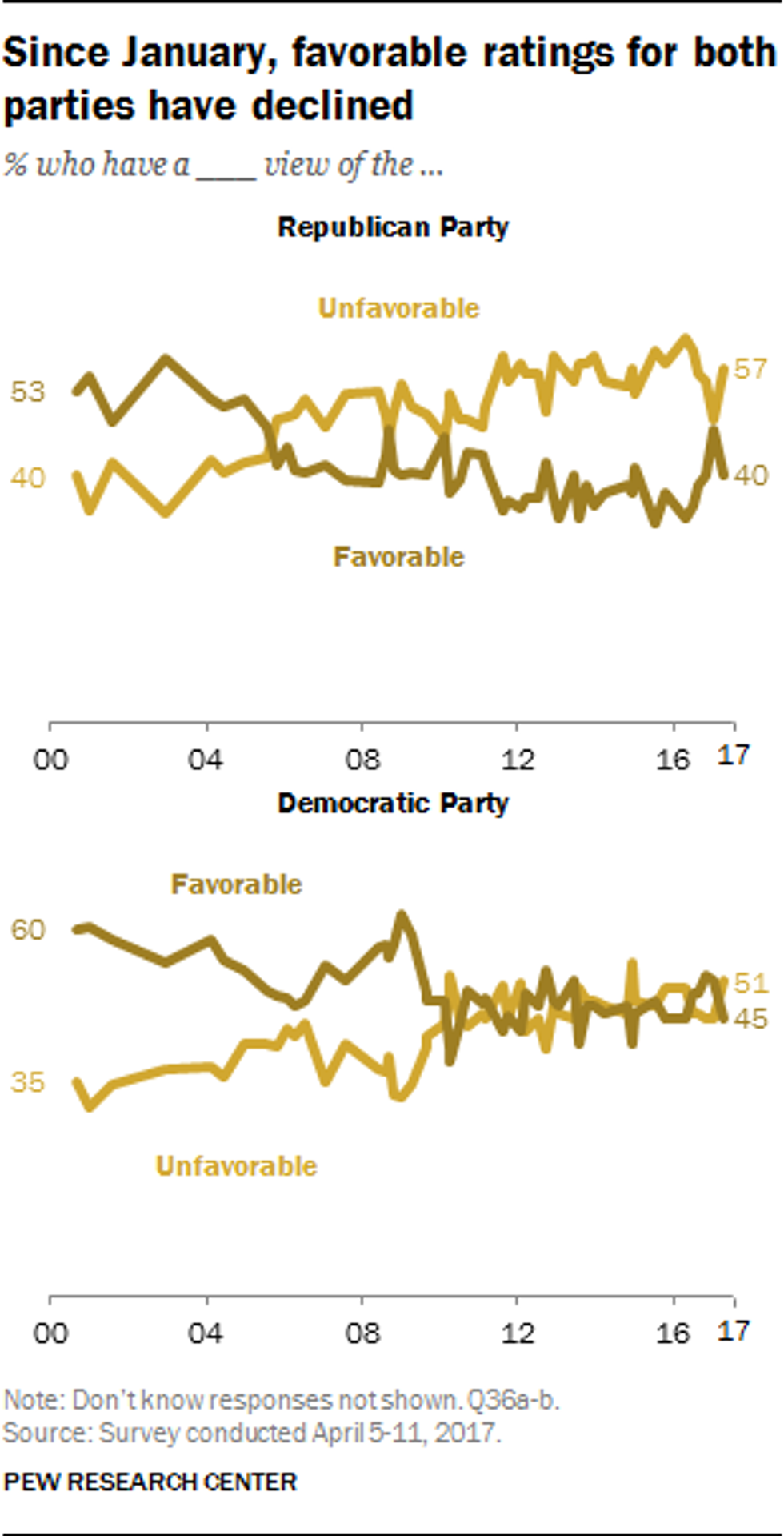 A majority of Americans — 68 percent — said that the Republican Party is "mostly divided." This figure includes 57 percent of Republican and "Republican-leaning" survey responders.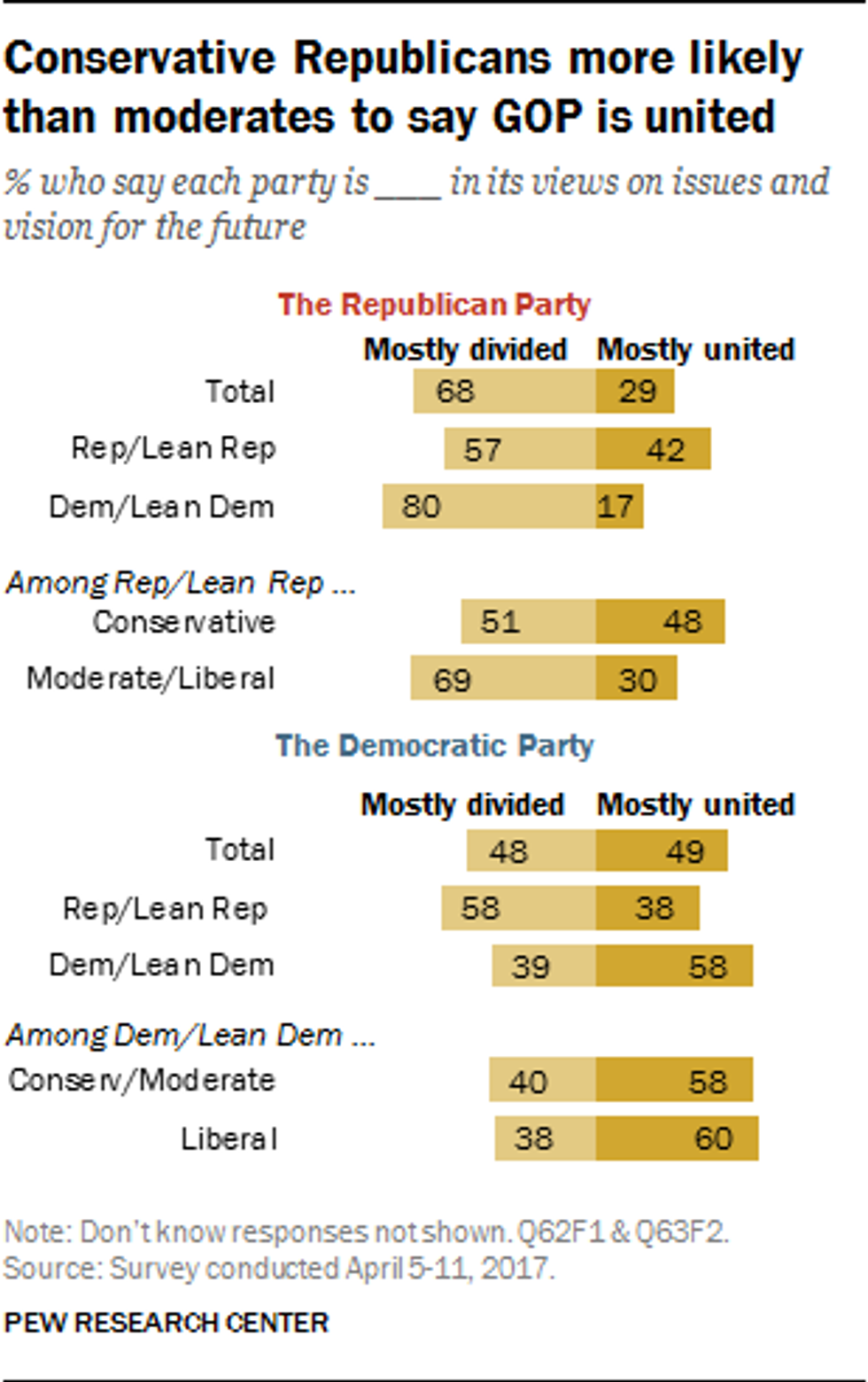 Americans said that the Democratic Party would do a better job than Republicans on a number of key issues, including government spending, immigration, and foreign policy. They said Republicans would do a better job on issues, including terrorism, gun policy, and the economy.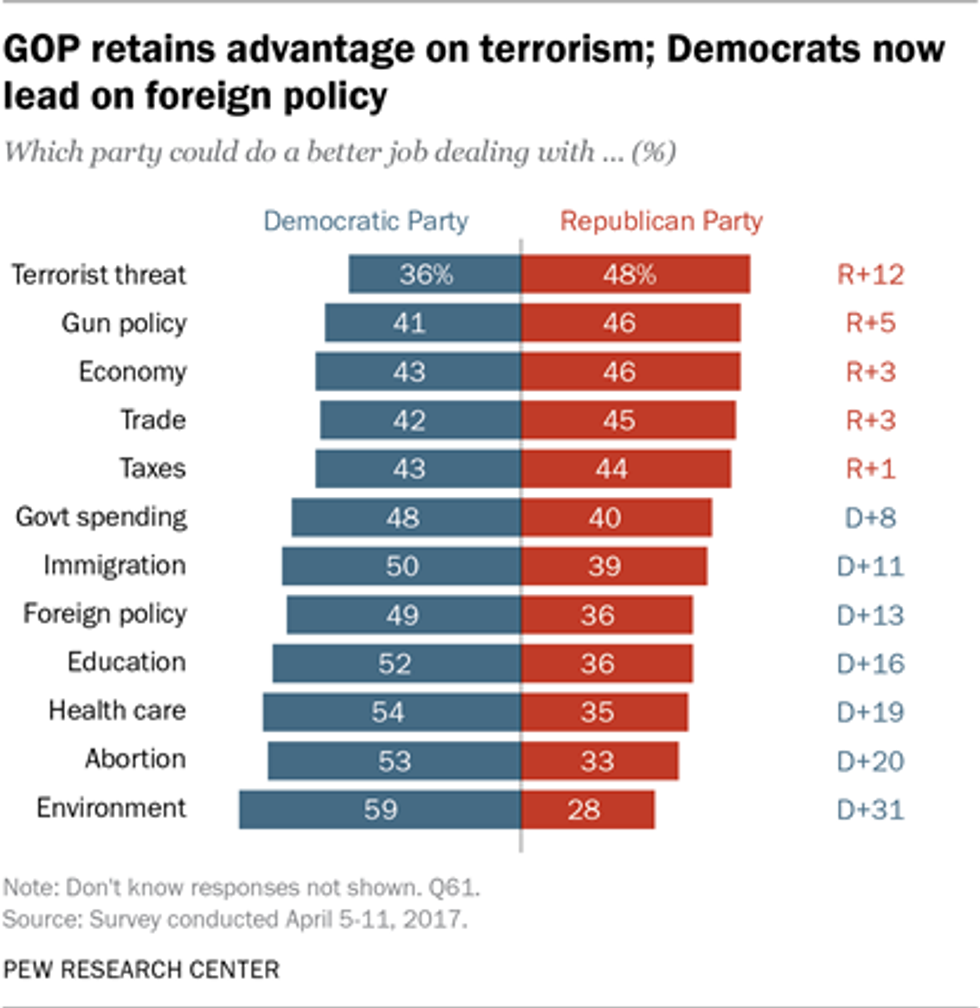 Americans' perception of how the Democratic Party would handle issues like government spending, immigration, and foreign policy mark a major shift.
In 2013, the most recent data available, Americans trusted Republicans more than Democrats — 42 percent to 36 percent — to address government spending. In the new Pew poll, Democrats have taken an eight-point lead on the issue, 48 percent to 40 percent.
Republicans have also nearly lost their advantage on the issue of taxes. Just two years ago, the GOP led on the topic by 11 points, 47-36, but Pew reports that party now leads on the topic of taxes by only one point.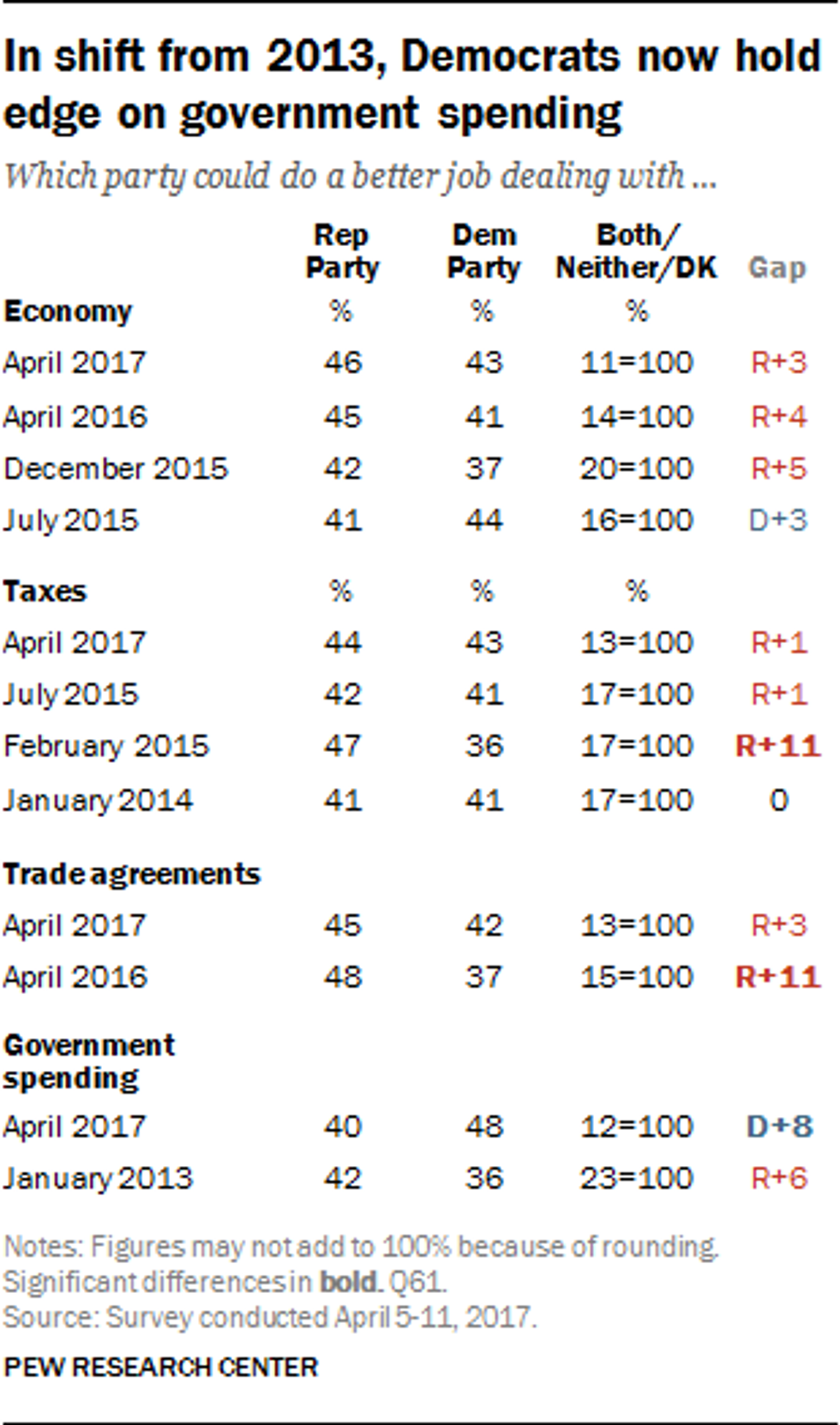 In 2015, more Americans trusted Republicans on immigration, and a year ago, Democrats had only a two-point advantage on the issue. That gap has widened to 11 points. And on foreign policy, just last year Republicans held an eight-point lead (46 percent to 38 percent), but a 21-point swing has put the Democrats ahead on that topic as well.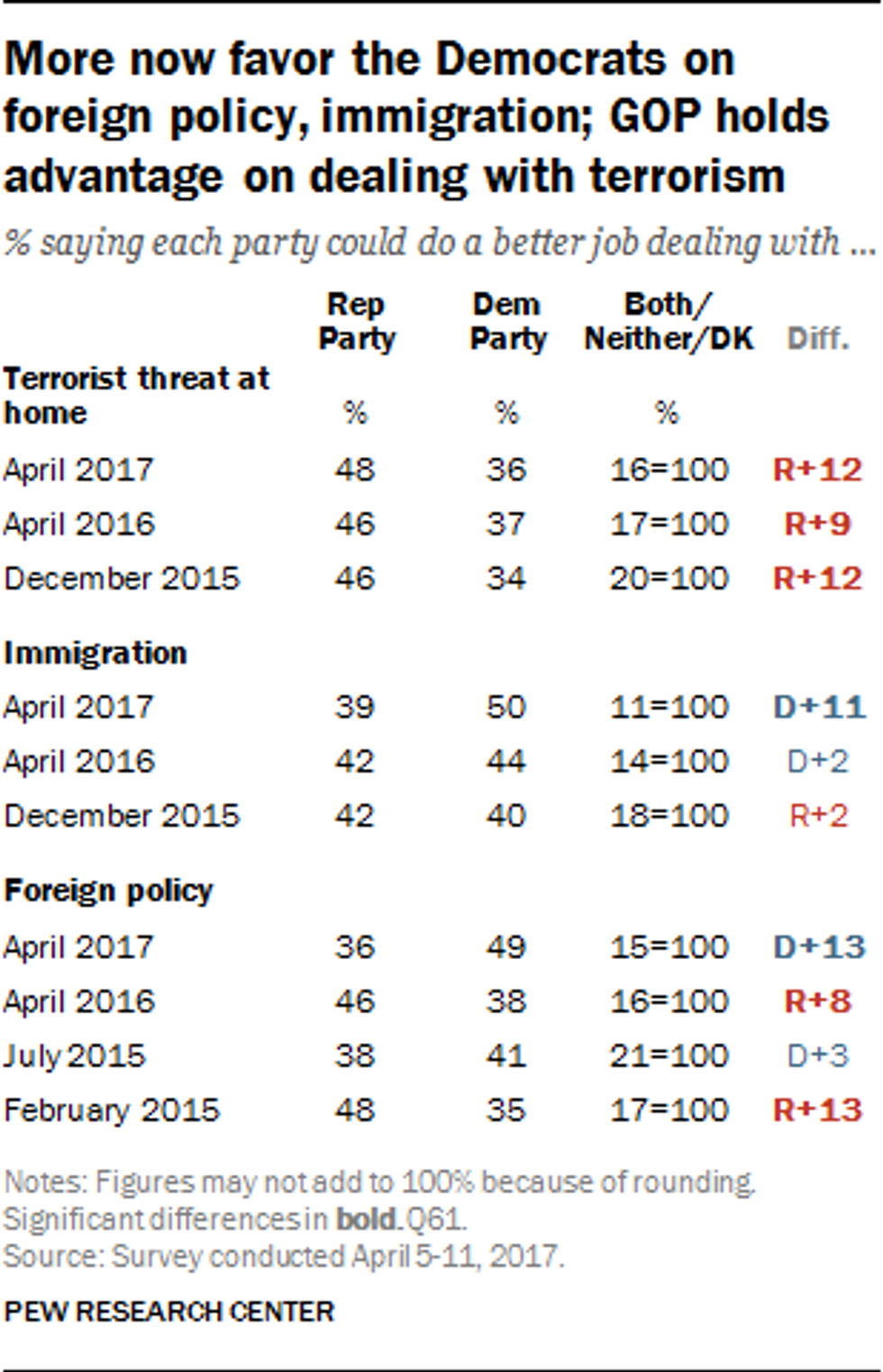 The survey also found that 55 percent of Republicans and Republican leaners said that congressional Republicans are not obligated to support Trump's policies on areas in which they disagree with him, while 43 percent said they do they have an obligation to support Trump's policies since he is a Republican.