Editor's note: TheBlaze reporter Kaitlyn Schallhorn recently spent 16 days in Kenya reporting on issues affecting the lives of people in this African nation. Here is the second part of her series.
MANYALA, Kenya — It wasn't unusual to see a 10-year-old boy in the dry, oppressive heat of Kenya playing outside in a long-sleeve shirt. In fact, it's not unusual at all to see Kenyans on any given scorching day wearing shawls, wool caps or puffy winter coats.
But Wycliffe's long-sleeve shirt succeeded in hiding what is possibly his greatest tribulation — massive burns, still not healed after several years — covering his right arm and side.
It was a Sunday in March 2013 when the entire family heard the screams, Wycliffe's father, Godfrey Obwamu told TheBlaze during an interview earlier this month from his humble home.
With wooden chairs and mismatched couches lining the dirt walls of the home, Wycliffe's parents, sisters, grandmother and cousins sat around the room, quietly listening to the tale of how Wycliffe became "different" — and probably not for the first time. An outdated calendar and a couple of faded family photos hung on the brown walls for decoration; chickens and cats languidly wandered in and out of the house's large front room.
Speaking deliberate but broken English, Obwamu said the entire family was home at the compound as children played outside that day. Wycliffe, in particular, was playing with a neighbor friend when he got too close to a burning bush and fell.
"I heard the child crying and screaming. When I walked out, all his body was just burning. It took around 15 minutes [to put out the fire]," Obwamu said.
As Wycliffe's mother, Miriam Nyakoa, rushed to save her son and put out the blaze, Obwamu said he "ran all over, just to find someone with a vehicle" to take Wycliffe to a doctor.
At the time, Wycliffe — affectionately called Wicky by friends — was 5-years-old, happy and loved attending school. He spent the next year in several hospitals, with burns covering his back, side and arms. He was unable to eat or drink on his own, lay on his back or even sleep as the burns were so intense.
"We thought that eventually he would die," Obwamu said.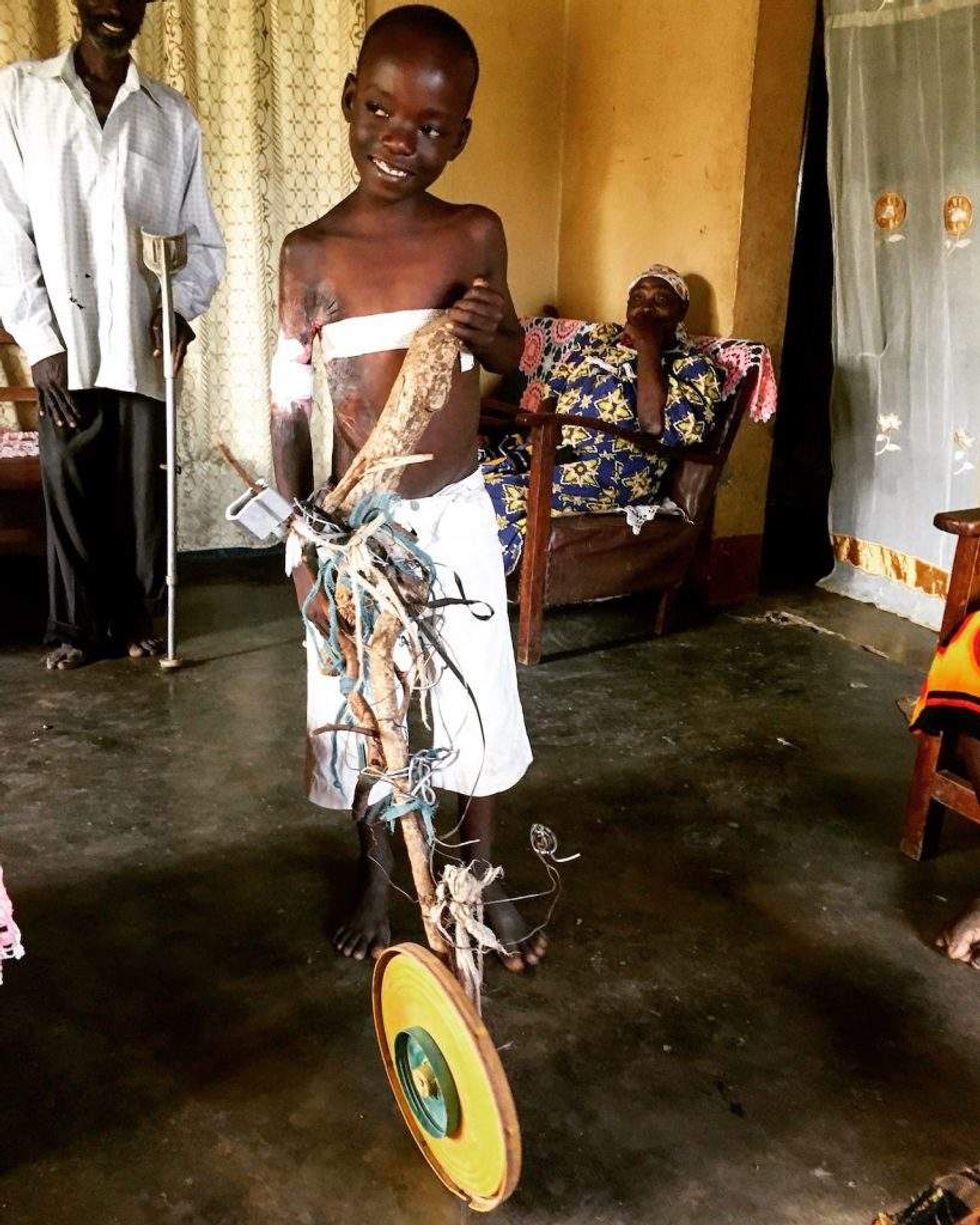 Like other young Kenyan boys, Wycliffe loves to play soccer and run. But he's also an artist; he made this model bike out of tree branches and trash. (Kaitlyn Schallhorn/TheBlaze)
But Wycliffe underwent many surgeries, including with a medical mission team of doctors from the U.S. who performed skin grafts on his back. With his shirt off, the patchwork craters decorating Wycliffe's back are still evident of the life-saving surgery — but already the scars have started to fade.
Down his right side and arm, however, evidence of the accident that happened four years ago is markedly visible. And he's not able to lift his arm all the way up despite two years of endless home rehabilitation just to regain use of his right hand. Obwamu developed his own regime of exercises and daily worked with his young son who slowly relearned how to hold, pick up and carry objects again.
Wycliffe, who turned 10 on Thursday, has missed so much school that he is only in the first grade.
Wycliffe's family helps him change the white bandages that wraps around his arm and chest every couple of days and reapplies medicine to the wounds — a feat not for the faint of heart.
But the family isn't alone. Rainbow Christian Missions, a Pittsburgh-based organization, has taken Wycliffe and his family under their wing, helping to provide medical supplies, financial aid and support. And Ruth Dietz, RCM's founder, is hoping to do more.
Now that Wycliffe's skin grafts have healed — and his other injuries remain a hindrance to his schooling and everyday life — Dietz told TheBlaze that she hopes to find a generous team of doctors and get Wycliffe and his father to the U.S. where he can get the surgery he desperately needs for true healing.
Dietz already found a Pittsburgh team once and set out to do the impossible: Obtain IDs and passports for a pair of Kenyans who live in an area where birth certificates are often a foreign concept.
It took time, but Dietz and her team — based in Butere, Kenya — did it. However, in that time, the dream team of doctors willing to help Wycliffe dissolved because of one surgeon's own medical emergency. But she's not giving up hope.
"Rainbow Christian Missions has been working through the necessary steps to bring Wicky to the U.S. for further surgery and skin grafts so that he will be able to have improved functionality of his arm and hand and so that he can fully heal," Dietz told TheBlaze. "Though this process is tedious and complicated, we are simply not willing to give up. Even now, four years after the fire, Wicky's arm is raw and skinless, causing him to lose fluids on a continual basis. Until his arm can heal, he will not be able to grow strong, nor will he be able to live a normal life."
"Wicky is a sweet, quiet, shy little boy, whose rare smile can light up an entire room. Wicky has become so dear to me," she continued. "My hope and prayer is to see Wicky's arm healed and to see him running and playing with his friends, wearing a smile that never ends."
It doesn't end with finding a team of doctors for Wycliffe. Dietz and her team will also need to obtain medical visas for Wycliffe and his father to temporarily enter the U.S. for the surgery.
And leaving Manyala — much less the continent of Africa — comes with a whole new set of challenges for the family. Obwamu, who walks with a cane, is the provider for his family. If he is gone, who would take care of his wife and three daughters?
Obwamu expressed his concerns during his interview with TheBlaze, translating his fears into his local Swahili dialect for Wycliffe's grandmother who sat silently nearby — surveying her grandchildren as her son spoke in a foreign language.
But once again, Dietz stepped up to the challenge. She promised that RCM would make sure the family would be supported in Obwamu's absence.
Wycliffe's grandmother smiled.
(If you wish to help Wicky, contact Rainbow Christian Missions, click here.)