Florida high school senior Milan Morris turned more than a few heads when photos of her prom dress hit social media over the weekend.
Why? The 17-year-old's gown was inspired by the Black Lives Matter movement and showed images of black people such as Michael Brown and Sandra Bland who were killed during encounters with police.
"It really conveyed such a strong message," Morris told the Sun Sentinel after Friday's prom. "For me to be in that moment, to be bold and courageous to do that, it was a blessing."
The front of Morris' dress showed an image of Trayvon Martin, the Florida teen who was fatally shot in 2012 during an altercation with neighborhood watchman George Zimmerman — and Morris told the paper she spoke with Martin's mother, Sybrina Fulton, who was touched by the gesture.
Morris posted a pair of photos of her dress on Instagram.
One was accompanied by the caption, "Yes I'm black. Yes I'm 17. Yes GOD is using me to convey a message that's bigger than me."
Designer Terrence Torrence created the dress and told the Sun Sentinel he got the idea of a Black Lives Matter theme about a year ago. Torrence knows Morris' family, and he told the paper that when he got together with her about a prom dress a few months ago, his idea came up.
"She was like, 'Yo, let's do it,'" Torrence recalled to the Sun Sentinel, emphasizing that while his dress is Black Lives Matter-themed, it isn't an anti-police statement.
"It's a tribute to that movement, but it's All Lives Matter, because every creature, every person on this planet matters," he told the paper, adding that "it was for the youth" and that Morris was "perfect for it."
As a star basketball player for Cardinal Newman High School in West Palm Beach, Florida, Morris is used to headlines. She was named the Palm Beach County girls basketball player of the year by the Sun Sentinel and his heading to Boston College to play basketball and study pre-med, the paper said, adding that she wants to become an orthopedic surgeon.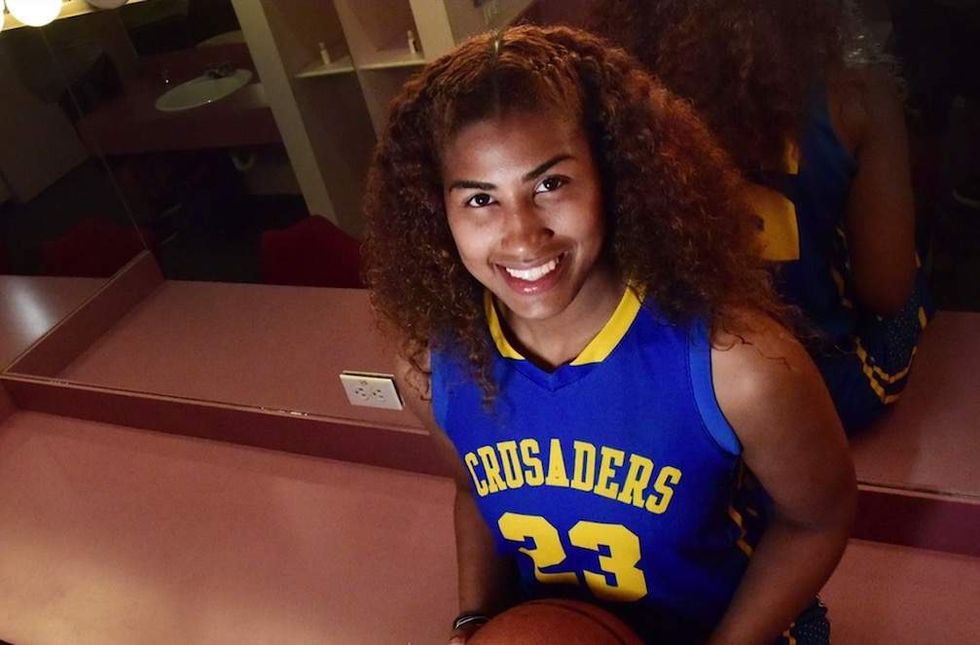 Milan Morris attends Cardinal High School and was named Palm Beach County girls basketball player of the year. (Image source: Sun Sentinel video screen cap)
While Morris told the Sun Sentinel she's taken heat for the dress by those who've called her a racist and a spotlight grabber, she said she simply wanted to highlight Black Lives Matter.
"It was just really to convey the message that this needs to be addressed instead of overlooked," she told the paper.