Outspoken conservative commentator Ann Coulter said Wednesday she canceled her planned  appearance Thursday at the University of California, Berkeley, according to Reuters.
UPDATE: Conservative commentator Ann Coulter says she has canceled her speech planned for this week at UC Berkeley

— Reuters (@Reuters) 1493224890.0
"It's a sad day for free speech," Coulter said, according to the New York Times.
Coulter had been insisting she would give her lecture Thursday as originally planned, despite the school canceling her appearance last week and then rescheduling it for a date in May when there are no classes.
Conservative student group Young America's Foundation announced Tuesday it's no longer sponsoring Coulter's speech, as Berkeley never provided security assurances for it — not to mention a space for it to take place. The YAF statement added that Coulter "may still choose to speak in some form on campus, but Young America's Foundation will not jeopardize the safety of its staff or students."
Coulter also noted lack of any support for her speech.
"Everyone who should believe in free speech fought against it or ran away," she said, the Times reported.
Ron Robinson, president of Young America's Foundation, on Wednesday told TheBlaze that Berkeley "never provided a hall or classroom that is routine for campus lectures. There could be no normal lecture without a venue to confirm."
"We were never interested in sponsoring a confrontation between rival non-student protesters," Robinson told TheBlaze. "Young America's Foundation sponsors campus lectures."
The group said in its Tuesday statement that it's still moving forward with its lawsuit against UC Berkeley officials and others. YAF said the school — widely known as the birthplace of the Free Speech Movement of the 1960s — "made it impossible to hold a lecture due to the lack of assurances for protections from foreseeable violence from unrestrained leftist agitators."
The Berkeley College Republicans are plaintiffs with YAF in the suit.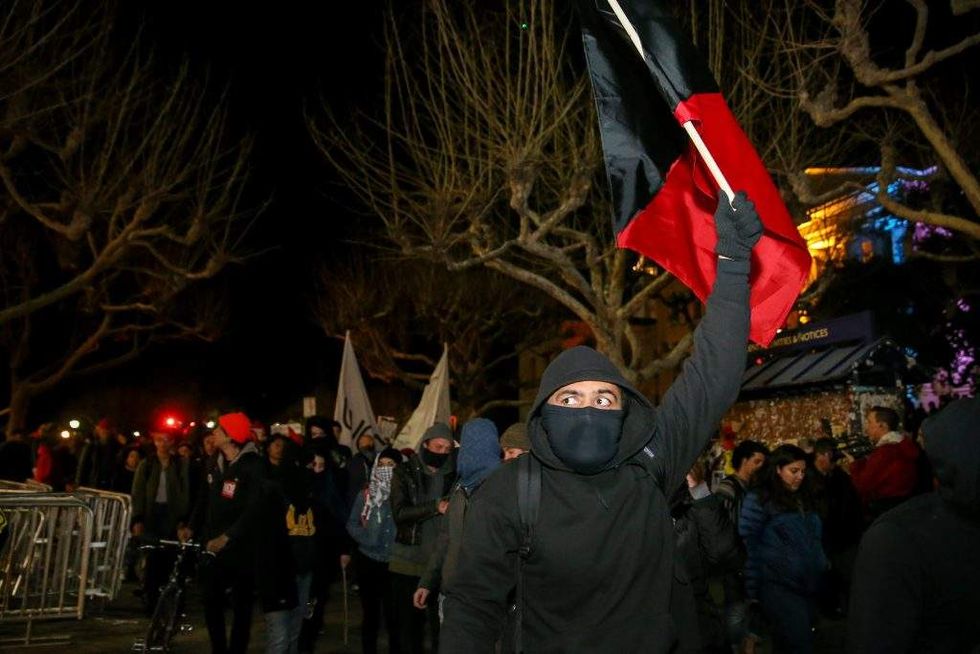 Protesters march off the UC Berkeley campus on Feb. 1, in Berkeley, California. A scheduled speech by controversial Breitbart writer Milo Yiannopoulos was canceled after protesters and police engaged in violent skirmishes. (Elijah Nouvelage/Getty Images)
A number of commenters to YAF's statement that it was no longer sponsoring Coulter blasted the group as "cowards" for "backing down."
"This is the worst thing you could possibly do," one commenter wrote. "Capitulating to the demands of these terrorists will only encourage them to threaten violence to get their way again. Part of your mission is to stand for individual freedom. Do it."
Another added: "You just lost. You had the entire country on your side, and you have hundreds of people going to this event to protect Coulter, and like cowards you just rolled over to the demands of these liberal terrorists. You guys are so f***ing weak."
"Way to empower the leftist lunatics," another commenter wrote. "Shame on you, YAF. You're as bad as they are."
But Robinson told TheBlaze he doubts "those who are name-calling know the facts on the ground."
"Our students are courageous, but they are not fools," he said. "If students have no support from law enforcement, they will never be able to hold a conservative event at a campus where university officials foster hatred and intolerance against conservative events."
Robinson also told TheBlaze that there could be individuals "who just want a violent confrontation. That is not what Young America's Foundation sponsors or trains our organizers to participate in."
As of late Tuesday night, it appeared Coulter's speech was still moving forward. The Washington Post reported Coulter said she was planning to arrive at Berkeley after 6 p.m. Thursday and was hopeful the school would offer "an appropriate room" for her speech.
Here's a Reuters report that aired prior to Coulter cancelling her speech: