On the heels of intense criticism for canceling conservative commentator Ann Coulter's speech next week over security issues, the University of California, Berkeley, on Thursday seemed to walk it all back by rescheduling her speech for May 2 — but Coulter is having none of it.
Besides the fact that Coulter said she's not available to give the speech on May 2, classes already will have ended by then. Indeed, the "reading/review/recitation period" before  final exams isn't exactly prime time for a speaking event.
Coulter's plan? She insisted she's giving the speech on April 27, as originally planned and contracted.
I'm speaking at Berkeley on April 27th, as I was invited to do and have a contract to do. https://t.co/thkiODIsSi

— Ann Coulter (@Ann Coulter) 1492732615.0
It isn't clear how or where Coulter will speak at Berkeley on April 27 if school officials don't make a campus building available to her on that date.
But she spoke to Fox News' Sean Hannity Thursday night about the controversy, saying "none of this has to do with security" and insisting "you cannot impose arbitrary and harassing restrictions on the exercise of a constitutional right."
Apart from the less-than-attractive May 2 rescheduled date for which she won't be available, Coulter said Berkeley also enacted a number of restrictions on her April 27 speech, such as she can't hold the event in the evening — only in the daytime when students are in classes — and that the venue wouldn't be revealed until the last minute.
Berkeley's cancellation of Coulter's April 27 speech was met with strong criticism, notably from liberals such as Piers Morgan and Robert Reich.
Morgan penned a column for the Daily Mail on the subject, saying that the "truth about many modern liberals is that they don't believe in free speech at all" except "if people agree with them." He added that if liberals "don't like what they're hearing, they scream and shout, punch and kick, petrol bomb and stab, and furiously demand the offender be silenced and banned."
Riots hit Berkeley in February over a planned speech by conservative firebrand Milo Yiannopoulos, which led the school to cancel the event.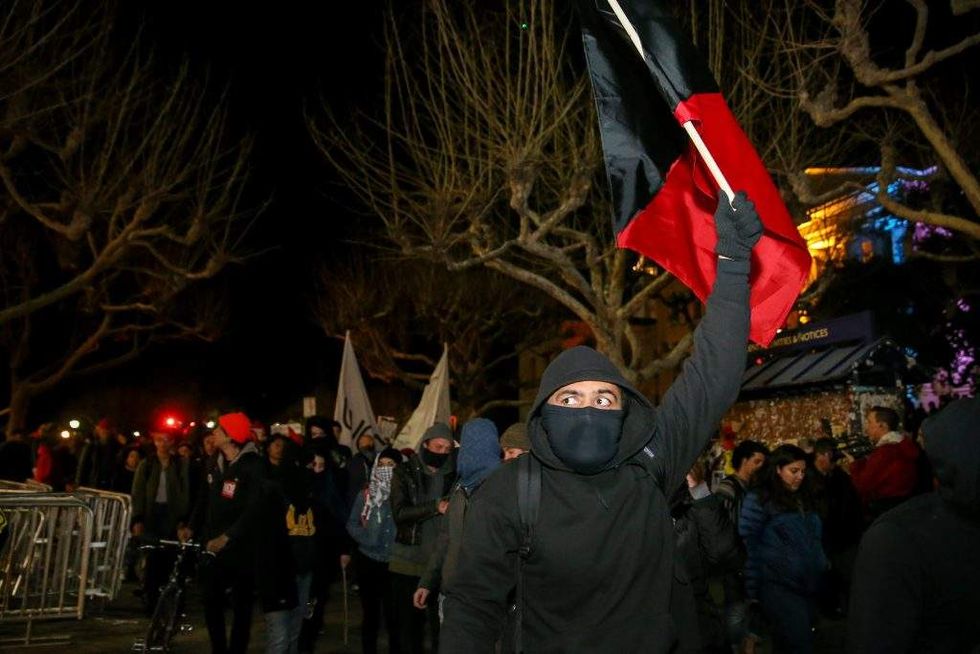 Protesters march off the UC-Berkeley campus on Feb. 1 in Berkeley, California. A scheduled speech by controversial Breitbart writer Milo Yiannopoulos was cancelled after protesters and police engaged in violent skirmishes. (Elijah Nouvelage/Getty Images)
"Free speech is what universities are all about," Reich said on Facebook. "If universities don't do everything possible to foster and protect it, they aren't universities. They're playpens."
Coulter told Hannity that liberals have enabled the "Rodney King riots" on the Berkeley campus in reaction to conservative viewpoints — and called the perpetrators "beta males."
More from Coulter's interview:
They are enabling the fascist thugs showing up with weapons and wearing masks. It's against the law to conspire to violate someone's constitutional rights wearing a mask ... it's quite shocking how the police are conspiring with the fascist thugs, how the Berkeley administration is conspiring with the fascist thugs. These are the people who are against Trump. These are the people who are behind Princeton putting out a pamphlet on what pronouns can be used and young men being falsely accused of rape by these witches on college campuses. This is what the opposition is. They may sit back in their classrooms and act as if, "Oh no, we love free speech, and we so respect the Constitution." No, they are enabling these fascist thugs.