After months of impersonating and bashing President Donald Trump on "Saturday Night Live," Alec Baldwin seems ready to mend fences. During a Wednesday interview, Baldwin admitted that he reached out to Trump and invited him to appear on the very show that turns the president into a punch line week in and week out.
"I think if he came it would be a great show," Baldwin said. "I think it would be better for everybody. It's always fun to defuse some of the tensions and unpleasantness of all this because we are mocking him — by no means with more frequency or more maliciousness, if you will, than other people."
Baldwin revealed that the president turned down the offer to appear on "SNL."
"We invited him to come when I hosted recently, but he refused to come, which is fine," Baldwin said. "I'm hoping 'SNL' was the one thing he chose to ignore so he could actually do his job.
"Trump himself is responsible for nearly all of the content," the actor continued. "Trump is the head writer at 'SNL.' Nearly everything, every consonant and every vowel is something that Trump himself has rendered in some way. So I think Trump is even more frustrated because he has only himself to blame for that."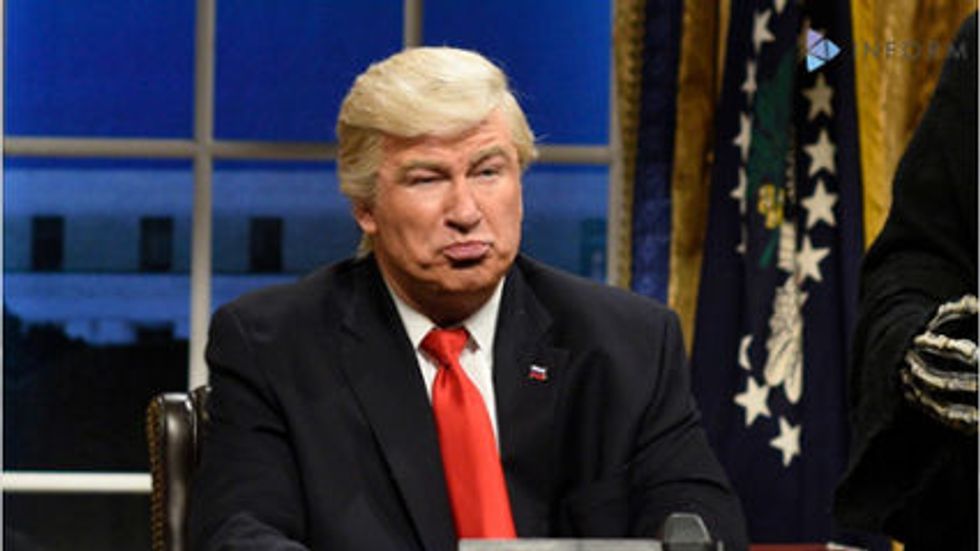 Trump has been vocal about the portrayal of him and his administration in the past, so it's hardly surprising that he's refused to guest star on the long-running comedy sketch show — though he's done so in the past.
Some of Trump's tweets about the show have included comments like "biased," "boring," and "sad."
Watched Saturday Night Live hit job on me.Time to retire the boring and unfunny show. Alec Baldwin portrayal stinks. Media rigging election!

— Donald J. Trump (@realDonaldTrump) October 16, 2016
Just tried watching Saturday Night Live - unwatchable! Totally biased, not funny and the Baldwin impersonation just can't get any worse. Sad

— Donald J. Trump (@realDonaldTrump) December 4, 2016
.@NBCNews is bad but Saturday Night Live is the worst of NBC. Not funny, cast is terrible, always a complete hit job. Really bad television!

— Donald J. Trump (@realDonaldTrump) January 15, 2017