A Washington Post report says that U.S officials are shocked that President Donald Trump revealed very sensitive secret intelligence to Russia's Foreign Minister Sergei Lavrov and Ambassador Sergey Kislyak when they visited the White House.
"This is code-word information," an official told the Post, adding that Trump "revealed more information to the Russian ambassador than we have shared with our own allies." The term "code-word information" signifies intelligence at a very high classification level.
The Washington Post described the intelligence he shared, but held back from publishing specific details at the request of the officials they spoke with.
Trump went on to discuss aspects of the threat that the United States only learned through the espionage capabilities of a key partner. He did not reveal the specific intelligence gathering method, but described how the Islamic State was pursuing elements of a specific plot and how much harm such an attack could cause under varying circumstances. Most alarmingly, officials said, Trump revealed the city in the Islamic State's territory where the U.S. intelligence partner detected the threat.
Buzzfeed reported that two officials confirmed the Washington Post story as well. They quoted one official saying, "it's far worse than what has already been reported."
"I get great intel. I have people brief me on great intel every day," Trump is said to have bragged to the Russian envoys. As president, he has power to declassify intelligence at his whim, so if the accusations are true, it would not have been illegal for him to reveal the secrets.
Sen. John McCain (R-Ariz.) said to reporters, "We certainly don't want any president to leak classified information, but the president does have the right to do that."
McCain just saw WP: "We certainly don't want any president to leak classified information but the president does have the right to do that."

— Erica Werner (@Erica Werner) 1494885128.0
Sen. Chris Murphy (D-Conn.) criticized the president upon learning of the report, saying, "if this story is true, it's another brick in the wall of a really, really troubling connection between Trump and the Russian government."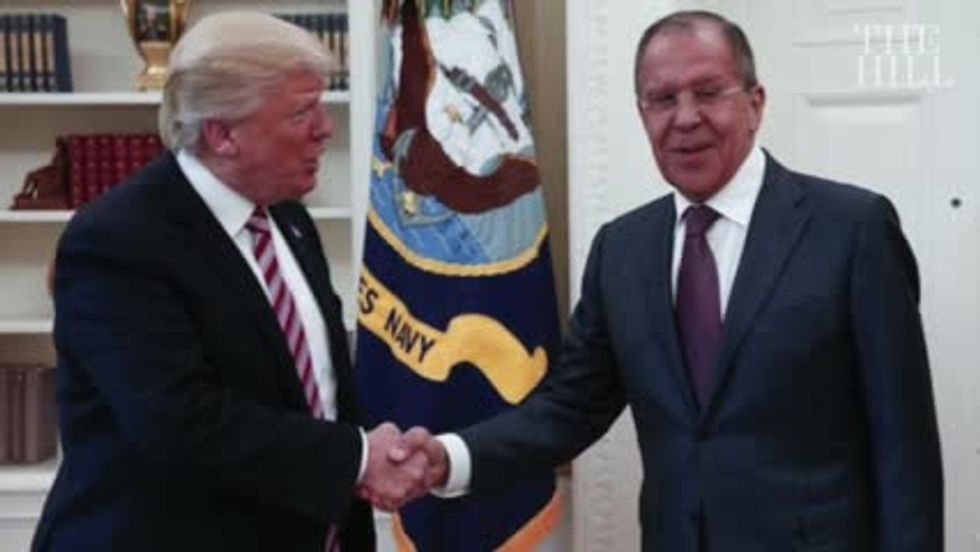 This compounds the criticism made of the visit after it was revealed that White House officials appeared to be duped by the Russians into allowing cameras in the Oval Office from a state-owned news agency. Some called it a "potential security breach" in that spying devices could have been secreted into the Oval Office in the cameras.
In response to the furor over his firing of FBI Director James Comey, Trump appeared to imply that he did it for the sake of the investigation into alleged Russian meddling and collusion.