A Missouri school district superintendent has apologized after inviting the crowd at a high school commencement to stand as he recited a "blessing" during commencement — a move that angered some graduates, the Springfield News-Leader reported.
"I came there to graduate, not go to church. It kind of ruined the rest of my night," senior Preston Schaeffer told the paper. "That was the last night of my high school experience, and he chose to talk about religion instead of graduation."
Superintendent Kent Medlin also mentioned his "savior" and quoted the Bible at Willard High School's graduation ceremony Saturday night, the News-Leader reported.
"He asked students to stand up and pray as a Christian, quoting the Bible numerous times throughout. Many students felt extremely ostracized by the situation, when choosing not to pray," fellow graduate Ashlynn Bradley told the paper, adding that Medlin "invited students to his office for coffee to discuss 'the Lord.' This was incredibly inappropriate."
Four students who contacted the News-Leader about Medlin's address said others were upset as well but too afraid to speak out. The students said they also plan to contact the American Civil Liberties Union and perhaps lodge a complaint, the paper said.
"The fact that he put his rights over our rights, it really offended a lot of us," Bradley told the News-Leader.
Medlin apologized on Monday after hearing about students' concerns, the paper said.
"If my behavior was offensive to anyone, then I am truly sorry," he told the News-Leader. "I in no way wanted to offend anybody. That was not my intention."
Medlin said he used the acronym GUTS (i.e. grit, understanding, teamwork and somebody or something that will guide one to the finish line) in his address and then told the audience "for me, that S stands for my savior," the paper said.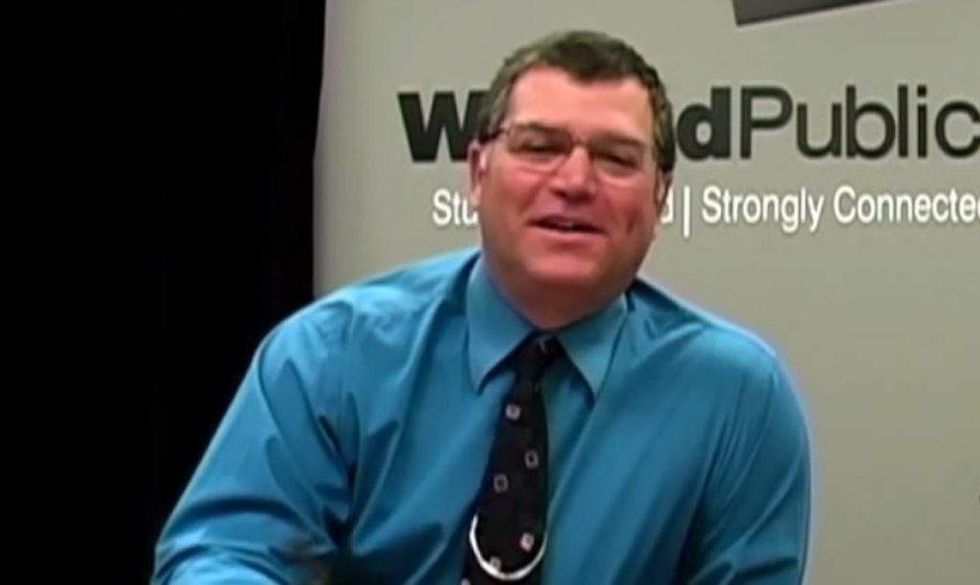 Superintendent Kent Medlin (Image source: YouTube screenshot)
He acknowledged he ended his address by inviting the crowd to stand if so desired as he recited what he called a "blessing" for the graduates, the News-Leader said, adding that Medlin was surprised when many graduates also stood.
Bradley told the paper Medlin has included a "small prayer" at past graduations but that some students wrote him, asking Medlin to not do that for the 2017 ceremony.
"We asked him to please refrain from doing so because it makes others uncomfortable," Bradley told the News-Leader. But Medlin denied receiving such requests, the paper said.
Yet Bradley maintained that Medlin "got more religious" after his introduction and went further with that subject than in previous years, the News-Leader reported.
"He said you can attribute all your successes to Jesus Christ, and we were like, 'Wow, you cannot say that,'" Bradley told the paper. "It was like testimony. I felt like we were at church. Then he said he'd say a prayer."
Bradley told the News-Leader she stayed seated with a few other students but that doing so was "embarrassing."
"I didn't want to compromise my beliefs and stand just to be one with the class," she told the paper. "It was ostracizing. I and some fellow students felt pressure. There were stares from the audience."
Sophia Spangler, a graduate who spoke at the ceremony, told the News-Leader that Medlin's actions didn't go against her beliefs and many Christians at the ceremony likely felt comfortable with what the superintendent said. However, Spangler told the paper that Medlin was still out of line.
"There were a number of individuals who were made uncomfortable," she told the News-Leader. "We live in an area of predominately one faith, but that can be isolating to people of other faiths."
Senior Joseph Amundson told the paper he also didn't stand and was "upset" over Medlin's speech.
"I thought it was offensive to anyone who was attending who was not of the Christian faith," he told the News-Leader. "I didn't stand because it made me so mad that he did that."
It seems unlikely that of anything further will come of controversy: Medlin retires next month, the paper reported.
(H/T: FaithWire)