UPDATE, 2:01 p.m.: A medical examiner determined Chris Cornell committed suicide by hanging, the Associated Press reported.
BREAKING: Medical examiner determines Soundgarden singer Chris Cornell committed suicide by hanging in Detroit.

— The Associated Press (@The Associated Press) 1495129307.0
Original story below
Chris Cornell — whose ear-shattering wail and dark-tinged lyrics helped launch his band Soundgarden to stardom and catapult Seattle's "grunge rock" to the forefront of popular music in the early 1990s — has died at 52, The New York Times reported.
Cornell died Wednesday night in Detroit, his representative Brian Bumbery said in a statement that called the musician's passing "sudden and unexpected," the paper said. Cornell's family will be "working closely with the medical examiner to determine the cause," the statement said, according to the Times.
Detroit's WXYZ-TV, citing police, reported that Cornell died from an apparent suicide at the MGM Grand Detroit. Cornell's wife called a family friend and asked him to check on Cornell's well-being, police told the station. The friend forced open the hotel room door and found Cornell on the bathroom floor, police told WXYZ, and Cornell was reportedly pronounced dead at the scene.
Soundgarden had performed Wednesday at Detroit's Fox Theatre.
Driven by its mix of heavy, low-tuned guitars and Cornell's gravel-covered screams that recalled Led Zeppelin's Robert Plant, Soundgarden released two albums in the late 1980s before breaking through with its landmark "Badmotorfinger" in 1991.
Tracks such as "Jesus Christ Pose," "Rusty Cage" — which was later recorded by the legendary Johnny Cash — and "Outshined" became staples on MTV.
That same year fellow Seattle bands Nirvana and Pearl Jam enjoyed mainstream success with their releases "Nevermind" and "Ten," respectively, and yet another group from the city — Alice in Chains — were already riding the grunge wave with its popular anthem "Man in the Box."
The gritty musical genre — known for sweaty, flannel-clad musicians and fans stage diving with their black Doc Marten boots pointing skyward — served as the backdrop to Cameron Crowe's 1992 movie "Singles," which was set in Seattle and featured a club performance from Soundgarden and a cameo appearance by Cornell.
Soundgarden's next album, 1994's "Superunknown," was an even bigger success than its predecessor and sported a number of popular tracks such as "Spoonman," "Black Hole Sun," "Fell on Black Days" and "The Day I Tried to Live."
The group's less-popular "Down on the Upside" came out in 1996, and Soundgarden broke up the following year. Cornell — who frequently played guitar onstage alongside vocal duties — made a solo album, "Euphoria Morning," in 1999 and then joined forces with the guitarist, bassist and drummer from Rage Against the Machine to form a new group, Audioslave, which released a successful self-titled debut in 2002.
Soundgarden revved up its engines again in 2010 and began touring and releasing new music. Cornell also reformed his side group Temple of the Dog last year for its first tour. The group's self-titled (and only) album is a collection of songs Cornell wrote in tribute to his friend Andy Wood, singer of another Seattle band Mother Love Bone. Wood died of a drug overdose in 1990.
While it started off in relative obscurity, the record — featuring Cornell, Soundgarden drummer Matt Cameron, Pearl Jam's Jeff Ament (bass) and Mike McCready (guitar) — became a mythical mainstay of the grunge scene. Its one-off music video, "Hunger Strike" — with a memorable guest vocal by Eddie Vedder of Pearl Jam — became yet another MTV staple and an alternative rock touchstone.
Eerily, the acclaimed soundtrack for the "Singles" movie — which features the propulsive Soundgarden track "Birth Ritual" and Cornell's riveting solo acoustic number "Seasons" as well as selections from other Seattle acts — is to be released Friday in an expanded format.
Here's the report from WXYZ: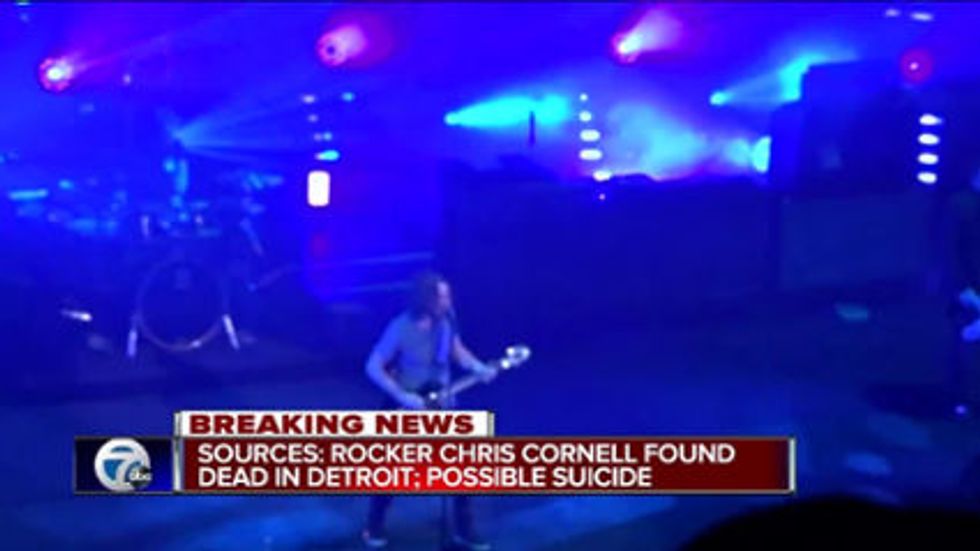 This story has been updated.