Former FBI Director James Comey once attempted to use the White House curtains as camouflage to avoid being seen by President Donald Trump, according to a report in The New York Times.
Brookings Institute fellow Benjamin Wittes, a personal friend of Comey, told the story to the Times as it had been relayed to him by the former FBI director.
According to Wittes, the incident occurred Jan. 22 during a ceremony in the White House Blue Room to honor law enforcement officials who provided security at the inauguration. Comey, who is 6 feet, 8 inches tall, was dressed in a dark blue suit and standing near the dark blue curtains in the back of the room, hoping to blend in and go unnoticed by Trump.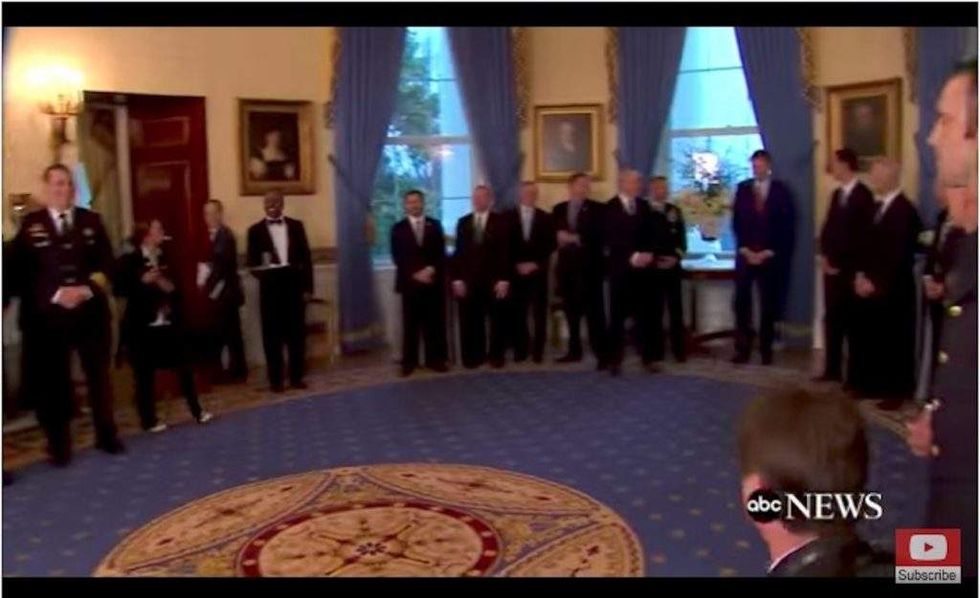 Former FBI Director Jim Comey, wearing a red tie in the video screenshot, once tried to blend in with the curtains during a Jan. 22 meeting with Donald Trump at the White House. (Image source: YouTube screenshot)
Comey was hoping to press upon the president that their relationship was to remain entirely professional, the Times reported. However, Trump had made multiple attempts to draw Comey into a personal friendship, which Comey thought to be professionally "inappropriate."
"He thought he had gotten through and not been noticed or singled out and that he was going to get away without an individual interaction," Wittes said, recalling Comey's description of the events.
Luck was not on Comey's side, however. Trump spotted him, and joked about Comey's constant appearance in the news.
"Oh and there's Jim," Mr. Trump said. "He's become more famous than me."
"Comey said that as he was walking across the room he was determined that there wasn't going to be a hug," Wittes said. "It was bad enough there was going to be a handshake. And Comey has long arms so Comey said he pre-emptively reached out for a handshake and grabbed the president's hand. But Trump pulled him into an embrace and Comey didn't reciprocate. If you look at the video, it's one person shaking hands and another hugging."