A weekend media show on CNN used incorrect data over the weekend from a recent Harvard University study showing that all major media outlets — television, digital and print — overwhelmingly portrayed President Donald Trump's first 100 days in the White House in a "negative" light.
Overall, the study found that 80 percent of the media coverage surrounding Trump's opening months was negative while only 20 percent was positive. The worst offenders included NBC News and CNN, but even Fox News — a network often seen as favorable to the White House and Trump — also covered the president negatively more often than it did positively.
According to the study, 52 percent of Fox News' Trump coverage over his first 100 days as president was negative, while 48 percent was positive. It's a far cry from CNN, NBC News and ABC News, which covered Trump negatively more than 90 percent of the time.
But if you happened to be watching CNN's "Reliable Sources" on Sunday, you might think that Fox News covered Trump in an overwhelmingly positive fashion while outlets such as NBC News and CNN painted Trump in a much more favorable light than The New York Times or Washington Post.
That's because, as the Daily Caller first reported, "Reliable Sources," which advertises itself as "telling the story behind the story," used the wrong data chart when reporting on the study during its Sunday show.
Not only did they use the wrong chart, but the show used a chart that gave viewers the impression that Fox News was overly biased in favor of Trump by covering Trump positively 67 percent of the time.
They even titled their chart, "Fox News Only Outlet With Overwhelmingly Positive Coverage."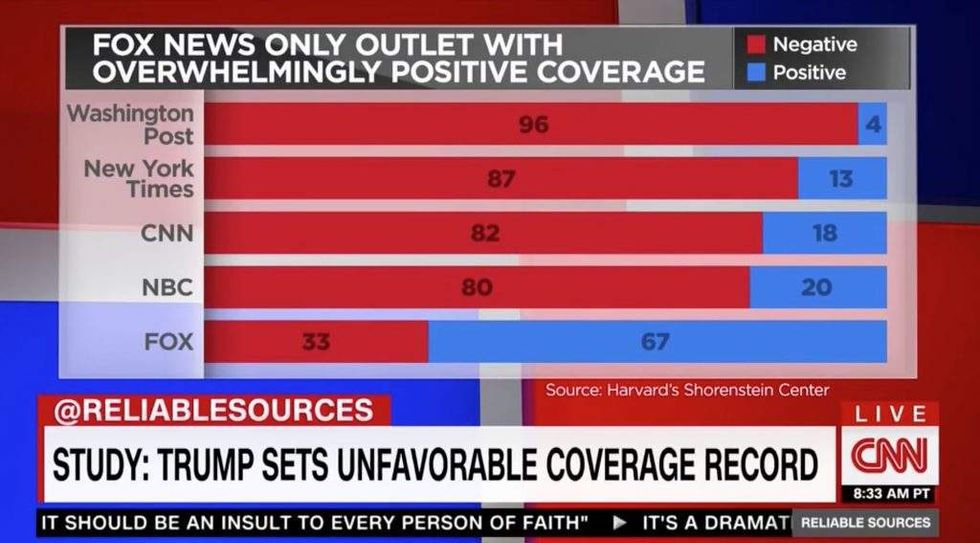 Image source: screenshot
However, the data "Reliable Sources" used showed how media organizations covered Trump's "fitness" for the presidency — which Fox, in fact, did cover more positively. The "fitness" data was correctly portrayed.
Still, it wasn't the picture of Fox's overall coverage like CNN "Reliable Sources" guest host John Berman purported it to be.
Berman told viewers:
Is the White House besieged by crisis or is President Trump besieged by the media attempting a sort of coup?

It really all depends on where you turn your dial to get your news. This is according to a new study from the Harvard Shorenstein Center on Media Politics that analyzed news coverage of the president's first 100 days and found that the coverage quote 'set a new standard for unfavorable coverage of a president,' with Fox News being the only outlet where the majority of the coverage was positive.
TheBlaze reached out to a representative for "Reliable Sources" and CNN spokesperson offered this comment: "During Sunday's coverage we mislabeled a chart which led to an inaccurate conclusion about the general findings from a study on media coverage. We regret the error and have removed the clip from our platforms."