After House Majority Whip Steve Scalise (R-La.) and others were shot during a Republican congressional baseball practice in Alexandria, Virginia, early Wednesday morning — before which the shooter reportedly asked if Republicans or Democrats were on the field — there certainly were sympathetic responses.
But as you might expect, some folks on social media posted decidedly vile reactions that ranged from Republicans-deserve-to-get shot to downright glee over the attack.
The founder of liberal news site the Daily Kos had this to say:
Republicans are getting what they want. https://t.co/8ZUnso6JCV

— Markos Moulitsas (@Markos Moulitsas) 1497456003.0
Moulitsas' tweet was in response to a post on Republican Sen. Rand Paul's Twitter page last June which read: ".@JudgeNap: Why do we have a Second Amendment? It's not to shoot deer. It's to shoot at the government when it becomes tyrannical!"
Sergio Gor, Paul's communication director, on Wednesday told TheBlaze that the latter quoted words were not Paul's but Judge Andrew Napolitano's. Gor explained that the quote was part of a live-tweet of a speech by Napolitano and posted by a staffer.
Some other reactions to the shooting:
Ah, Republicans. It's all fun and games until one of your own gets shot, huh? #Scalise

— Erica TrumpMustGO Scott (@Erica TrumpMustGO Scott) 1497460821.0
Republicans created this hate-filled rhetoric & now bitching about one of their own getting shot. Oh PLEASE! @HallieJackson #Alexandria

— Chico Delainky (@Chico Delainky) 1497462311.0
I feel a little bit like an asshole for thinking this but the republicans that were shot are still alive so it's really not that...

— Kelsey Lela (@Kelsey Lela) 1497459355.0
Republicans take away health care. GOP against gun laws. Every day Americans shot all over country, GOP does nothing. Blame yourselves.

— Deliver Us From Trump 2020 (@Deliver Us From Trump 2020) 1497459184.0
Here's quite a thread from Twitter user @waltisfrozen: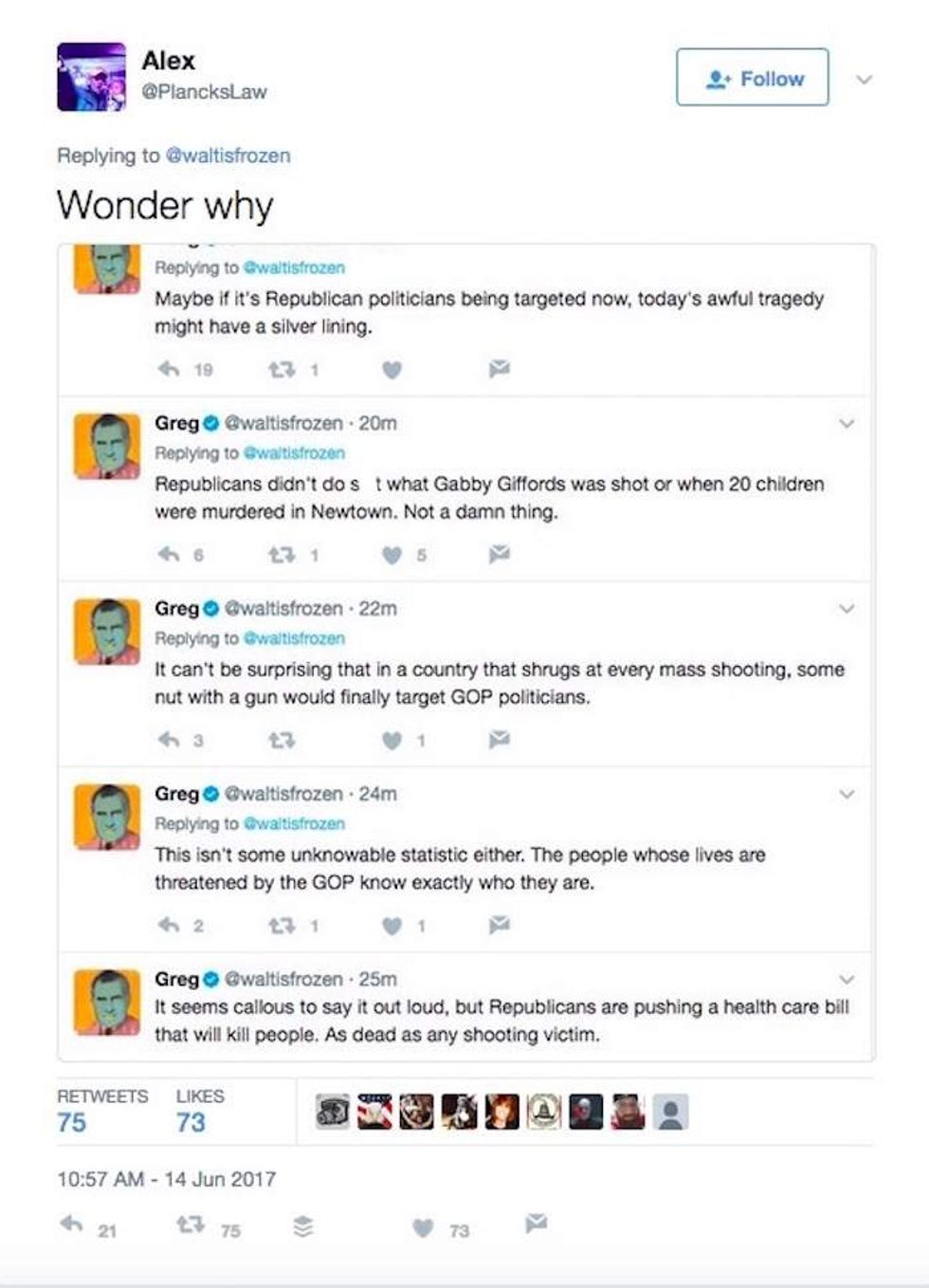 Image source: Twitter (redacted)
One wonders if these commenters — and those who agree with them — would react as callously if confronted by reported developments such as the following:
Jesus, this is scary. https://t.co/4rzTq3zPkd

— Adrian Carrasquillo (@Adrian Carrasquillo) 1497458967.0
This story has been updated.