In easily one of the stranger news stories to emerge on Friday, "Morning Joe" co-host Joe Scarborough released a music video for his new EP, "Mystified," where he can be seen singing, dancing and playing guitar.
The video features many different themes — including substantial amounts of footage of President Donald Trump and Scarborough's fiancée Mika Brzezinski — superimposed over a cacophony of synthesized music.
Scarborough sings in an slightly affected British accent while playing the guitar as the video cuts between shots of the former Republican representative of Florida and footage of past and current events, featuring footage of Kim Kardashian, Steve Bannon, nuclear bomb detonation, children shooting guns, North Korean dictatorship, the Black Lives Matter movement, Charleston, South Carolina, shooter Dylann Roof, Vladimir Putin and Hillary Clinton.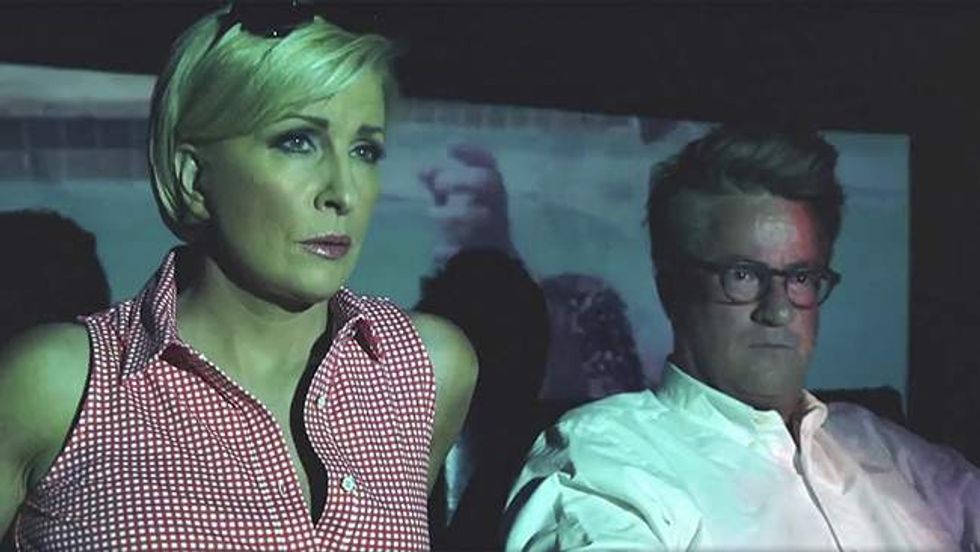 Mika Brzezinski and Joe Scarborough star in Scarborough's music video for "Mystified." (Image source: Facebook screenshot)
The video ends with the video's female protagonist being mugged and apparently killed in a senseless, violent attack while Trump is sworn into office as the 45th president of the United States of America.
"I won't be going down without a fight," Scarborough sings throughout the video.
See the video in its entirety below.
Warning: the following video may contain sensitive visual material.