Software developer Madalyn Parker recently notified her coworkers that she'd be taking two days off work to focus on her "mental health."
Far from annoyed, her boss Ben Congleton — CEO at Olark, a live chat firm based in Palo Alto, California — replied by thanking Parker for "being an example to us all" and helping "cut through the stigma so we can all bring our whole selves to work."
When the CEO responds to your out of the office email about taking sick leave for mental health and reaffirms your… https://t.co/KLfhpXNBfB

— madalyn (@madalyn) 1498854569.0
The exchange — which has been retweeted more than 15,000 times since the end of June — has struck a nerve on social media.
Parker has said on Twitter that she suffers from depression among other mental health issues and has stayed home from work to cope.
In a tweet last month, she wrote, "Too distracted by my health (anxious, depressed, injured) to be effective at work. Too worried about my work to be effective at self care."
Congleton said in an interview with Money that Parker and others with mental health issues told the company about their struggles a few years back to start a dialogue.
"We built this organization with this culture of where this kind of talk is no big deal," Congleton told Money. "I think that that started normalizing mental health as an actual health issue within our organization."
He told the magazine that "so many people live in fear of disclosing mental health issues at work. In many ways, that fear makes those mental health issues worse."
More from Money:
For Congleton, it is important for a company to build a safe space for its employees, where they can feel vulnerable and are willing to share any issues they may be having, whether that's related to mental health or not. He often tries to find ways to show his gratitude for his employees — and his message to Parker was one of those efforts.
According to some comments on the exchange between Congleton and Parker, not every worker out there has mental health latitude at work.
One commenter wrote: "I took a mental health afternoon at my last job and got passive aggressive documentation about the mental health coverage in our health plan."
Another wrote, "This is great!! I once called in to take a mental health day.. My boss told me anxiety isn't a real illness & that I needed a doc's note."
Still another noted a threat of getting fired: "Wow, I wish! I needed a medical mental health stay once. Upon my return, my boss told me not to let it happen again or my job would be gone."
Congleton told Money that such reactions surprised him: "I sort of felt like this was just something that should be normal. It's just business as usual for us. This is not something new."
Indeed, Parker also tweeted that one of her company's core values is "chill out":
@chowspecial @peterhuntwelch Yeah "chill out" is one of our core values. https://t.co/R4z2LGkW13

— madalyn (@madalyn) 1499380042.0
It could be that objections behind "taking a mental health day" have been associated with taking time off to relax or de-stress — as opposed to dealing with actual clinical mental health issues.
That subject came up in an exchange between Parker and a commenter to her viral tweet: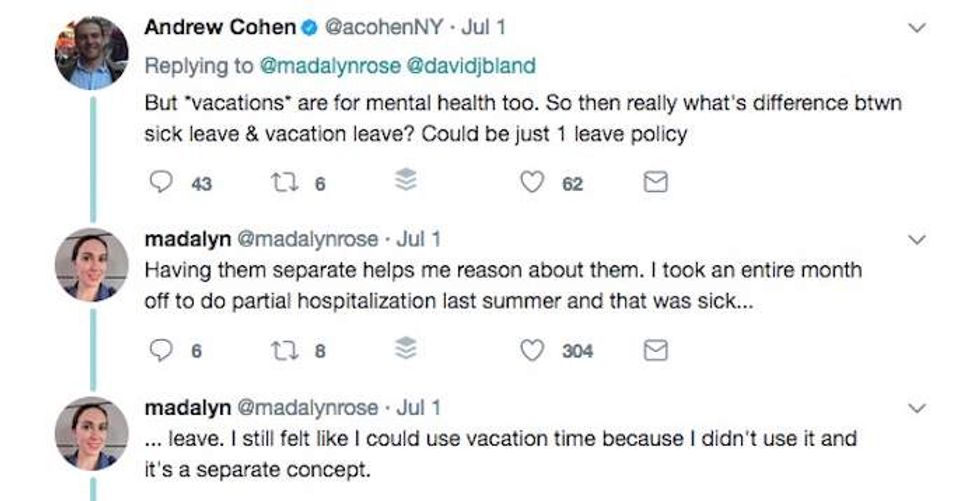 Image source: Twitter screenshot
Facebook CEO Sheryl Sandberg was clear about where she stood after hearing about the emails between Parker and Congleton.
"This is wonderful," Sandberg wrote. "Thankful to Madalyn for being so open – it's not an easy thing to do. Her CEO Ben showed such compassion and is a great example of why we need more leaders who encourage employees to bring their whole selves to work."