On the heels of deadly demonstrations in Charlottesville, Virginia, a Delaware newspaper's Monday editorial featured a headline calling the "alt-right" "America's version of ISIS" and "just as horrifying."
"The fear of ISIS and Muslim extremism in general has helped foster the isolationist dogma that helped put Donald Trump in the White House," the News Journal's editorial says before adding that what happened over the weekend proves "walling off the rest of the world will not save us."
Why? Because, the editorial notes, there's an enemy already among us.
"We must face the harsh reality that the innocuously branded 'Alt-Right' may be the most significant terroristic threat facing our country today," the editorial said.
The editorial adds that "Trump has given hate groups an advocate not seen in the White House since Andrew Johnson."
More from the piece:
Trump's remarks on Monday were entirely appropriate and presidential. But they came two days after the deaths of Heather Heyer and Virginia State Troopers H. Jay Cullen and Berke M. M. Bates. Those two days gave hate groups more than ample opportunity to put their heinous spin on Saturday's violence.

By comparison, on the same June day that eight people were killed by Islamic terrorists in London, Trump tweeted that the attacks justified his travel ban against Muslims.

Unfortunately, such rhetoric is tame compared to what comes from the Alt-Right.
The editorial also draws data from the Southern Poverty Law Center — certainly no fan of Trump — which indicates established hate groups began climbing again in 2015 "in part due to a presidential campaign that flirted heavily with extremist ideas."
"We cannot trust this administration to recognize and act upon this terror threat," the editorial concluded, referring to the "alt-right," adding that it's "incumbent upon every true American to preach that hatred unchecked will destroy our republic."
Indeed, while the "alt-right," white supremacists and the Ku Klux Klan certainly stand against the best of American values and need to be spoken out against, the editorial fails — and this seems to be an ongoing trend with the media — to mention the violent, anarchist group that calls itself Antifa, which initiated the violence in Charlottesville.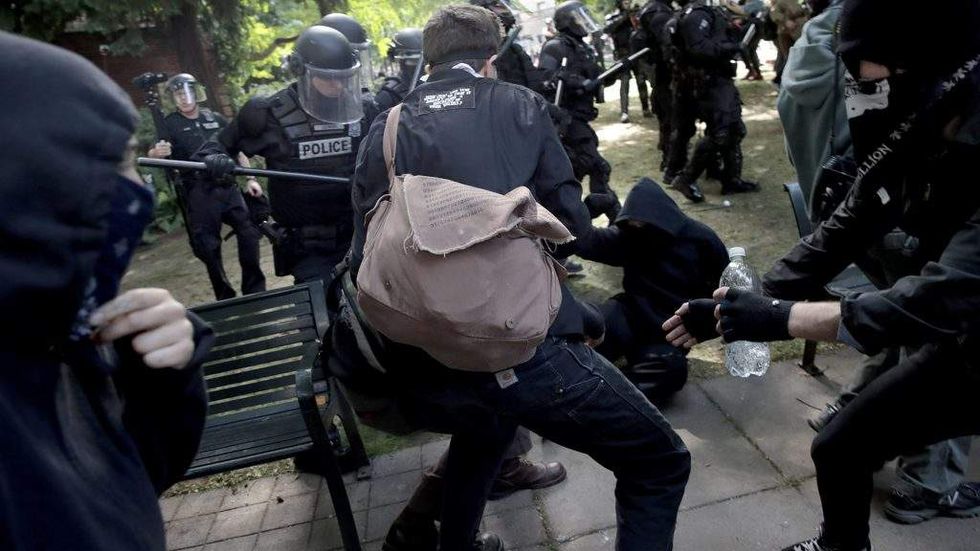 Antifa protesters in Portland, Oregon. (Getty Images)
Interestingly conservatives generally seem to have little trouble calling the "alt-right" and their ilk evil. But the silence of the left when it comes to Antifa — whose black-clad, masked members have injured countless Trump supporters at rallies, issued threats and destroyed property from coast to coast — is disturbing.