Antifa — the left-wing band of mask-wearing thugs whose calling card is beating up and tossing urine and feces at detractors — has struck again.
Black-clad members of the militant group, their faces hidden by bandanas, climbed atop an Atlanta statue Sunday night — right on the heels of deadly demonstrations in Charlottesville, Virginia — proceeded to spray it with red paint and then attempted to tear it down using a chain.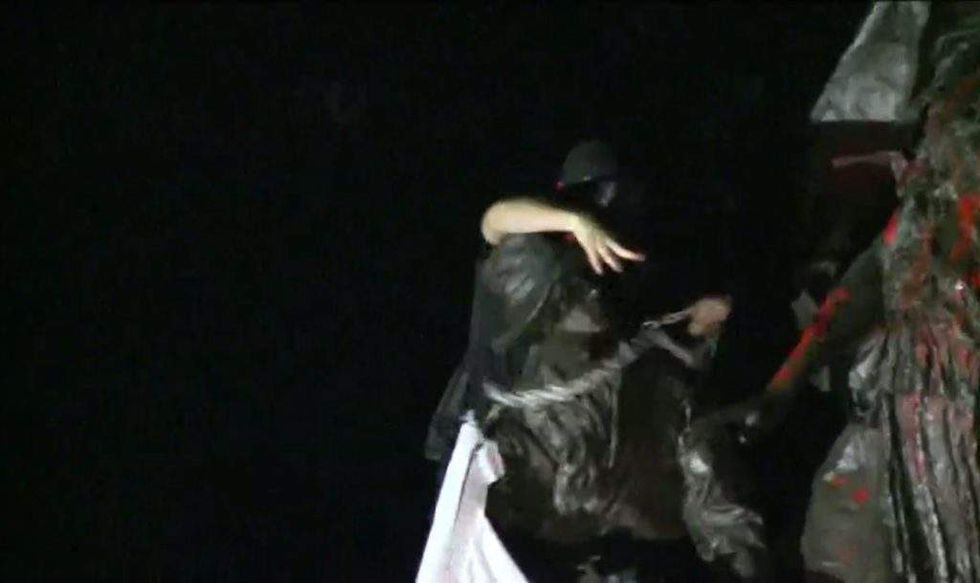 Image source: WXIA-TV video screenshot
Antifa apparently took the statue in Piedmont Park for a Confederate memorial, several of which have come down on the heels of Charlottesville violence over a Gen. Robert E. Lee statue there.
Except the statue that Antifa members were trying to topple isn't a Confederate statue.
Featuring an angel standing above a Confederate soldier, urging him to lay down his weapon, the sculpture is known as Peace Monument.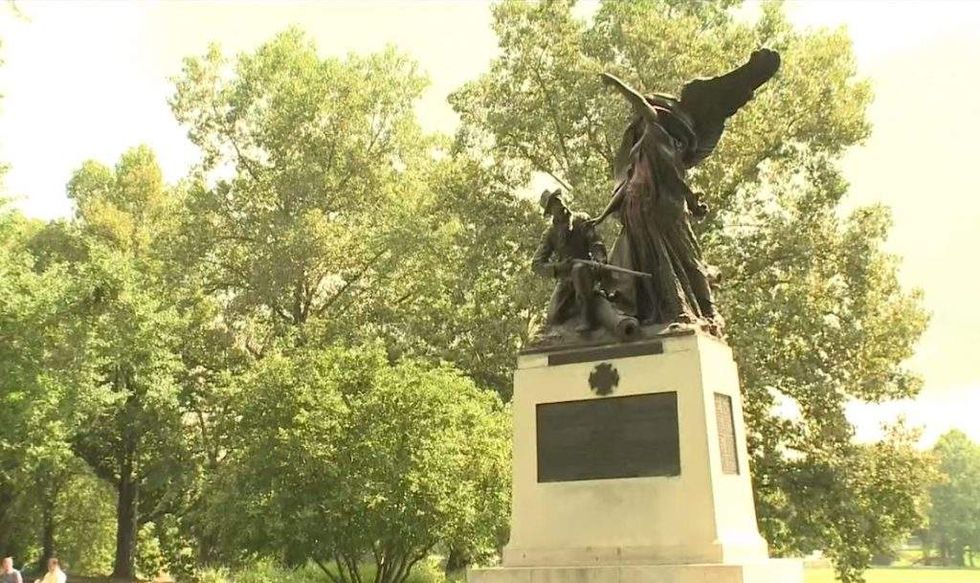 Image source: WXIA-TV video screenshot
Still several protesters chanted, "Tear it down. Tear it down," WXIA-TV reported, adding that many in the crowd dispersed seeing the statue being defaced, apparently wanting no part of property destruction.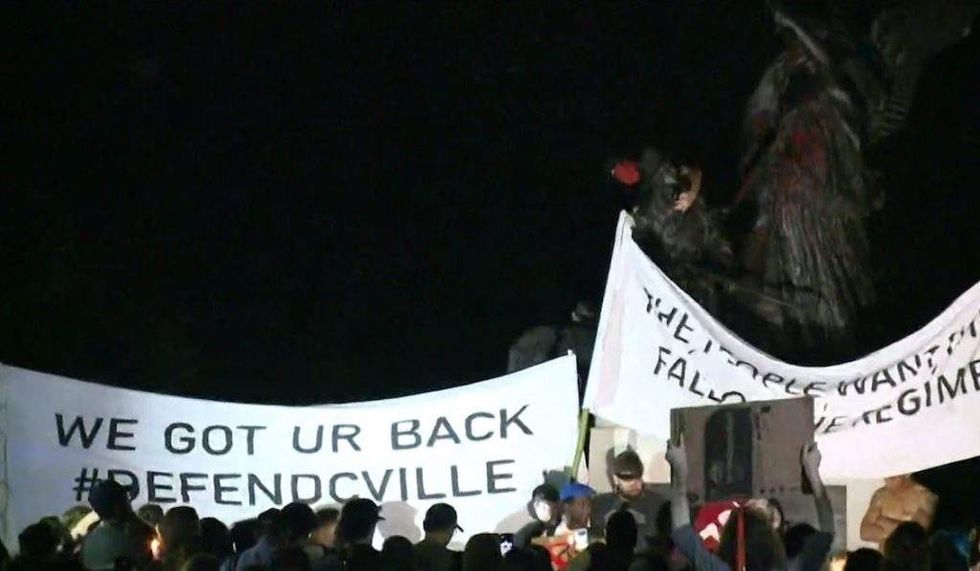 Image source: WXIA-TV video screenshot
Atlanta author Goldie Taylor reminded folks on social media Sunday night what the statue stands for:
But just as the fun was revving into a higher gear, Atlanta Police Maj. Timothy Peek arrived and stood in front of the monument, police told WXIA, adding that demonstrators at that moment released the chain.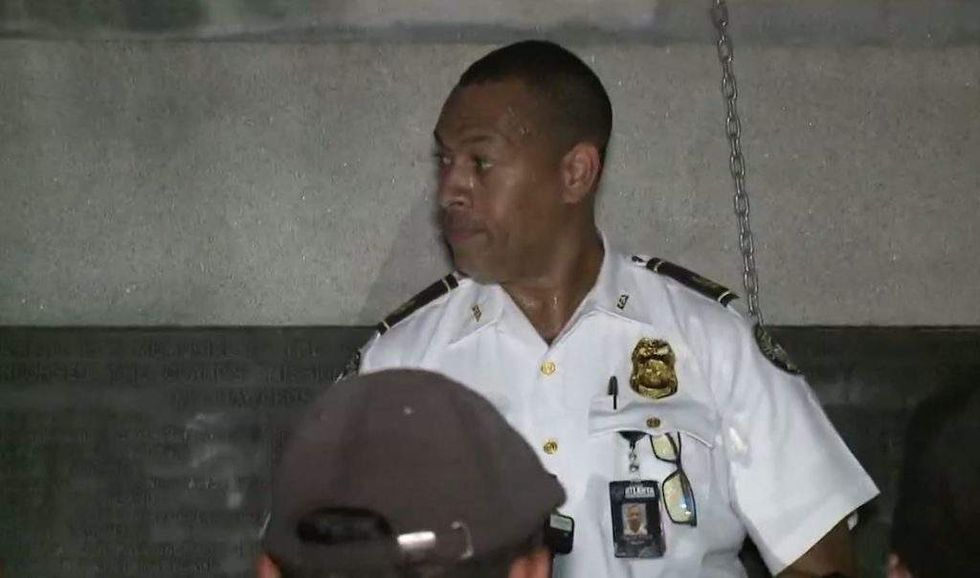 Atlanta Police Maj. Timothy Peek (Image source: WXIA-TV video screenshot)
Peek then spoke to the crowd and persuaded them to do no further damage to the statue, police told the station in a statement.
Antifa protesters nevertheless surrounded Peek and shouted "pig," the Atlanta Journal Constitution reported. But Black Lives Matter protesters put themselves between the officer and the Antifa members, which seemed to quell tensions, the paper said.
A protester was hurt by metal falling from the structure during the attempted tearing down, the paper added.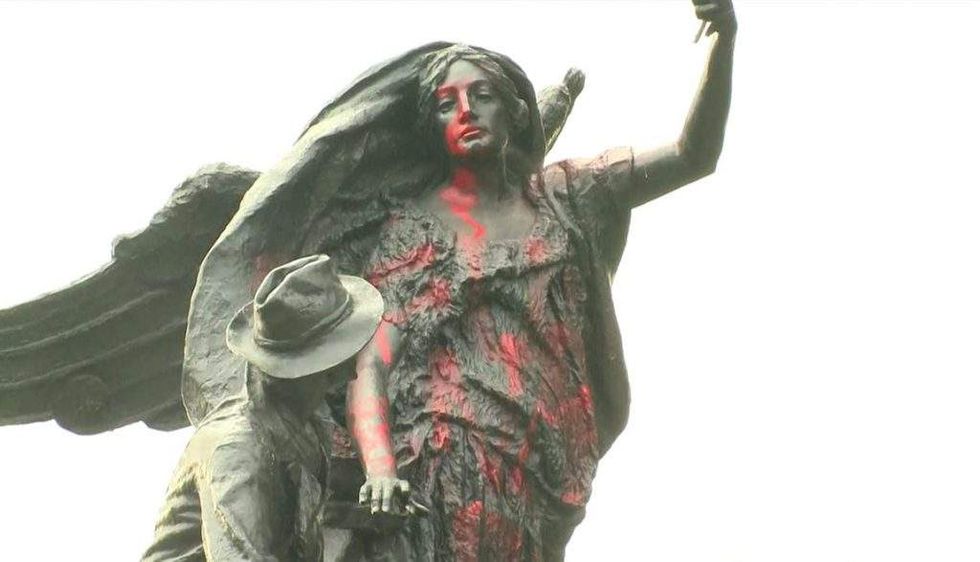 Image source: WXIA-TV video screenshot
More from WXIA:
The statue was commissioned in 1911 to symbolize efforts of reconciliation between the North and South after the Civil War. According to the state of Georgia, the monument was funded by the Old Guard Battalion of the Gate City Guard, which traces it heritage to 1854 when a group of private citizens formed a private militia to help the city keep law and order.
Police said in its Monday statement that they weren't able to identify the culprits, who would face charges of criminal trespass, criminal damage to property or destruction of property.
Oh, and the olive branch the angel was holding? WXIA reported that it's now broken.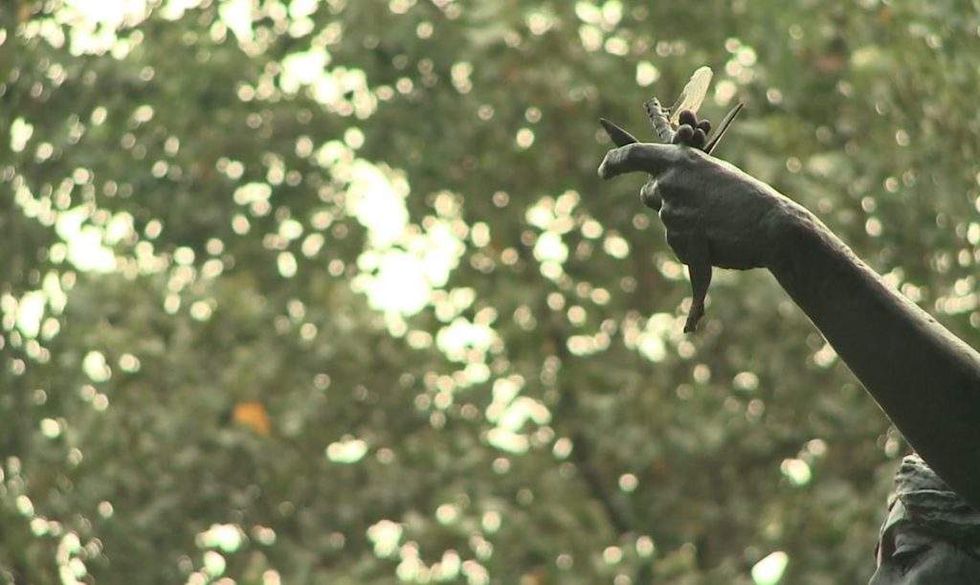 Image source: WXIA-TV video screenshot
One man told WXIA that what happened to the Peace Monument is symbolic of what's happening around the country — that while it represents peace, "it doesn't seem like people want peace, like people are really against that."