In the wake of widespread dismantling and vandalism of Confederate statues across America over the last month, those wanting such monuments gone are broadening their aim to hit historical figures outside the Civil War-era.
The latest example: A Baltimore statue honoring Francis Scott Key, the author of "The Star-Spangled Banner" — America's national anthem.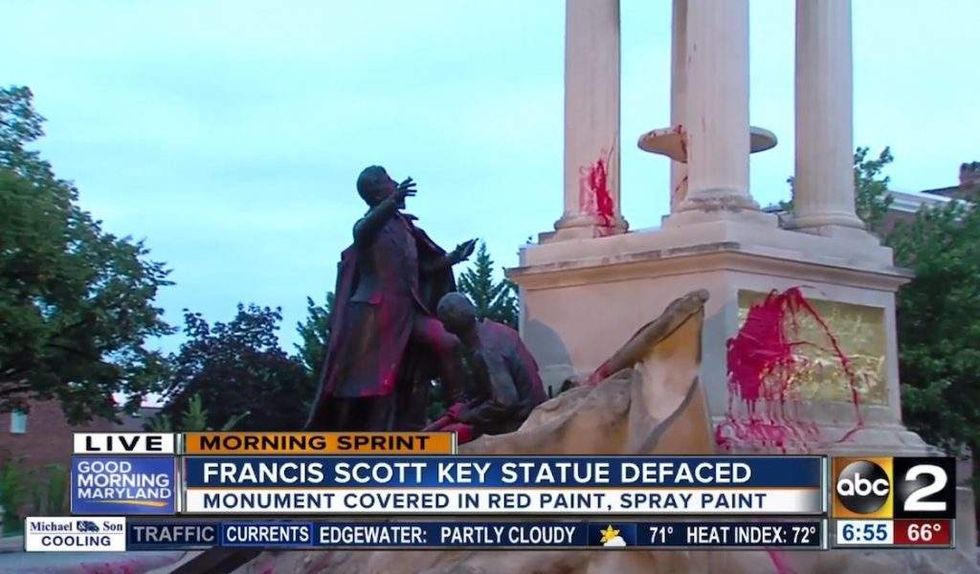 Image source: WMAR-TV video screenshot
The monument was found Wednesday morning — one day before the 203rd anniversary of Key penning the famous words during the Battle of Baltimore, Fox News said — covered in red paint with the phrases "racist anthem" and "slave owner" spray painted on it as well as the sidewalk, WMAR-TV reported.
Key's tune under attack
Apart from NFL quarterback Colin Kaepernick's infamous kneeling protests as the national anthem was played before games last season, the song itself has come under attack. A writer ripped "The Star-Spangled Banner" over the summer, calling the national anthem a "pompous battle number."
Others have issues with the rarely sung third section, which includes the words: "No refuge could save the hireling and slave / From the terror of flight or the gloom of the grave ..." The line is believed to refer to black slaves who were promised freedom if they fought on the side of the British during the War of 1812, the Los Angeles Times reported.
The song "casts aspersions on black people. It does a disservice to black people today," Gerald Horne, chair of history and African American studies at the University of Houston, added to the paper.
Baltimore officials respond
"Freedom of speech is welcome in the city of Baltimore, but not at the cost of our public spaces and neighborhoods," Mayor Catherine Pugh said in a statement, the station reported. "Vandalism of any kind is unacceptable, and those found to be associated with this crime will be charged."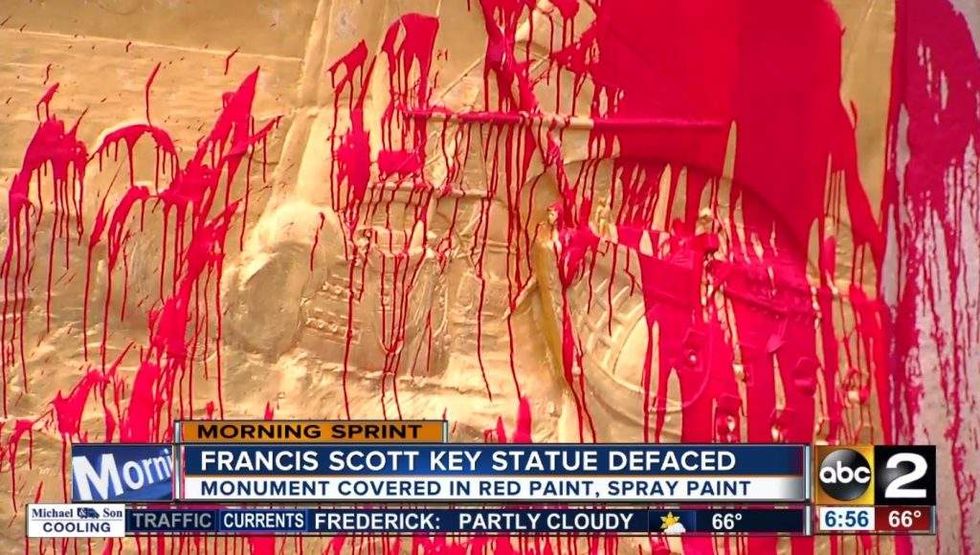 Image source: WMAR-TV video screenshot
Baltimore City Police spokesman TJ Smith agreed.
"There's a way to go about doing this, and I think that Baltimore, of all places, has seen how to go about this ... but this is certainly not the appropriate way," he said, WMAR reported. "It's destroying property." Police have no useful surveillance video, the station added.