The Freedom from Religion Foundation — a national atheist activist group — has demanded that an Alabama high school marching band stop its "religious" halftime performances at football games, AL.com reported.
What is the atheist group upset about?
The FFRF said the Leeds High School marching band's show resembles a Christian church service, with church pews set up on the football field.
Group asks Leeds City Schools to stop Christian-themed halftime show; should there be religious displays at games?… https://t.co/naguQi3yZl

— AL.com (@AL.com) 1507057847.0
In addition, the band plays hymns such as "Will the Circle be Unbroken," "I Saw the Light," "Swing Low Sweet Chariot," "Joyful, Joyful, We Adore Thee" and "Amazing Grace," AL.com reported.
"Seeing the pews on the field with little crosses on them ... was really more than them showing religious music," Chris Line, an FFRF legal fellow, told WBMA-TV. "It was clearly meant to evoke a Christian worship service that you'll see on Sunday in a church."
The FFRF sent a letter to the district that the show violates the separation of church and state, noting that public schools can't "advance or promote religion," the outlet added.
FFRF officials told AL.com a "concerned local parent" contacted them about the issue and claimed the band director told band members who don't support the show that they can "drop out of band."
"The band director's actions are way over the line," FFRF Co-President Annie Laurie Gaylor told the outlet. "In a secular setup, he cannot be permitted to foist his religion on others."
How is the school reacting?
"We have submitted the FFRF's complaint to the [school] Board's attorney for review," Leeds City Schools Superintendent John J. Moore told AL.com. "We do not have plans to stop the show."
Leeds High School Principal Brent Shaw added to WBMA that the show is "not meant in any way to offend anyone or try to convert anybody to Christianity."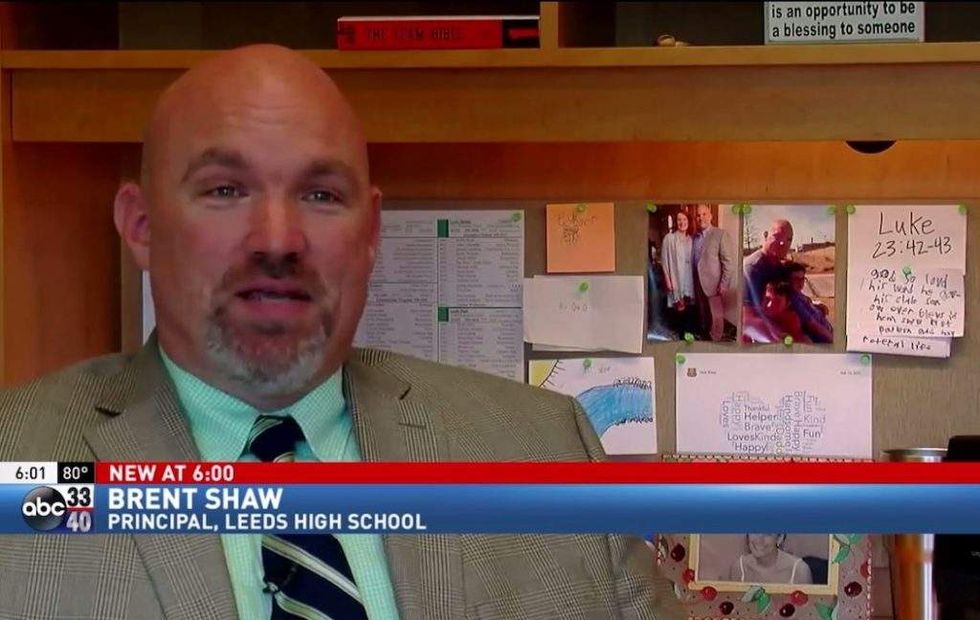 Image source: WBMA-TV video screenshot
Shaw added to the station that his students worked hard on their performance, and the school will consider removing some of the props — but that the show will otherwise remain the same.
A complaint letter from the Freedom from Religion Foundation led to a ban on student-led prayer over the loudspeaker before football games at Alabama's Smiths Station High School — but late last month ended up praying without amplification anyway.
(H/T: Todd Starnes)