The hosts of "The View" reacted fairly tepidly on Friday and Monday to sexual harassment allegations against ultra-liberal Hollywood mogul Harvey Weinstein, employing jokes, conflation and indirect language to try to soften the news.
And it seemed a far cry from the hosts' collective blitzkrieg against then-Republican presidential nominee Donald Trump over his infamous "hot mic" "Access Hollywood" audio a year ago.
How did 'The View' hosts react to Weinstein on Friday?
Co-host Joy Behar — rather than focusing solely on Weinstein — began with a joke that added Trump and former Fox News host Bill O'Reilly into the mix, which appeared to dilute the Weinstein revelations.
"Why is it that in all these high-profile cases, the guys have such a strange idea of what turns a woman on?" she asked. Then as images of Trump, O'Reilly and Weinstein transitioned onscreen, Behar continued with, "Why do they think we want to be grabbed by the genitalia ... or possibly scrubbed with a luffa or treated to the eye candy of watch him bathe?"
Behar's joke got big laughs from the crowd.
Co-host Sarah Haines chuckled while noting, "They don't care about the other person." Again, the focus was on the collective, not solely on Weinstein.
Co-host Paula Faris noted the "really bizarre accusations" against Weinstein — using the descriptor "allegedly" — and the giggling continued.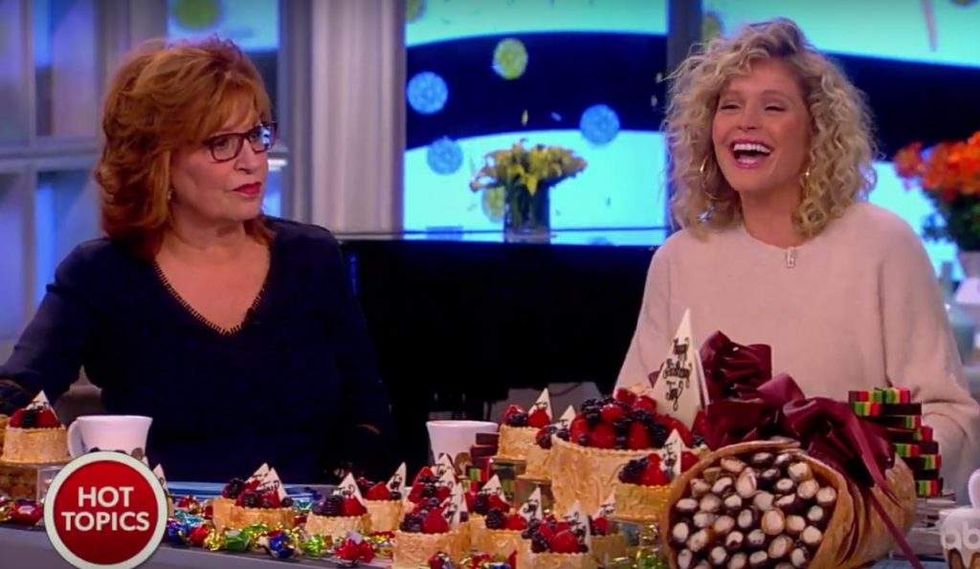 Image source: YouTube screenshot
Haines brought up Weinstein's explanation of being raised in the 1960s and '70s when there were different social standards, and she added that regardless, it's inappropriate and lacks "integrity" to ask someone "to watch me shower." Her statement seemed carefully worded, however, and didn't hit Weinstein directly.
Soon the hosts noted the denials and admissions from Weinstein's lawyers. Then Behar ended with a joke saying men should stop sending photos of their "stuff" to women — and laughs from the stage abounded once more.
How did 'The View' hosts react to Weinstein on Monday?
Co-host Whoopi Goldberg, who wasn't on Friday's show, opened things up Monday by noting actress Meryl Streep's condemnation of Weinstein in which she said Streep also wanted people to keep in mind that not everybody knew what was happening because not everybody knows Weinstein.
Behar joked that with Weinstein now fired from his own company, he'll have "plenty of time to take showers now" — which again got big laughs from the stage and from the audience.
But new co-host Meghan McCain stepped in and ripped Hollywood for it's relative silence over the Weinstein scandal: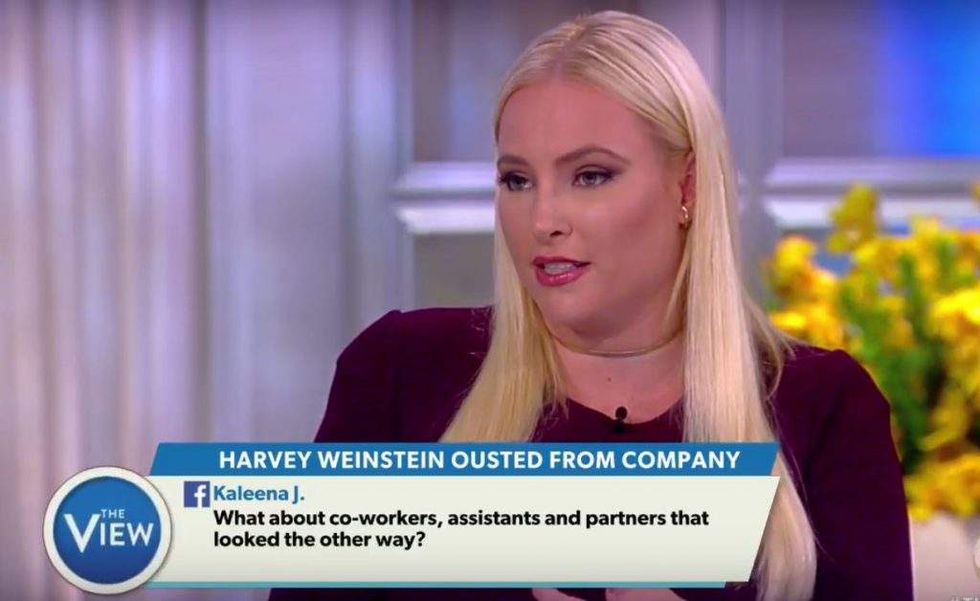 Image source: YouTube screenshot
"More actors have thanked Harvey Weinstein than God, according to a study by Georgia Institute of Technology. Let me tell you something, I worked at Fox for the past three and a half years before I came here. I couldn't go and get a bagel without someone talking to me about sexual harassment. People were very cruel, saying: 'How could you still work there? How can you put yourself through this?' I don't understand why the same standard isn't being set to actors in Hollywood and actresses in Hollywood that somehow work with him. I'm surprised Jennifer Lawrence hasn't said anything. She thanked him during her 2013 Golden Globes speech: 'Harvey, thank you for killing whoever you had to kill ... to get me up here today.' He's an incredibly powerful man; there are allegedly rumors everywhere all over Hollywood. SNL not making a joke about it."
But Goldberg tamped down the newbie with a let's-wait-and-see approach — and then she avoided targeting Weinstein directly and instead talked about the collective problem:
"Let's be realistic. Let's start with ... this happened Thursday night, so it's Monday morning. So, if we don't hear anything else in the next day or two, I think I would be shocked. But I think people are assessing, you know? 'What did I know, and did I know it? ... Did I look the other way? Listen ... we see this a lot. Women get harassed and have to make a decision. 'Do I want to keep paying my bills, or do I suck it up and keep moving forward? Or do I say something and then get smashed?'"
After more sexual harassment generalities from the other co-hosts, McCain came back and pointed out more glaring hypocrisy:
"I read [actress] Rose McGowan's Twitter, and she's clearly a woman that's traumatized from her experience with him, and I feel very bad for her because she seems very alone and she's really reaching out, asking women to come forth, and there are a lot of crickets right now. And let me tell you, the media's more than happy to dance on the grave of Bill O'Reilly and all the other sexual harassers in conservative media. I don't understand why the same standards aren't set in Hollywood."
Before co-host Sunny Hostin carefully noted Weinstein's denials, Behar and Goldberg reacted to McCain by saying, "Give it a minute" — and Goldberg repeated the timing factor in the Weinstein scandal, noting that it only came out Thursday night.
How did 'The View' hosts react to Donald Trump one year ago?
Almost exactly one year ago — right before his weekend debate with then-Democratic nominee Hillary Clinton — then-Republican presidential nominee Donald Trump's infamous 2005 "hot mic" audio surfaced, in which he bragged about sexual advances toward women.
And the hosts of "The View" didn't need to give it a minute.
"Just wondering what you all thought of that locker-room talk?" Goldberg asked her co-hosts, invoking one of Trump's explanations for the audio.
A clearly angry Hostin said her teenage son was "horrified at the notion that Donald Trump would say that this is what men do. Men don't do that!"
Goldberg noted that Trump used his fame to those ends: "Women don't like that. They don't want you to touch them like that. They don't want you all up in them if they don't know you. That's very piggish behavior."
"Oh, he's a pig," Behar interjected in regard to Trump. "That's saying the least, though, I mean come on."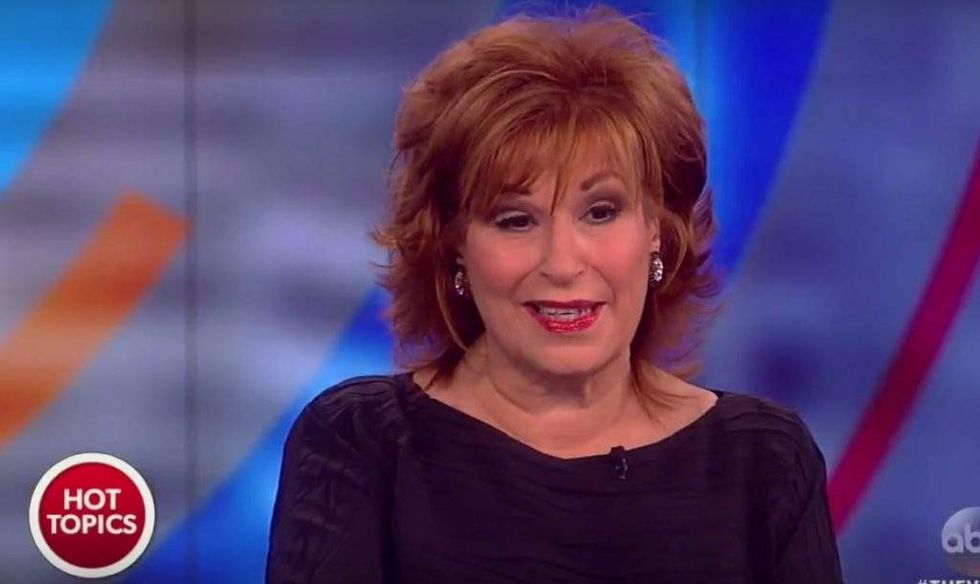 Image source: YouTube screenshot
After Haines noted Trump's use of "power and aggressiveness" that "kept turning my stomach," Hostin jumped in: "It's a crime. I mean, I prosecuted sex crimes. That's a sexual assault. Classic sexual assault. People go to jail for that. He wants Hillary Clinton to go to jail? Maybe he needs to go to jail ..."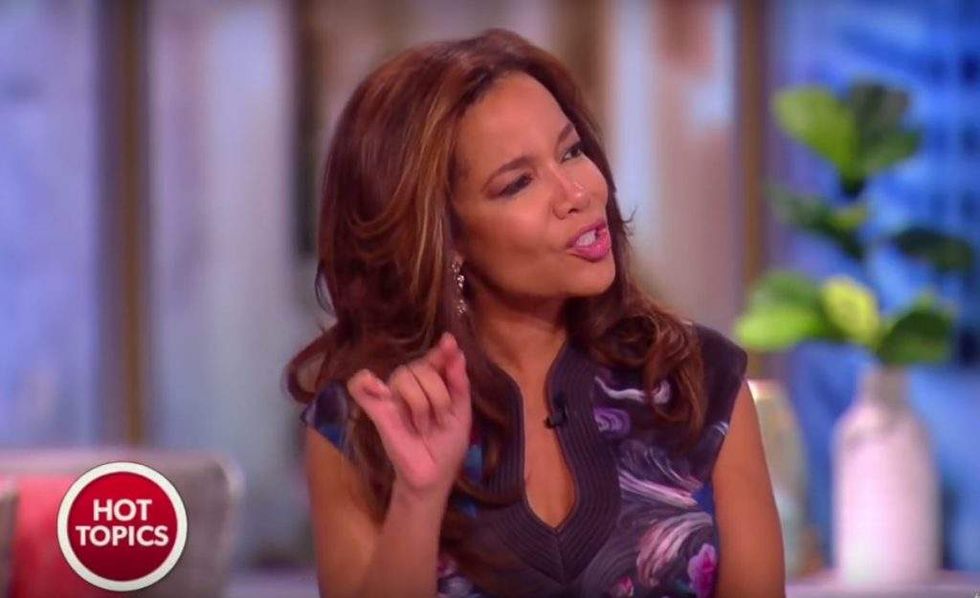 Image source: YouTube screenshot
That got huge cheers from the audience.
Goldberg noted that the audio doesn't prove Trump necessarily did anything, but Behar came back with "he implied that he did it" and then — smiling — "we don't have a tape ... yet," presumably meaning that more specific things would come out against Trump.
This writer's perspective
The disparity in tone and language of "The View" hosts with regard to Weinstein compared to Trump is glaring. They more or less tiptoed around the Weinstein allegations — not all of which were denied — and constantly lumped him in with others accused of sexual harassment or the crime in general. And with plenty of jokes to boot.
As for Trump, different story. They set their sights on him — and him alone — from the start. No conflation with others accused of sexual harassment or sexual assault, no joking and no tiptoeing around the issue. Indeed, it's fair to note that Trump was running for the presidency at the time, which drastically raised the stakes last year.
But when you compare "The View" hosts' relatively restrained treatment of avowed left-winger Weinstein to their venom against Trump, it seems difficult to conclude that politics had nothing to do with the difference in tone and language.