Oh, the irony.
Republican President Donald Trump has been endlessly mocked for his intention to get a big wall built at the Mexican border to stem the tide of illegal immigrants into the U.S.
But right smack dab in the middle of an MSNBC report on eight prototypes for the Trump wall sitting just east of San Diego, correspondent Jacob Soboroff spotted something that just might give pause to Trump wall naysayers: Illegal immigrants jumping over the comparatively short existing border fence in broad daylight.
'What happened?'
That's, in fact, what Soboroff asked as the camera — once focused on his interview — moved to grab a shot of border patrol agents on horseback moving toward fence jumpers. "The people are crossing!"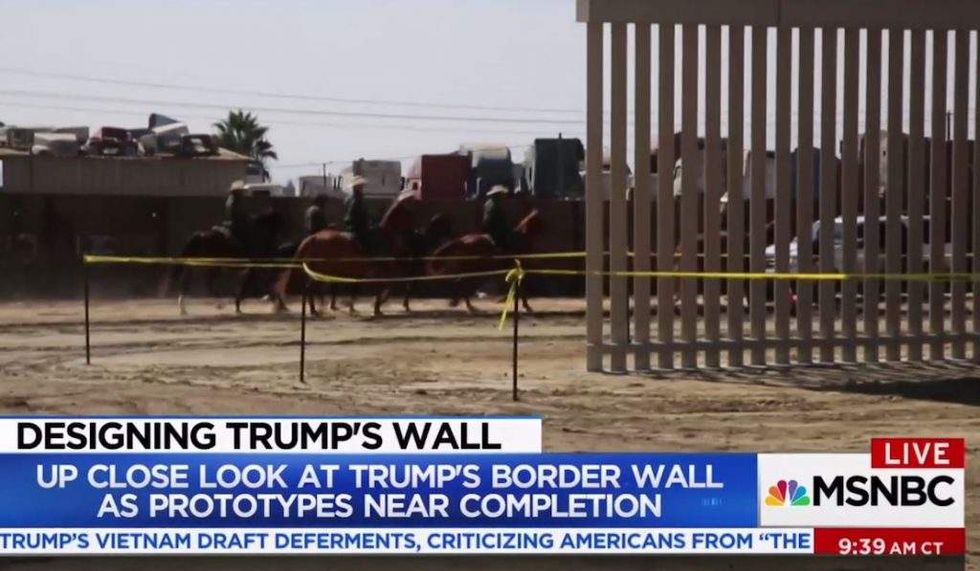 Image source: Twitter video screenshot
Soboroff called the illegal immigrants "asylum-seekers, migrants not from Mexico" who "jumped over the existing fence to turn themselves in to border agents ..."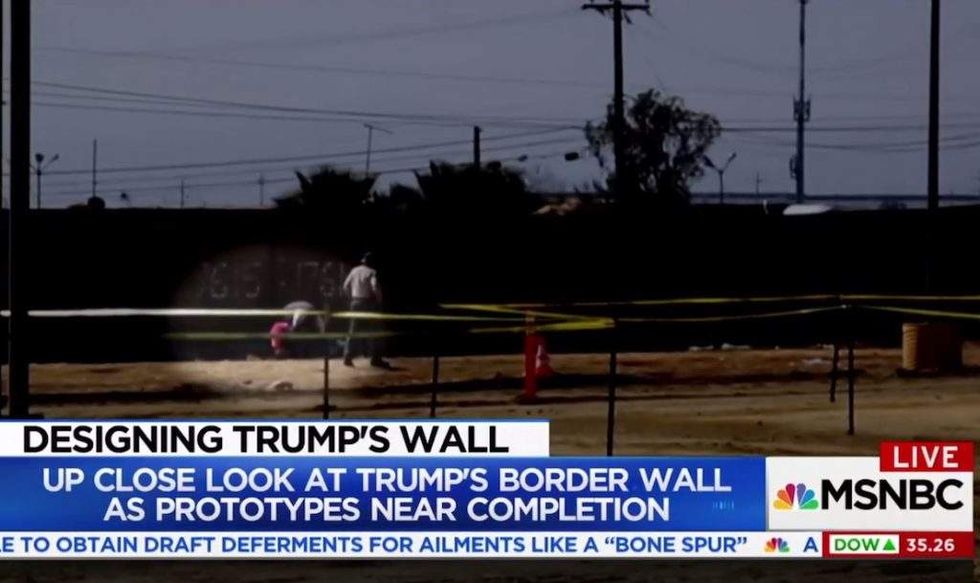 Image source: Twitter video screenshot
Roy Villareal, the agent Soboroff was interviewing, explained that the scene was a "reality of everyday border enforcement. The United States is still the draw, the ultimate draw, for people that have dire situations where they're at."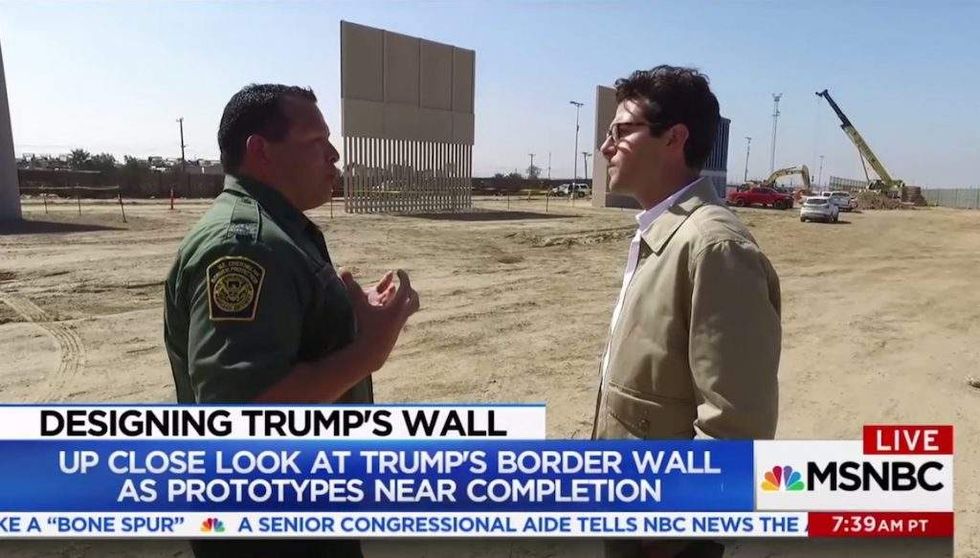 Image source: Twitter video screenshot
Villareal added that agents will "continue to witness this. It plays out on a regular basis for us."
"And it did just here, just now," Soboroff noted.
Here's the report. The fence jumping portion occurs just after the 2:20 mark:
Greetings from Mexico. Got an up-close look at Trump's almost-done border wall prototypes from both sides of border. https://t.co/AJULBGx5RP

— Jacob Soboroff (@Jacob Soboroff) 1508771355.0
What did Mexicans looking at the Trump wall prototypes have to say?
Next in the segment, Soboroff was on the Mexican side of the existing border fence — "the thing that Donald Trump doesn't think is big enough to keep people out of the United States," he said — as the camera captured him scaling a small hill to the very spot where the trio of illegal immigrants jumped over.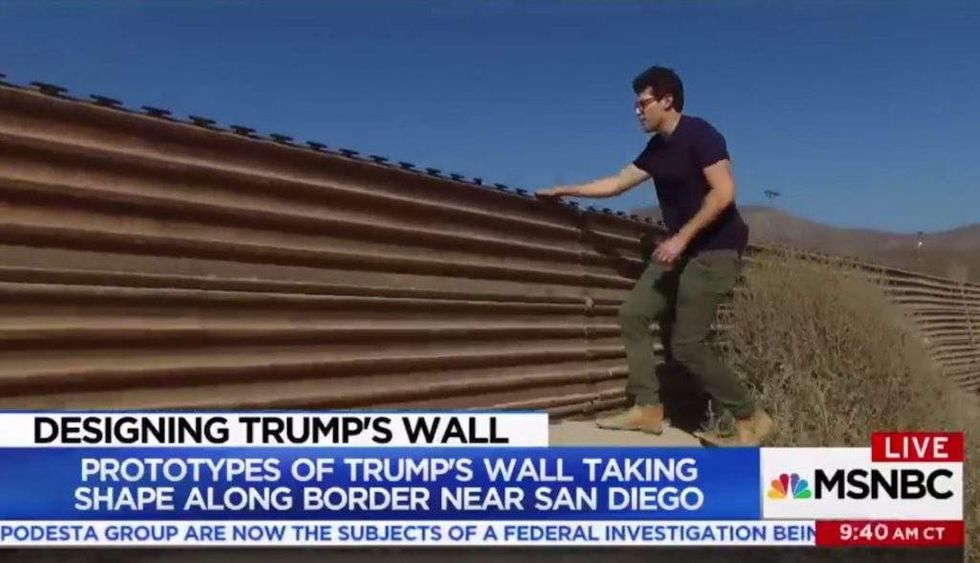 Image source: Twitter video screenshot
Soboroff interviewed Mexicans looking over the fence to the much taller prototypes — all 18 to 30 feet high — and asked if they believe a new wall will prevent crossings. They  replied that there always will be a way to cross.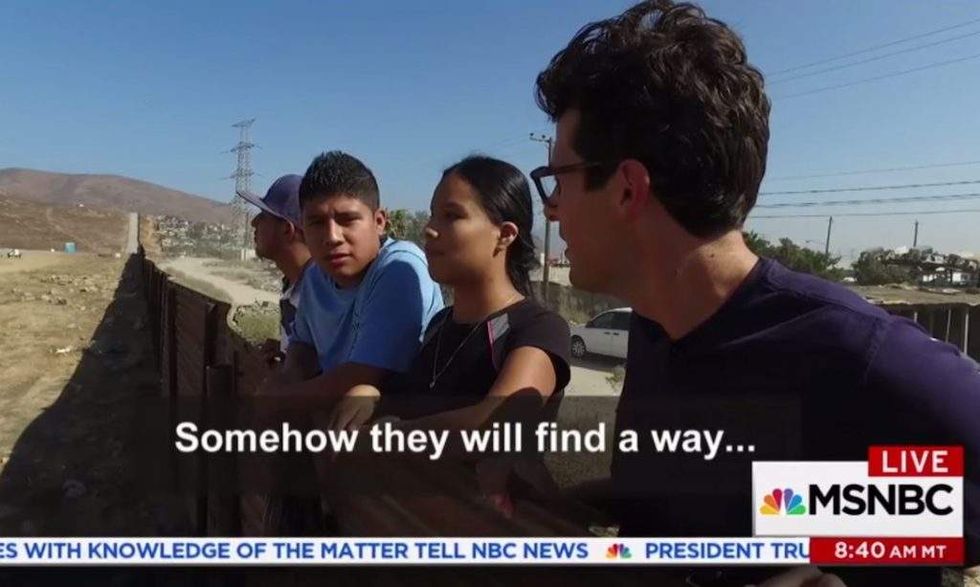 Image source: Twitter video screenshot
This writer's perspective
One might have expected MSNBC to cut the shot of the illegals hopping the existing border fence, as it's a pretty potent object lesson on why a better border wall is needed — but the network, to its credit, left it in.
Whether or not a much taller wall will prevent more illegal crossings remains to be seen. But it would appear that the effort required to breach such a structure — as compared to the pitiful existing fence that Soboroff showed us — will prove, if nothing else, quite the deterrent.
(H/T: The American Mirror)